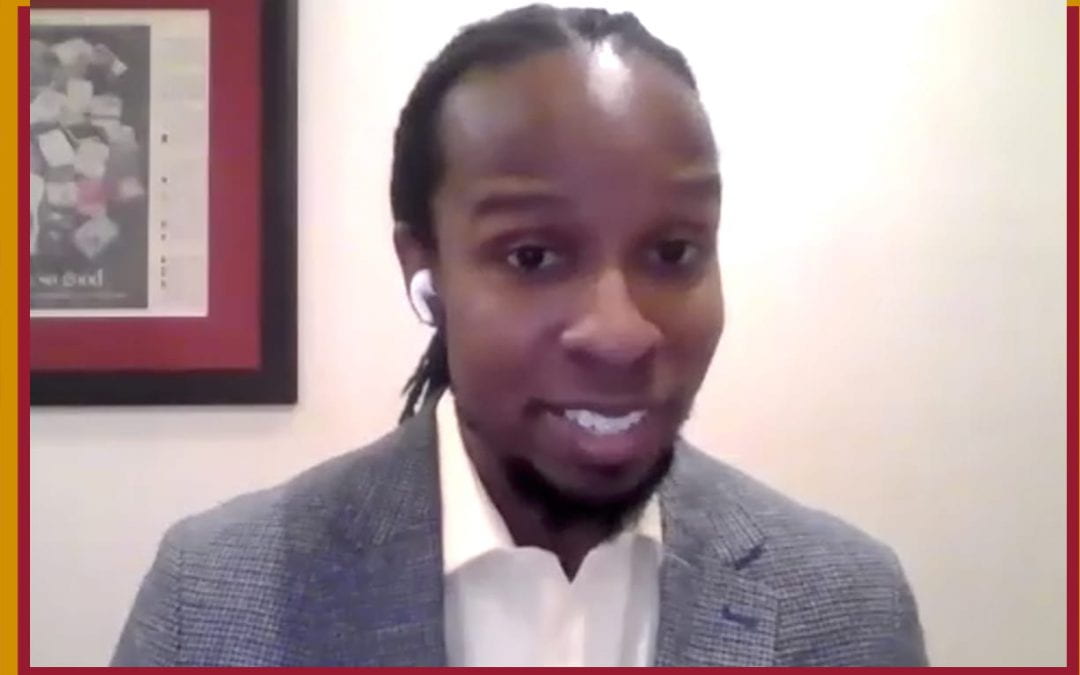 Open-Minded Approach
Ibram X. Kendi would like to banish the term "not racist" from our vocabulary.
The historian, scholar, and writer said it is important for people challenging inequities to actively become antiracist and not merely "not racist." The reason, he said, is that progenitors of racist ideas have always self-identified their ideas as "not racist."
As one of the featured speakers for the 2020-21 Marian Miner Cook Athenaeum lineup, Kendi could not have been more compelling and timely. Being virtual, the talk also reached an outsized audience of more than 700 CMC students, faculty, alumni, and parents throughout the world.
"How To Be An Antiracist: A Conversation with Ibram X. Kendi" was moderated by the three 2020-21 Woolley Fellows: seniors Chris Agard '21, Will Frankel '21, and Nandeeni Patel '21.
Kendi, a National Book Award winner, Guggenheim Fellow, current Frances B. Cashin Fellow at Harvard University, and director of the Center for Antiracist Research at Boston University, said the audience for his 2019 book, also titled How to Be an Antiracist, is open-minded people of all races, ideologies and backgrounds willing to reflect on themselves and their society.
Kendi believes that too many people view a particular racial group as a problem, not understanding that the real problem is structural policies that disadvantage racial groups. Kendi advised students to become antiracial by starting in their own backyards.
"People need to look at the racial inequities in your institution and your community and ask why the disparities exist," he said. "The answer is going to be a series of racist policies that are interconnected. Structural racism is the problem – not people."
Every single person has the power to resist racism, he told the audience, and especially encouraged students to use that power. When Kendi was asked for advice on if students should talk to their parents about antiracism, he urged them to have the conversations, even though they might be difficult. "You have the greatest chance to change the minds of your parents than anyone on earth."
In his parting words, he urged CMC viewers to be antiracist. "Figure out ways to be courageous," he said. "Courage isn't the absence of fear, but the strength to do what's right in the face of it."
________________________
In addition to Kendi, the following Athenaeum speakers covered topics relevant to the Presidential Initiative during the 2020-21 academic year:
Where Opportunity Happens: How Neighborhoods Affect Social Mobility
Raj Chetty, a Harvard economist and MacArthur Genius, used the powerful lens of data and economics to lay the intellectual, theoretical, and statistical groundwork to evaluate whether the American Dream still remains attainable today. Read more about his CMC talk.
Monumental Debates: Academic Perspectives on Global Movements to Topple Historical Monuments
Panelists Ana Lucia Araujo, Daniela Blei, and Cynthia Culver Prescott, with CMC professors/moderators Sarah Sarzynski and Tamara Venit-Shelton, discussed the meaning behind memorials and what their research tells them about why people took to the streets to argue for or against the preservation of certain historical monuments.
A Conversation with Charles W. Mills
Charles Mills, a philosopher at the CUNY Graduate School, explored the biases that underlie western philosophy and the erasure of Black voices.
The Sword and the Shield: The Revolutionary Lives of Malcolm X and Martin Luther King Jr.
Peniel E. Joseph, the Barbara Jordan Chair in Ethics and Political Values at the University of Texas, broke down misconceptions and revealed a nuanced portrait of Dr. King and Malcolm X, who despite markedly different backgrounds, inspired and pushed each other throughout their adult lives.
How American Journalism Created and Sustained National Myths
Graham Lee Brewer, associate editor for Indigenous affairs at High Country News and a member of the Cherokee Nation, discussed how the long-time, intentional misrepresentation of Indigenous peoples in legacy media historically has helped solidify stereotypes and myth pillars.
Does A Rising Tide Lift All Boats? Racial and Distributional Aspects of Economic Freedom
Gary Hoover, professor of economics and executive director of the Murphy Institute at Tulane University, addressed the economists' definition of "Economic Freedom" and its impact on the income gap for households in Black neighborhoods.
Anti-Asian Bias Crimes: Past, Present, and Future
Jeff Tsai, a former federal and state prosecutor, analyzed the racism and discrimination against Asian-Americans that has tragically reverberated throughout American history, including a recent surge of hatred and violence during the COVID pandemic.