Fall 2014 Distinguished Speaker Series
The RDS Distinguished Speaker Series was established to provide Claremont McKenna College students with perspectives on leadership, management, and life after CMC. Through the Speaker Series, CMC students and Robert Day Scholars will interact with prominent leaders in business, finance, and government. These speakers include successful Claremont McKenna alumni, local leaders, and national figures.
Fall 2014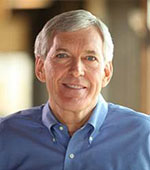 Tom Leppert '77
September 24, 2014
Thomas Leppert '77 is the Chief Executive Officer of Kaplan, Inc., a global educational services company and the largest subsidiary of Graham Holdings Company. Mr. Leppert has extensive leadership experience that includes high profile positions in both the public and private sector. His professional work has spanned managing companies in the role of CEO in a wide range of industries to leading a major U.S. city as the elected Mayor of Dallas, Texas from 2007 to 2011.
Mr. Leppert's public career followed 30 years of leading major national and international corporations in the areas of construction, financial services, homebuilding and real estate. He began his career at McKinsey & Co. where he was elected a Principal of the firm, and holds an MBA with distinction from Harvard Business School. In addition to serving as a member of the CMC Board of Trustees, Mr. Leppert was the commencement speaker at CMC's 61st Annual Commencement ceremonies in 2008.