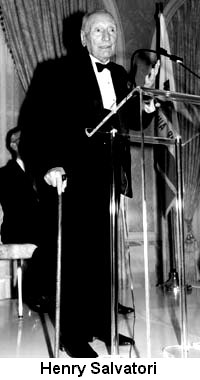 The Henry Salvatori Center began more than thirty years ago in a conversation between George C.S. Benson, the founding president of CMC, and Henry Salvatori. Its inspiration was Mr. Salvatori's concern for the nature and problems of freedom in the modern world.
Born in Italy in 1901, he emigrated to America with his family in 1906. He earned his B.A. from the University of Pennsylvania and then went on to work for Bell Laboratories in New Jersey while earning an M.A. in Physics from Columbia University. After responding to an ad on a bulletin board, he set out for Oklahoma to experiment with seismic methods of exploring for oil. Working for Geophysical Research Corporation, Salvatori discovered many of the basic techniques of this new applied science. By 1930, he ran the company's California and west coast operations. In 1933, with a capital investment of one truck and some equipment, he started his own company, Western Geophysical Corporation, which quickly became the industry leader, pioneering methods of offshore oil exploration and establishing offices around the globe.
Salvatori sold his company in 1960 and began a second career as a philanthropist and political activist. He was a major benefactor to numerous private colleges, to Los Angeles civic causes, and to think-tanks and research institutes across the country. His wife, the late Grace Ford Salvatori, was a primary fundraiser for the Los Angeles Children's Hospital.
A dedicated anti-Communist who had been active in Barry Goldwater's presidential campaign, Salvatori soon became the leader of the small group of men (the so-called "kitchen cabinet") who encouraged Ronald Reagan to enter politics and run for the governorship of California in 1966. Salvatori was concerned not only with the Communist threat to the Free World, but also with the long-range and more fundamental problem of the internal cohesion, the sense of purpose and self-confidence of the West, particularly the United States. With this in mind, he founded the Henry Salvatori Center at Claremont McKenna College to study the moral and intellectual foundations of civil society-the factors that inspire and ordain liberty, elevating it above mere license.
In 1990, after the collapse of Communism in Central and Eastern Europe, he established the Henry Salvatori Foundation to further the study of the American Founding and those civic principles that unite all Americans into one people.