Donald McKenna's legacy lives on
A linguistic scholar, savvy entrepreneur, and benevolent philanthropist, Donald McKenna played a significant role in the establishment of Claremont Men's College in 1946. As one of the first trustees, McKenna initiated support for a third college, the college that would become Claremont McKenna, and remained a generous contributor to the College for the rest of his life.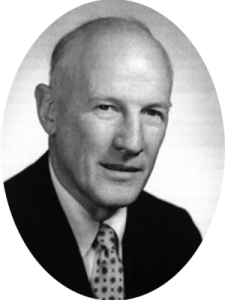 McKenna was born in Colorado in 1907 to Alexander and Eliza McKenna; the family moved to Claremont in 1918. The McKennas lived in what is now the Claremont Inn for five years, where they held weekly discussion groups. McKenna lost himself in those discussions every Wednesday night, fascinated by language and the power of words. They would later inspire his idea for the Athenaeum at CMC.
His love of language led him to pursue a degree in English literature at Pomona College, and McKenna graduated Phi Beta Kappa in 1929. He continued on to Harvard to pursue a Ph.D. However, McKenna left Harvard in 1934 after slowly becoming uninterested in his original career goal of becoming a literature professor. McKenna's passion for words had transformed into an entrepreneurial hunger that he yearned to feed by returning to Claremont, where he joined the family firm, Kennametal, in 1940.
By 1944, McKenna's drive and determination to construct a new college fueled the way for the establishment of the original Claremont College Undergraduate School for Men. The Servicemen's Readjustment Act (better known as the GI Bill of Rights) advanced the need for this third college in Claremont; this legislation provided millions of federal dollars to World War II veterans pursuing a college degree. However, though the trustees expected millions of federal dollars to arrive in the future, the grants would not arrive in time to open the doors of Claremont Men's College. As a result, McKenna donated, first with his own money and later through fundraising, the initial budget, turning the college from a dream into a reality.
Later, McKenna proposed to enlist his family in financing an auditorium if the 600-seat facility would be named in honor of his father, A. G. McKenna. Ground was broken on Parents' Day, Oct. 25, 1952. A year later, Parents' Day, Oct. 31, 1953, the new $225,000 facility was dedicated. With its state-of-the-art soda fountain, its student lounge and offices, and convenient auditorium, the McKenna Auditorium and Student Fountain added a note of further solidity to the campus identity of what was yet a pioneering institution when it first opened in 1953.
On Jan. 12, 1968, Donald McKenna drafted a memo recommending a "student-faculty club or athenaeum," based on two distinct memories: the Wednesday evening discussion socials his parents hosted at The Claremont Inn in the late 1910s and early 1920s, and lively evenings hosted by George C. S. Benson at Lowell House at Harvard in the mid-1930s, when Benson was serving there as senior tutor. At both events, students, tutors and faculty, together with visiting guests, gathered in a convivial atmosphere for refreshment and wide-ranging discussion. Evenings such as these, McKenna believed, were of the essence of collegiate education; and he wanted the same magic to happen at CMC.
With a generosity equaling his enthusiasm, McKenna announced to the trustees that he would donate $700,000 toward the endowment of the operating expenses of the proposed Athenaeum, provided that the money be matched on a two-to-one basis.
It would take more than 15 years to build a permanent facility, but the Athenaeum began its program in 1970 at the former President's House. In 1980, McKenna pledged a matching gift of $2 million. And Marian Miner Cook's donation of $1 million enabled the College to reach its $4 million objective before the deadline. The Marian Miner Cook Athenaeum opened in 1983.
The memory of Donald McKenna still lingers, as CMC students and faculty celebrate his great life in many ways. The WordsWorth Society, a favorite of McKenna's, hosts lunches in October to commemorate his birthday. The McKenna International Summer Internship Program, endowed from McKenna's personal trust bequeathed to the college on his death, offers financial assistance to students pursuing internships abroad during the summers of their sophomore and junior years.