EXHIBIT PREVIEW
The Presidents of CMC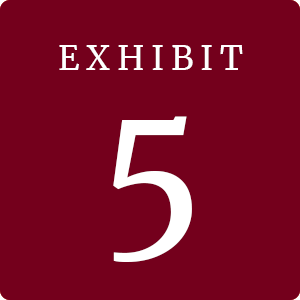 CMC's first and third presidents, George C.S. Benson and Jack L. Stark, stand outside of Bauer Center in 1981.
The fifth exhibition in the series, The Presidents of CMC, explores the tenures of each of the College's five presidents, with highlights of the impacts each left on CMC. Join us as we explore these important individuals' legacies through a range of archival materials and discover how each president contributed to CMC's history and lasting legacy.
The Archives consulted a variety of sources in compiling this exhibit and are indebted to those historic resources, most notably, Commerce and Civilization, Claremont McKenna College: The First Fifty Years 1946-1996 by Kevin Starr.
The CMC Digital Archives
Join with Claremont McKenna College as we celebrate our vibrant 75-year history. Reflecting back on the College's modest origins will lead to perspectives on the College's current success and will inform the College's aspirations for the future.
The 2021-22 academic year will be spent commemorating the milestones of the last 75 years in monthly exhibitions that will focus on faculty, students, campus buildings, presidents, coeducation, research institutes, the role of veterans, and others.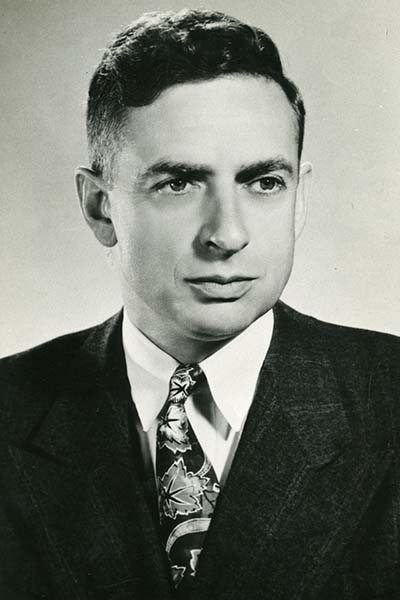 George C.S. Benson P'61
1946–1969
For more than two decades, Benson led the College. His goal was to create a balance of representation between liberal and conservative views to provide a well-rounded education in public policy. Throughout his tenure, Benson remained strongly committed to the Claremont Colleges group plan, playing a leading role with Robert Bernard in the founding of Harvey Mudd College (1955) and Pitzer College (1963). In 1966, Benson established CMC's first research institute, the Henry Salvatori Center for the Study of Individual Freedom in the Modern World, and remained a staunch supporter of the Reserve Officer Training Corps (ROTC) program on college campuses throughout the 1960s.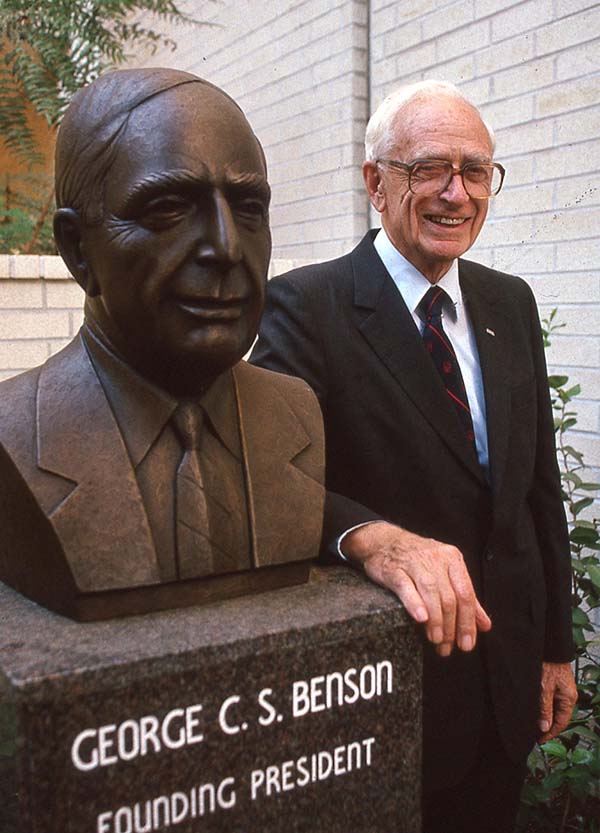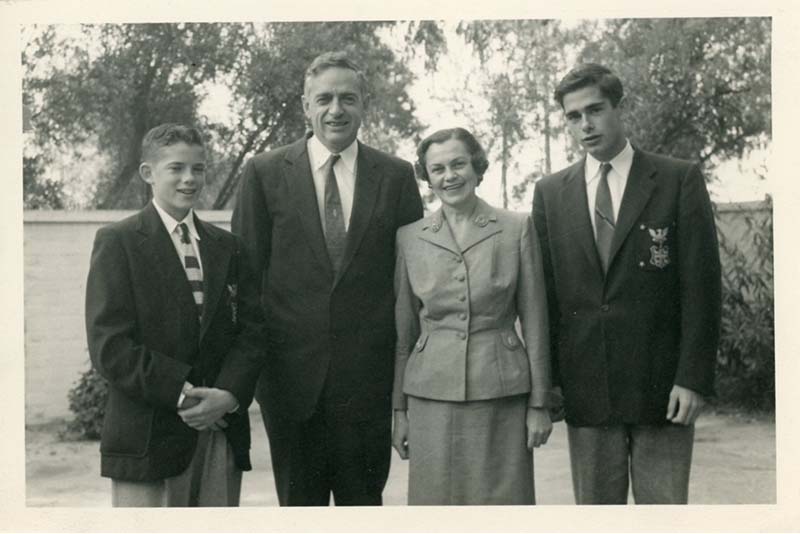 Brien, George, Mabel, and Sumner Benson '61 stand outside of the CMC Presidents House, circa 1957.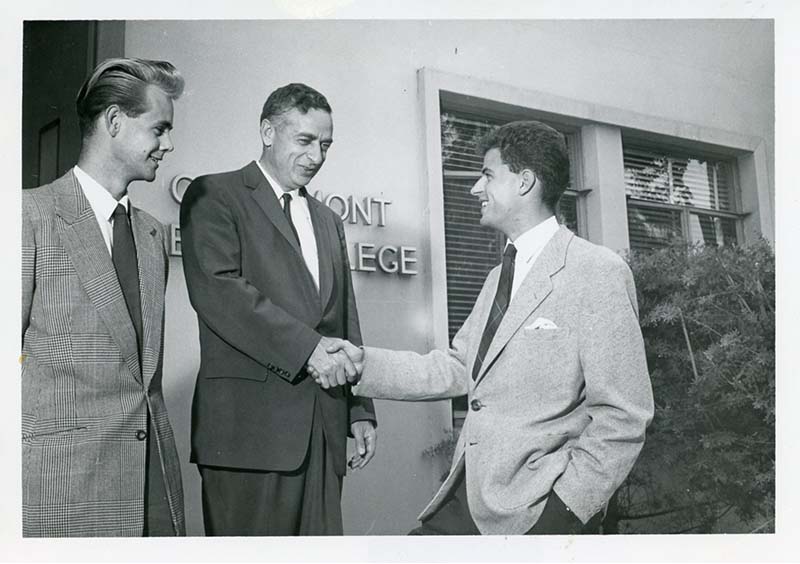 George C.S. Benson, CMC's first president from 1946 to 1969.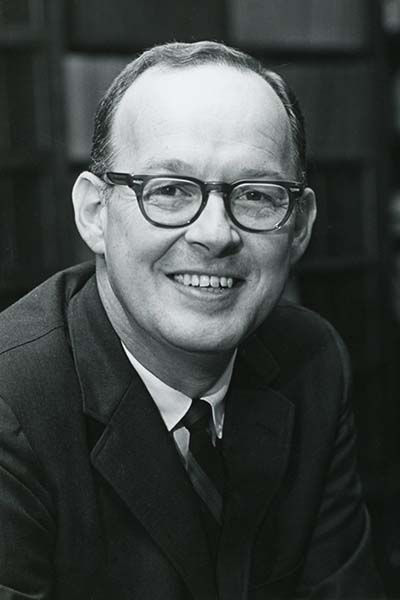 Howard R. Neville
1969–1970
The 43-year-old Neville began his presidency with much optimism for CMC in the coming decade. Unfortunately, Neville's difficult tenure at Claremont Men's College was marked by on-going student protests against the Vietnam War and ROTC program and disputes about the admission of minority students at the Claremont Colleges. On June 18, 1970, Neville announced his resignation as president of CMC, just a few days after commencement.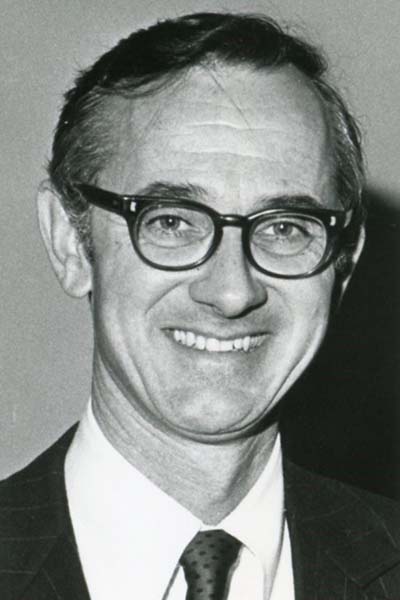 Jack L. Stark '57 GP'11
1971–1999
Stark served as CMC's chief executive during some of the College's most challenging periods in its history. Under his leadership, CMC's endowment grew from $10 million to more than $380 million, and he led the College to exceptional growth in reputation, academic quality, and student selectivity. CMC continued its growth as a premier liberal arts college emphasizing education in economics and government and expanded its influence in public affairs through the creation of nine public policy research institutes. President Stark also guided the College through fundamental institutional changes—becoming coeducational in 1976 and changing its name to Claremont McKenna College in 1981, honoring founding trustee Donald C. McKenna.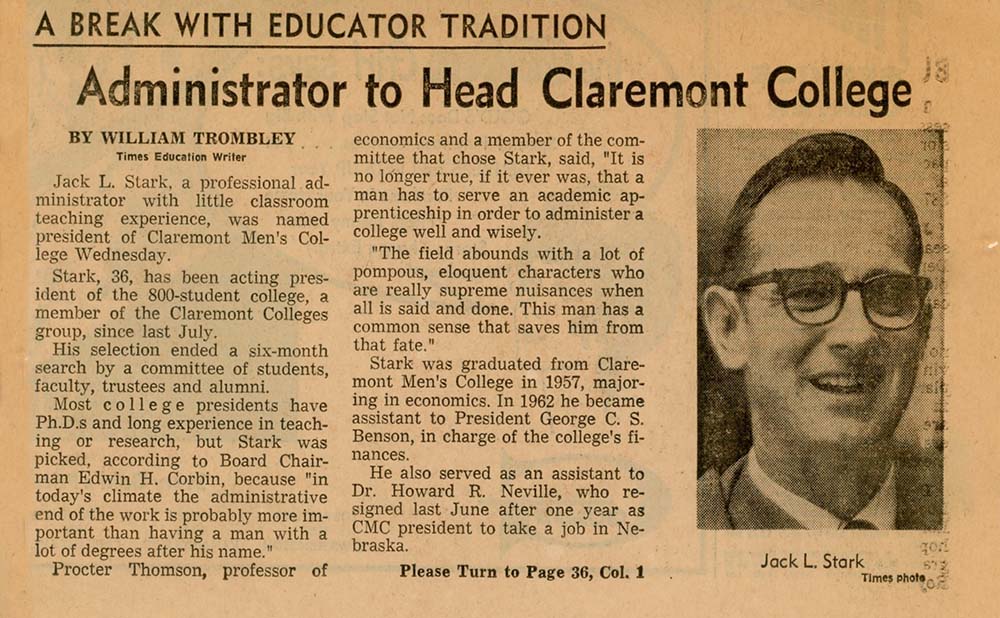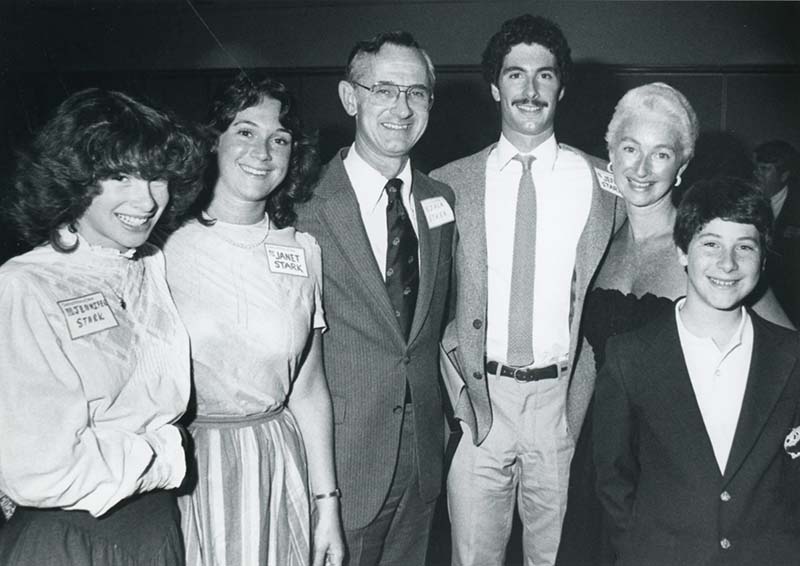 The Stark family at a roast of President Stark, circa 1982. From left to right: Jennifer, Janet, Jack, Jeff, Jil, and Jonathan.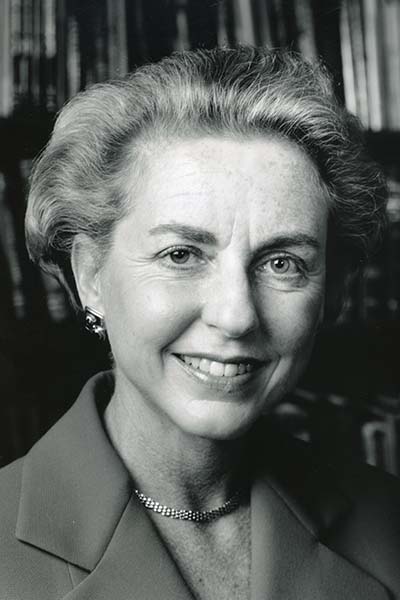 Pamela B. Gann
1999–2013
Gann led a multi-year strategic planning process involving more than 130 faculty, staff, students, alumni, and trustees, while student selectivity increased steadily with only 11.7% of the applicants for fall 2013 being admitted. Gann was actively involved in the expansion and replenishment of the College's faculty across all departments, especially economics, government, history, literature, philosophy, psychology, and science. More than 65% of CMC's tenured and tenure-track faculty were hired during her presidency, and thirty-seven new chaired professorships were endowed. She led the Campaign for Claremont McKenna College, which ended on June 30, 2013, and raised $635.1 million against a goal of $600 million, at the time the largest Campaign by a liberal arts college. Key hallmarks of the Campaign include the construction of the Kravis Center, the Biszantz Family Tennis Center, Crown Hall, and the planning and funding of Roberts Pavilion.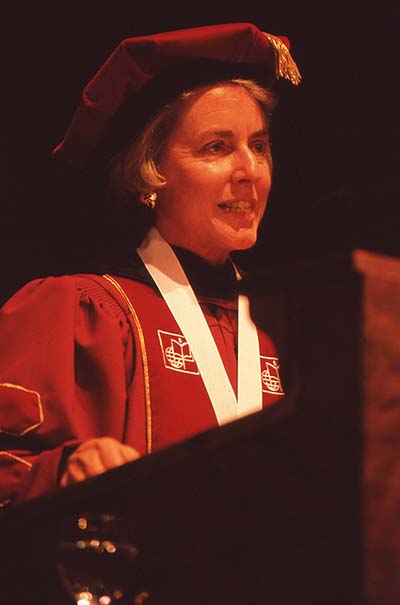 President Gann at the podium during her inauguration, 1999.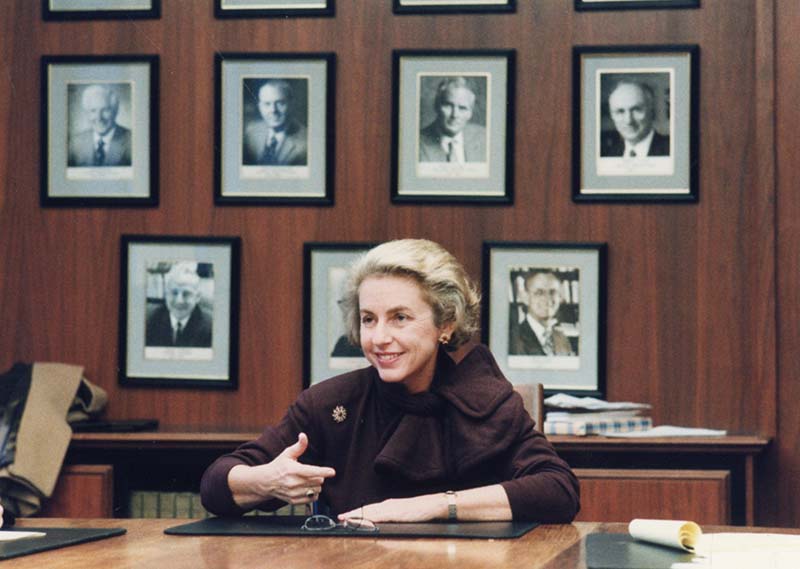 President Gann sits in the boardroom
at Bauer Center, 1999.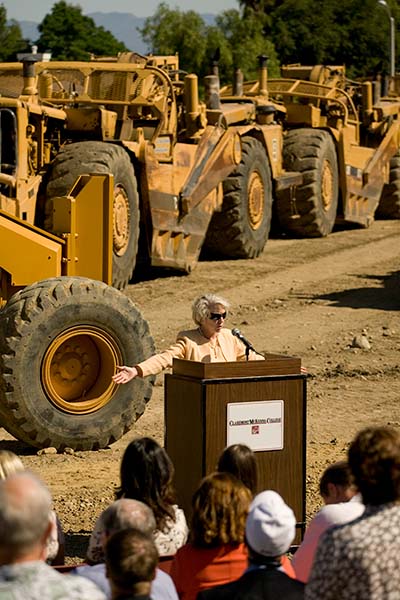 President Gann delivers a speech at the Biszantz Family Tennis Center groundbreaking ceremony, May 16, 2008.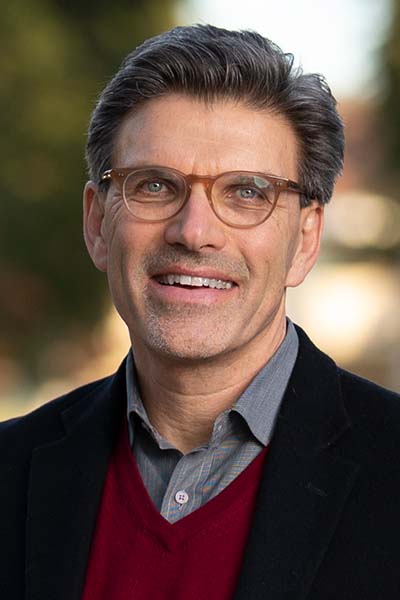 Hiram E. Chodosh
2013–Present
Under President Chodosh's leadership, CMC has helped the College enhance its distinctive leadership mission in liberal arts education. Through The CMC Strategy, CMC has raised more than $200 million in new funding for scholarships; student opportunities, internships, and experiences; and additional financial support. CMC has opened several new centers, including the CARE Center; the Soll Center for Student Opportunity; and the Policy Lab. The Open Academy reinforces CMC's longstanding commitments to freedom of expression, viewpoint diversity, and effective dialogue, while advancing CMC's mission to prepare this generation to meet the challenges of the future world of affairs and for roles of responsible leadership in business, government, and the professions. President Chodosh introduced the Presidential Initiative on Anti-Racism and the Black Experience in America to develop a long-term, structural, integrated educational response to racism, inequality, and inequity.