EXHIBIT PREVIEW
Not for Men Only: CMC Becomes Coeducational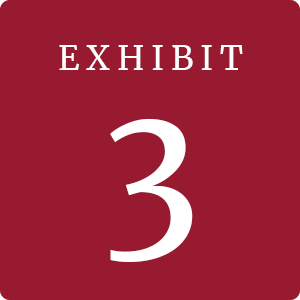 At its 25th anniversary, Claremont Men's College was faced with a question that would change the landscape of the College–should CMC admit women students? Women were entering the fields of law, business, and government in increasing numbers and CMC was determined to continue to be a liberal arts college centered in the modern world.
Serious discussion of CMC becoming a coeducational institution began in July 1972 and a subcommittee on admissions of the Academic Affairs Committee was formed that fall to explore the idea. The committee was chaired by Founding Trustee Donald McKenna and also included economics professor Procter Thomson.
The CMC Digital Archives
Join with Claremont McKenna College as we celebrate our vibrant 75-year history. Reflecting back on the College's modest origins will lead to perspectives on the College's current success and will inform the College's aspirations for the future.
The 2021-22 academic year will be spent commemorating the milestones of the last 75 years in monthly exhibitions that will focus on faculty, students, campus buildings, presidents, coeducation, research institutes, the role of veterans, and others.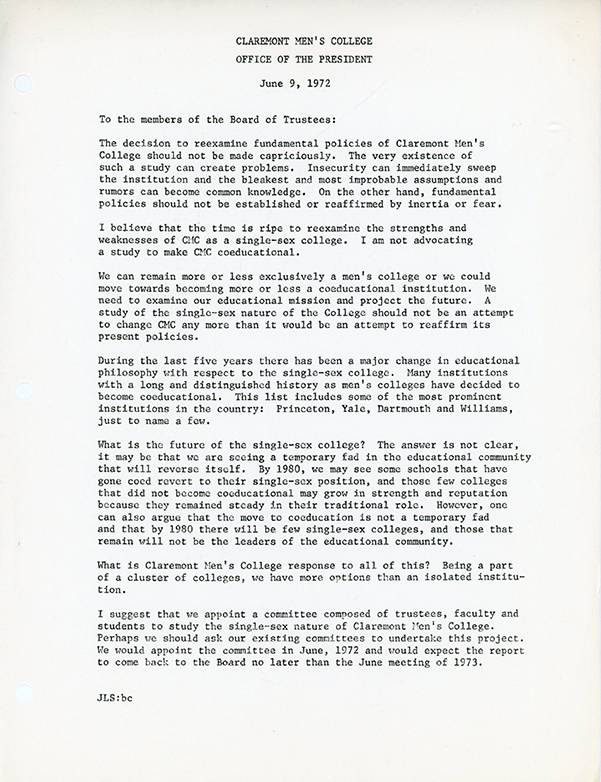 Transition to Coeducation
A letter from President Jack Stark urges Claremont Men's College's Board of Trustees to undertake a study of the single-sex nature of the College.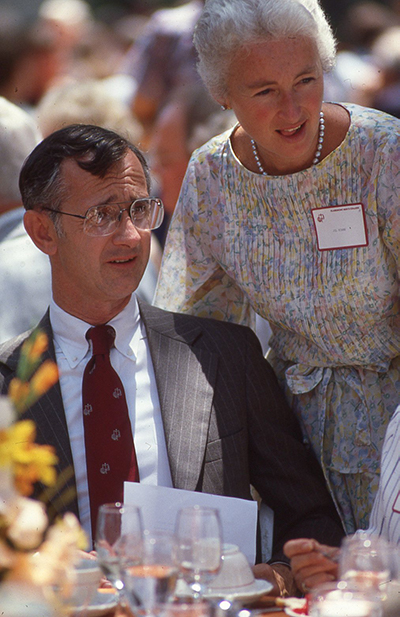 President Jack Stark considered the admission of women among the most important decisions in the history of the College. While both Jack and Jil resisted temptations to publicly state their opinions on the issue of coeducation, they privately decided that if the coeducation proposal were defeated, they would announce their intention to step down from the leadership of CMC.
Claremont Men's College May Become Coeducational
A decision on coeducation was not an easy one for CMC and was certainly not met with unanimous support from trustees and alumni across the board–in fact, a fair number were opposed to such a change. However, by late 1974 the coeducation movement was gaining support and seemed to be moving towards adoption. This Los Angeles Times article from November 17, 1974 outlines CMC's potential change to a coeducational institution with the reasoning and rationale behind the decision.

April 24, 1975
On Thursday, April 24, 1975, the Board of Trustees voted to admit women to Claremont Men's College. Above, A Claremont Collegian article covers CMC's decision to become coeducational.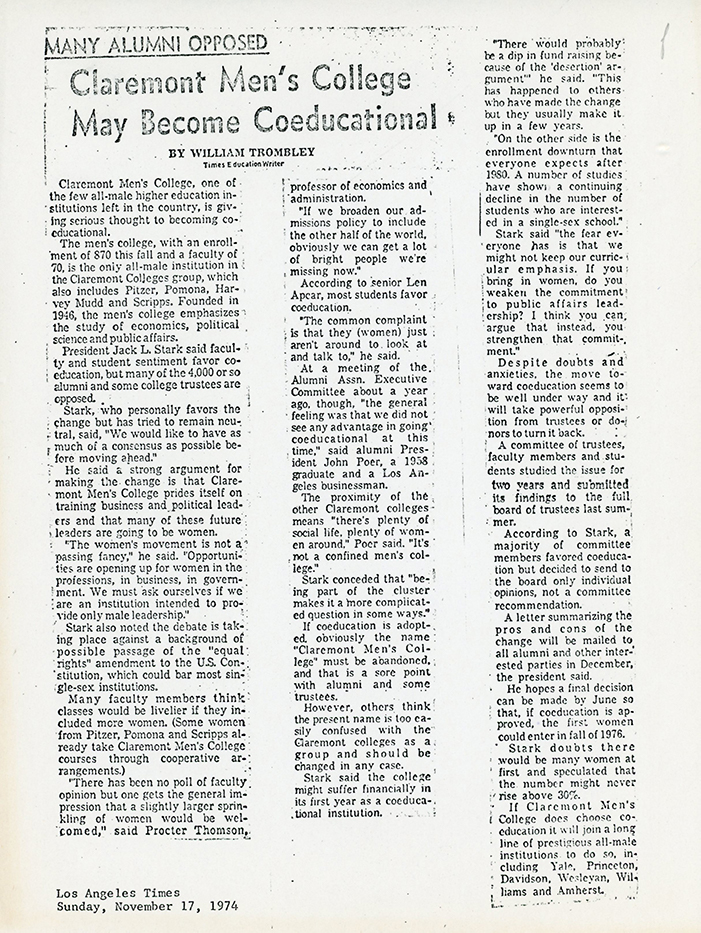 A Letter from a Men's College?
While Claremont Men's College would become coeducational during the academic year 1976-1977, the name of the College still caused some confusion among women students. This letter sent to prospective students highlights the educational opportunities for women at CMC in the areas of business, economics, and political science.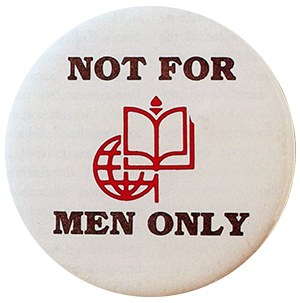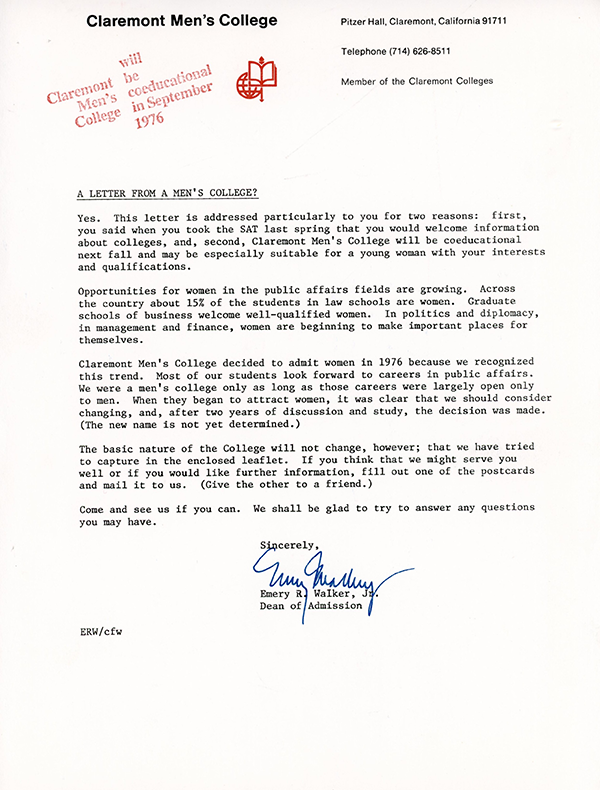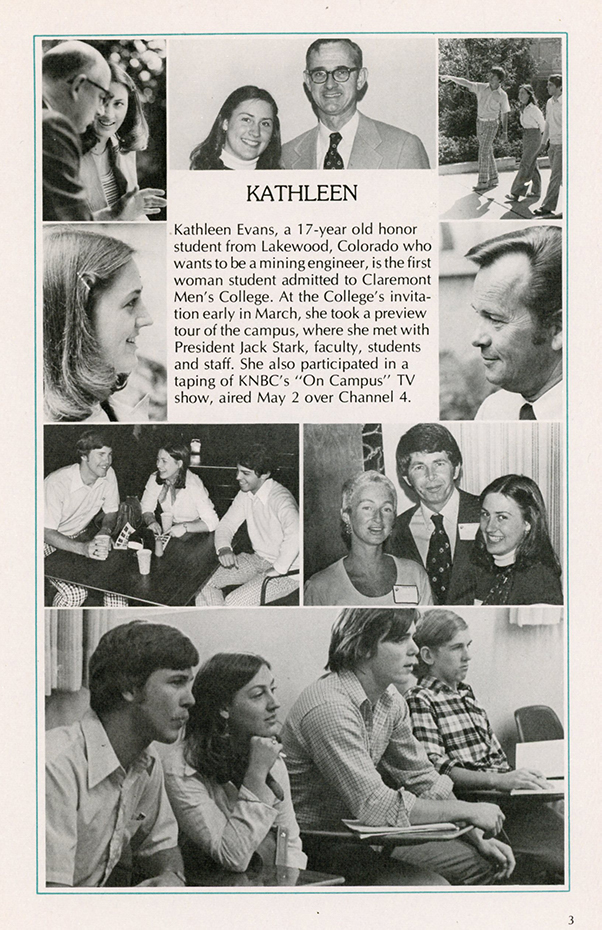 First Women Students at CMC
On March 15, 1976, Kathleen Evans of Lakewood, Colorado sent in her commitment deposit reserving a place in the class entering CMC the following fall, becoming the first woman to enroll at CMC. Evans was the daughter of a mining engineer and raised in various places around the United States and Australia. Kathy looked forward to a career in mining engineering, metallurgy, or mineral economics–her father was a graduate of the Colorado School of Mines and her brother a professional metallurgist. She enrolled in a joint CMC-Colorado School of Mines five-year dual degree management-engineering program with a three-year concentration in economics, mathematics, and sciences at CMC.
September 1976
1976's Orientation marked the end of CMC's 30-year run as an all-male college with 60 women registering for the fall semester. Orientation activities included campus tours, discussion groups with faculty and counselors, and a Parents Convocation and Supper.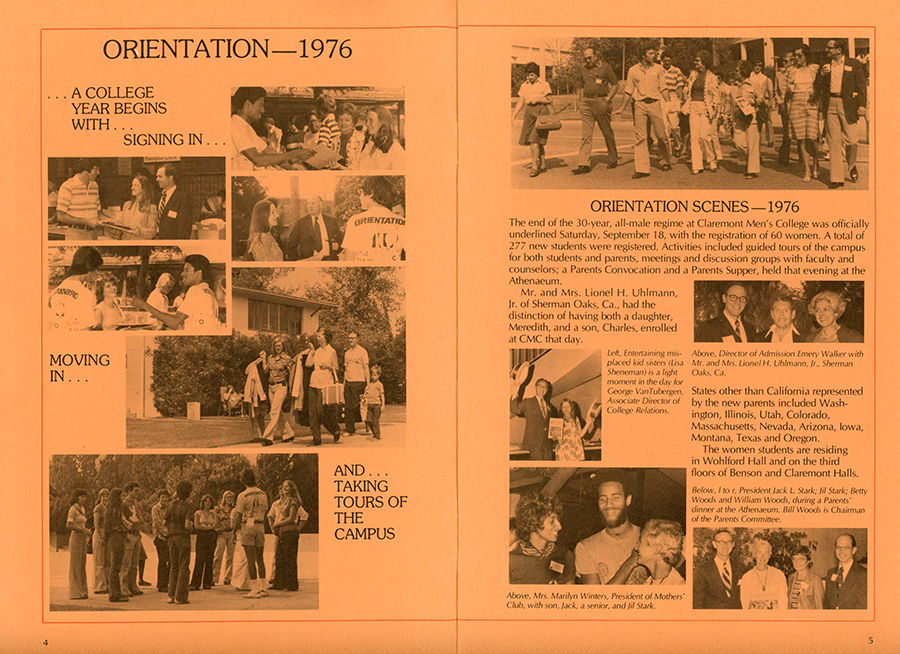 "Men's" Becomes "McKenna"
In the fall of 1979, a committee was established to study the name of the College and made its recommendation to the Board of Trustees in September 1981. On October 15, 1981, the Board voted 34 to 5 to change the name to Claremont McKenna College in honor of founding trustee Donald McKenna. Celebrations and events soon followed, including a name change celebration on October 22, 1981, Homecoming on November 14, 1981, and a presidential dinner on November 19, 1981.