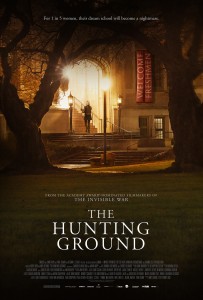 From the Academy Award nominated filmmakers of The Invisible War, The Hunting Ground is a startling expose of sexual assault on US campuses, institutional cover-ups and the brutal social toll on victims and their families. Weaving together verité footage and first-person testimonies, the film follows survivors as they pursue their education while fighting for justice - despite harsh, retaliation, harassment and pushback at every level.
A special sneak preview of The Hunting Ground will take place at Garrison Theater, Scripps College Performing Arts Center on Tuesday, March 3 at 7 p.m. (doors open at 6:30 p.m.)
Following the film is a Q&A session with two of the cast members:
Andrea Pino, Activist and Co-Founder of EROC (End Rape on Campus)
Kamilah Willingham PO '08 This event is free for Claremont Colleges students, faculty, staff, and the general public, however priority seating will be given to students.
This special screening of The Hunting Ground is sponsored by Center for Human Rights at Claremont McKenna College, the Robert Day School of Economics and Finance at Claremont McKenna College, the Alexa Fullerton Hampton Fund of Scripps College and Pomona College.
For more information on The Hunting Ground, visit:
Web: www.thehuntinggroundfilm.com
Facebook: /TheHuntingGroundFilm
Twitter: @thehuntinground
Instagram: @thehuntinground
Hashtag: #HuntingGround