By Amanda Kandasamy '20

This weekend, Claremont McKenna College celebrates Alumni Weekend not only by playing host to alumni and guests, but also by featuring a number of performing artists set to entertain and dazzle attendees throughout the weekend. Recording artists Meaghan Maples, Spirit of Oya, DJ JiJi Sweet, and Sheldon and Cunnane, will all perform live over the course of the three days, and magician Magic Grimm is set to wow the crowd at Monte Carlo.
In his presentation ("Game Over: The Collision of Sports and Politics in the U.S.") at the Marian Miner Cook Athenaeum, Dave Zirin, who writes about the politics of sports for The Nation magazine, referenced another historian, Howard Zinn, who said: "I study history not because I want to learn more about the past, but because I want to change the future."


It might have been a case of freshman shyness, or not wanting to jinx any chance her first novel could go to print, but Pema Donyo '17 worked quietly–– dare we say covertly?–– on the publishing galleys of her debut novel (The Innocent Assassins, Astraea Press) over the course of her freshman y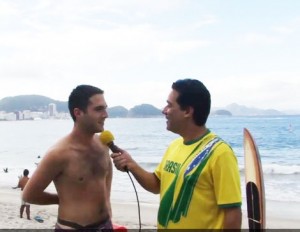 Max Zipperman '14 (left)
There's only music and no words, but you can catch a glimpse of CMC's Max Zipperman being interviewed briefly by Rio Web TV. He comes in at about 37 seconds.
Pages