Athenaeum Fellows Selected for 2008-09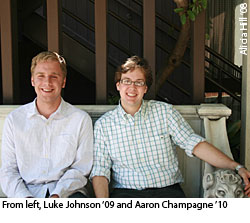 Aaron Champagne '10 and Luke Johnson '09 have been named Athenaeum Fellows for the 2008-09 academic year.
Champagne, an economics and mathematics major, is an active member of The Claremont Colleges Debate Union and serves as a grader for the department of mathematics and as a research assistant for the department of economics at CMC. Champagne says part of the appeal in applying to CMC was the Athenaeum's revolving door of dining and discussions that "give students a unique opportunity to meet and share meals with political, economic and cultural leaders."
During his upcoming year as an Athenaeum Fellow, Champagne, a native of Madison, Wisc., hopes to oversee a speaker series appealing to a wide base of interests, encouraging all CMC students to regularly attend Athenaeum events. Recent Athenaeum guests he's enjoyed include Ishmael Beah, a child soldier and author of A Long Way Gone: A Story of Hope and Redemption; David Brooks, Op-Ed contributor for the New York Times; and Erwin Chemerinsky, the Alston & Bird Professor of Law and Professor of Political Science at Duke University, and dean-elect of the Donald Bren School of Law at the University of California, Irvine.
Luke Johnson, a government, Russian, and East European studies major from Newton, Mass., is a staff writer for The Forum and was part of the CMC delegation at the World Model UN conference in Puebla, Mexico, and last spring studied abroad in Moscow.
Johnson says his favorite Athenaeum speakers have included novelist Salman Rushdie, Black Panther Party former chairman and co-founder Bobby Seale and Reza Aslan, a scholar and media consultant on Islam and the Middle East. Johnson says he's thrilled about being an Ath fellow and looks forward not only to election-related programming this year, but also literary-themed and musical events.
Athenaeum director Bonnie Snortum says Ath Fellow candidates have approximately three weeks to complete their applications, including time during spring break and the weeks before and after. The Athenaeum Advisory Committee then meets to select prospective Fellows for personal interviews, which are conducted by a smaller subcommittee. This year's processfrom application to final decisiontook about five weeks, she says.
"You might say that I am continually amazed by the students who aspire to serve the College as Athenaeum Fellows, being fully aware of the time commitment the position requires," Snortum says. "They are smart, articulate, and sophisticated to a degree not often found in undergraduates.
"Luke and Aaron will carry on a tradition of excellence exemplified by outgoing Fellows Ben Fidler and Brian Davidson," Snortum says. "They are ambitious. They are creative thinkers. And they are committed to developing extraordinary programs for the CMC community."
Contact
Office of Strategic Communications & Marketing
400 N. Claremont Blvd.
Claremont, CA 91711
Phone: (909) 621-8099
Email: communications@cmc.edu

Media inquiries: Gilien Silsby
Phone: (213) 500-8673
Email: gsilsby@cmc.edu