Athenas lacrosse player takes her sport, and a message of empowerment, to Africa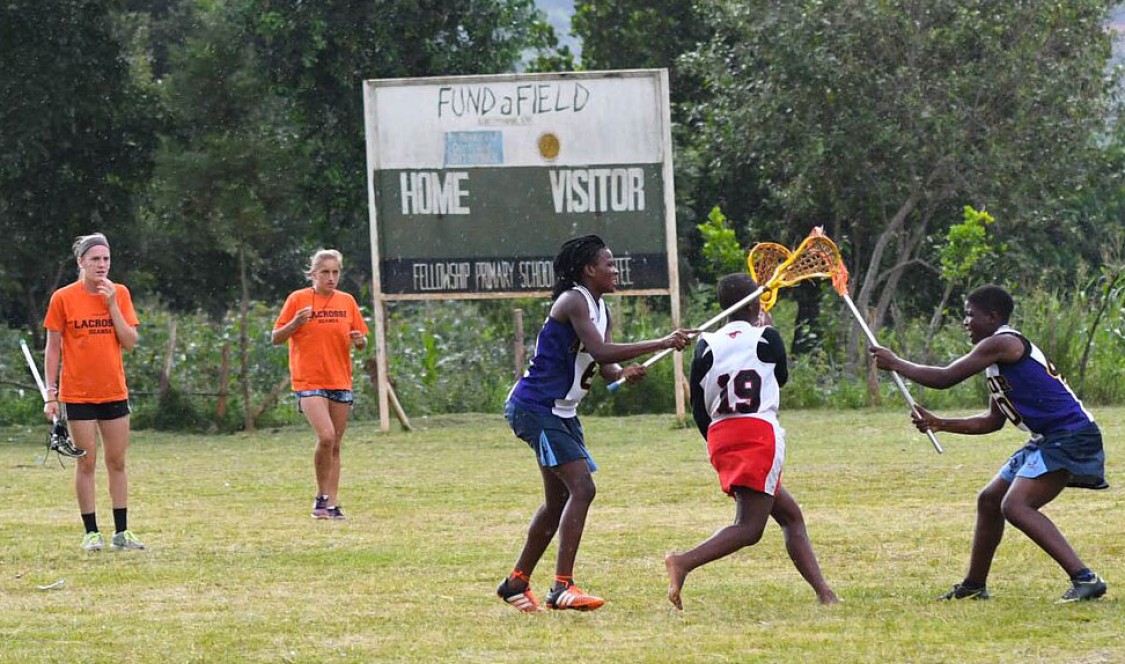 A second-year CMC scholar-athlete is sharing her passion for lacrosse with girls in Uganda, both to encourage the development of the sport and to empower her young pupils.
Kira Weiss '20, a defender on the Claremont-Mudd-Scripps lacrosse team, has been traveling to Africa every summer for nearly half her life, tagging along with her family and then working as a volunteer with FundaField, a nonprofit organization started by her brothers Kyle Weiss '15 and Garrett Weiss.
FundaField builds soccer fields in post-conflict regions in Africa and Haiti, employing the popularity of the sport to promote healing and build unity. But lacrosse had become Kira Weiss' favorite sport as she grew up, and it never left her mind on her journeys to Africa. She wondered how she could share the game she loved with more people and use it for a higher purpose.
Weiss followed through on that impulse in 2015. She and six other members of her high school club team from Danville, California, took 60 lacrosse sticks and several bags of used equipment on their two-week journey to Uganda as volunteers for FundaField.
Soccer is overwhelmingly the most popular sport in Africa for boys, and many of the girls play netball, so seeing a stick with a net at the end of it for the purpose of sport was something new, Weiss said. The girls and young women particularly took to lacrosse. Uganda, a nation of 41.5 million, has only two or three schools in the area that offer lacrosse, she said.
"Generally when a new sport comes to Africa, for years it's only the guys playing until it becomes mainstream. They were excited to be a part of this new opportunity," Weiss said of the girls and young women with whom she worked.
When Weiss and her club teammates introduced the sport at a poor rural secondary school, many of the 70 children and young adults, ages 15 to 23, laughed at the sight of the lacrosse stick and mimicked her movements as she passed the ball back and forth with her team.
"Their reaction was funny and I enjoyed teaching the children a new sport, so I thought to myself, 'There are soccer fields here. We could use them for lacrosse too,'" she said.
On fields built by FundaField, the group from Danville (including current CMS women's lacrosse goalie Sara Reid '20) taught basic stick skills to the Ugandan students every day for two weeks, while avoiding the occasional grazing cow. At the end of their trip, during the FundaField youth soccer tournament, held every time a new field is finished, Weiss organized an exhibition match to showcase lacrosse to roughly 2,000 spectators from the local village.
To pull off the match, Weiss recalled, she had to improvise frequently. Because equipment was limited, she and the other organizers had to construct goals out of pipes, string, mosquito netting, and tape. Lacrosse was so new to the area that the public address announcer for the match had no idea what was happening on the field, Weiss said.
Nevertheless, the exhibition was a success, and in 2016, Weiss returned and organized a follow-up and local interest began to grow.
"There was a huge change in the skill level from one year to the next," she said of the local players. "They still weren't quite there, but it was a lot better."
Coaching and introducing a sport in a foreign country hasn't come without its challenges. Lacrosse is complicated to teach and learn, with many more rules than other favorite regional sports. Not all of the Ugandans spoke English, and the visiting Americans did not speak the local language. At times, Weiss and teammates had to resort to diagraming strategy on the ground using lacrosse sticks and balls.
Despite such barriers, Weiss is committed to expanding the sport in Uganda among girls and young women. "I love lacrosse, and that love for lacrosse was something I wanted to give to other people," she said.
Last summer Weiss took Claremont-Mudd-Scripps teammate Corie Hack '19 with her to Lugazi, Uganda. It was Hack's first trip out of the United States.
"If you would have asked me my senior year of high school, 'Where do you want to go for your first time out of the country?' I would not have said central Africa," she said.
Over the course of two weeks, Weiss and Hack incorporated increasingly more rigorous drills, with one goal in mind: having the young women ready to play in front of their peers in the first-ever FundaField Lacrosse Tournament.
The tournament, which the two CMC classmates organized, brought the entire community together for a day of music, food, and competition. For many, it was their first look at lacrosse.
Weiss, a computer science and art major, said her long-term goal is to work with a high-tech company to increase access to technology for individuals and villages in Africa.
But for now, lacrosse remains her vehicle for change.
"I've been around FundaField all my life," Weiss said, "so I really appreciate the benefits of giving sports to others."
– Chris Watts
Contact
Office of Strategic Communications & Marketing
400 N. Claremont Blvd.
Claremont, CA 91711
Phone: (909) 621-8099
Email: communications@cmc.edu

Media inquiries: Gilien Silsby
Phone: (213) 500-8673
Email: gsilsby@cmc.edu