Author Sapphire Shares
Casual Conversation
with CMCers During Visit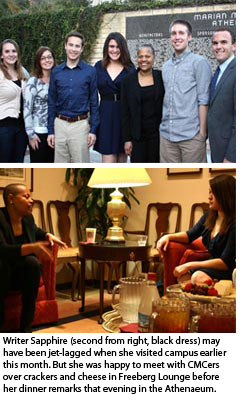 CMC recently welcomed author and poet Sapphire to the Athenaeum to speak about her experience as a writer, as well as her novel Push, which was recently made into an Oscar-nominated feature film named for the story's main character: Precious.
During her lecture at the Ath, Sapphire captivated the audience on subjects ranging from obesity and homophobia, to innercity education and the power of writing.
Earlier that afternoon, she met with a small group of students for a casual discussion about various aspects of her career. Even a little jet-lagged and without much wriggle room to reahearse her dinner remarks ("I wrote some of them on the plane,") she graciously shared more than an hour's time, sipping coffee, answering random questions, and even exposing her own intimidation by the giants in literature among them Hemingwaywhose words she admires.
On differences between the book and the film:
"The book touches on a lot of provocative things, including extreme violence, sexual abuse, and self-mutilation, that just cannot be shown in a film. Because of this, the film focuses a lot more on Precious's inner life, showing the process of her unfolding in the world and finding herself as a person, rather than just showing violence. In the film they did a good job of showing that Precious dreams like everyone else, even though it seems like, [given her devastating circumstances], she doesn't even have the right to dream. The film really takes her process of psychological dissociation to another level. The book is able to depict the more provocative story because the reader can take things such as self-mutilation in stride. Also, the book reveals more of the negative aspects of Precious's character.The book emphasizes more of how reading and writing are instrumental in the process of becoming one's self." ..and what she believes is the moral of her story: "The moral of the movie and the moral of the book are a bit different. I feel that the message of my book is the power of language to recreate the self. I want to show that the language that defines Precious to be worth less than everyone else is the same 26 letters of the alphabet that she uses to redefine herself. The movie plays up themes such as child abuse, the welfare system, the social view of beauty and class, and what it means to be different. The movie is more ambiguous and ambivalent about it's message." Her motivation to write Push:
"I wanted to write this story because I hadn't seen it told yet in the world's canon. I was heavily influenced by Alice Walker's The Color Purple, and I wanted to write the experience of young women in the inner-city that hadn't yet been told for this generation. Precious is a composite character based on various young women that I have worked with. (Through my experiences teaching), I have seen firsthand the struggles they face. The psychological and material needs of a young protagonist such as Precious are not known by the general population. People just don't realize the tremendous amount of strength and will that these young women need to just learn the basics of survival. For example they need to learn to read and write just to fill out an application for McDonald's and for women like Precious, that's success." On political advocacy:
"I wanted to show that African-Americans are really in a hard place, and as long as one member of society is in a hard place, the whole society is in a bad place. I wanted to show that our lives are still shaped by language, and it is crucial to learn to master our language. I also dealt with the profound ways that we judge each other, including skin color and weight. I wanted to point out that these are things that women thought they had worked out, but if our daughters are still dealing with them, then there is still a problem." On her writing process:
"I feel like I am still talking myself into being a writer I find that sometimes I have to push myself out of the silence and remind myself that it's worth it. There have been a couple of times that I felt like I lost myself a bit, but my readers are always a reason to keep going. I know I am going to have to stay focused and keep going because they say that what can be detrimental to an author's writing is success."
Kelsey Brown '13
Contact
Office of Strategic Communications & Marketing
400 N. Claremont Blvd.
Claremont, CA 91711
Phone: (909) 621-8099
Email: communications@cmc.edu

Media inquiries: David Eastburn
Phone (O): (909) 607-7377
Phone (C): (808) 312-8554
Email: deastburn@cmc.edu