Barton Evans, 1947-2014: Mentor, Trustee, and tech strategist
The CMC community is mourning the loss of Barton Evans, a member of the College's Board of Trustees, Class of 1970 alumnus, and guiding force behind the College's expansion into the Silicon Valley and the tech sector at large.
Evans died on May 14 after a long battle with pancreatic cancer. He was 66.
In a statement issued this week to the CMC community, Harry McMahon '75 P'08 P'09, Chair of the Board of Trustees, and Hiram Chodosh, President of the College, described how "Bart Evans embodied a spirit of engagement and service that is truly exemplary. He infused everything he did—as an alumnus and Trustee, as a mentor, role model, and volunteer—with grace, energy, and great care."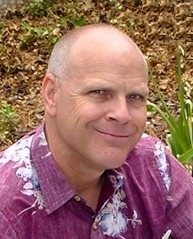 With great energy and determination, Evans (pictured, left) —"Bart" to all his friends and colleagues—was widely regarded as a leader and mentor, benefactor and role model at CMC who combined strategic vision with inveterate pragmatism in his service to his alma mater.
Evans' College involvement was multifaceted, touching many levels—from his service on numerous Trustee committees (including his chairing of the Student Affairs Committee and the Research Institutes Sub-committee) to his instrumental work on the College's tech sector programming to the hosting duties that he and his wife H. Andrea Neves, a member of the Scripps College Board of Trustees and emerita professor of Sonoma State University, frequently embraced by opening their Hillsborough home to student and alumni events.
Born in 1947 in Washington D.C., Evans moved with his family to Pacific Palisades in 1952, and he attended North Hollywood's Harvard School before completing his secondary education at Phillips Exeter Academy. Enrolled in CMC's Management Engineering program in the mid-1960s, he completed an economics degree at Claremont McKenna College and engineering degrees at Stanford University.
Roles as engineer, inventor, Army colonel, and philanthropist
In addition to serving as COO of Dionex, a Sunnyvale-based applied sciences company whose equipment is used in medical research, environmental services, and food testing, Evans held the rank of colonel in the U.S. Army. He retired from the Army Reserve in 2002; he retired from Dionex in 2005.
In the Army and in civilian life, Evans worked as an engineer and also was known as an inventor: He holds the U.S. patent on a "conductivity detector and method" and he devoted much of his technical expertise to developing and improving analytical instrumentation.
Over the years Evans and Neves have demonstrated a broad, all-encompassing support of the arts and humanities in their philanthropy, as reflected by their involvement with several organizations, including the Opera San José, San Francisco Lyric Opera (Evans served as its Secretary-Treasurer from 2008 to 2011), Sonoma State University (host of The H. Andrea Neves and Barton Evans Social Justice Lecture Series), Phillips Exeter Academy, and Stanford.
At CMC, Evans and Neves established, in 2005, the Barton Evans and H. Andrea Neves Professor of Literature—a named professorship in the College's Department of Literature currently held by renowned Frost scholar and Ken Kesey biographer Robert Faggen.
A tech sector strategist on behalf of CMC
Evans' greatest, defining legacy for the College will be his efforts to strategically position CMC in the tech industry.
As CMC has expanded its academic programming to include more study abroad opportunities and related curriculum, Evans recognized that the tech sector represented another exciting territory for CMC's outreach and expansion.
In 2005, Evans founded CMC's Information Technology Advisory Board (ITAB), which is the vital key to the College's foothold in the Silicon Valley. Today, that board is known as the Evans ITAB, a renaming that CMC's Board of Trustees approved to honor their fellow Trustee's central, defining role.
In a past interview Evans explained that he founded ITAB because he felt a need to "develop a stronger connection between the CMC community, Northern California in general, and the Silicon Valley."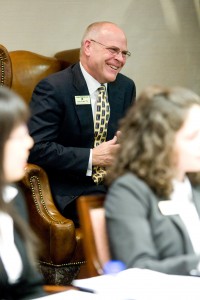 OPENING DOORS IN THE SILICON VALLEY: Bart Evans during an ITAB student networking trip.
Over the past decade, ITAB has enabled students interested in high-tech careers to network with key tech sector companies, ranging from Applied Materials and Cisco Systems to Google and Atlassian, on regular trips to Northern California during winter break.
As ITAB's chair, Evans tirelessly lobbied new companies to participate in the College's networking events and widen the pool of potential employers for our students. He also leveraged his own professional career as Dionex's COO to build these connections and frequently recruited CMC's own alumni in the tech sector.
Building relationships with tech companies enabled the College to start the Silicon Valley Program in the fall of 2012—a program open to students from all of the Claremont Colleges that wouldn't have been possible without Evans' pioneering efforts.
"Bart's overarching premise has been that talented liberal arts graduates from many disciplines can make a significant impact at Silicon Valley companies," said Stephen M. Siegel '87, Director of the Silicon Valley Program. "He set out to provide the tools and programs to make that happen."
Evans' impact on SVP, Siegel added, can be measured by looking at student involvement in both ITAB programming and SVP.
"More than 150 CMC students have participated in the first nine years of ITAB, and 55 students have completed the Silicon Valley Program semester during our first two years of operations," Siegel said. "Bart has served as a mentor and advisor to many of these students—as well as to me—and the strength of the Bay Area chapter of the CMCAA is in part attributable to the implementation of his vision."
For students participating in ITAB and SVP networking opportunities, the experience has had a decisive impact on their career development.
Some, like Emily Nathan '13, affectionately refer to these networking trips as "Bart's boot camps."
"CMCers," Nathan writes in a testimony to the program's transformative effect on the College's website, "if you think you know how to network without Bart Evans' training, think again."
For his commitment to CMC, Evans received the John P. Faranda '79 Student Service Award earlier this year during the most recent Silicon Valley Networking Trip. He was an honored member of the College's Orme Phelps Society and a President's Society Sponsor.
Evans is survived by Neves, his wife and partner of nearly 35 years; his brother Bruce Evans of Woodland Hills, Calif.; and his sister, Barbara Ashwood Evans McDowell of Upper Saddle River, New Jersey.
The family has asked that those interested in making gifts in Bart's memory should support the Evans ITAB Networking Trip at CMC. Please make checks out to Claremont McKenna College and note in the memo section that it's for ITAB. Mail all checks to: Development Office, 400 N. Claremont Blvd., Claremont, CA 91711.
RELATED ARTICLES ON BART EVANS
Contact
Office of Strategic Communications & Marketing
400 N. Claremont Blvd.
Claremont, CA 91711
Phone: (909) 621-8099
Email: communications@cmc.edu

Media inquiries: Gilien Silsby
Phone: (213) 500-8673
Email: gsilsby@cmc.edu