Divya Vishwanath '11 is reminded of Barton "Bart" Evans '70 every time she introduces herself to someone new.
"I still say: 'My name is Divya Vishwanath' versus 'I am Divya Vishwanath,'" she said, recalling guidance Evans provided on how to make the best impression in a professional setting, which included how to shake hands and where to place your name tag. "Bart would always say, 'You are more complex than a simple name.' He was intentional and wanted you to think about how to do well with every detail of who you are."
Vishwanath, who worked for Google for nearly four years and is now launching her Indian beauty brand, is not the only CMC graduate to benefit from Evans' profound and practical advice.
From 2006 until he passed away in 2014, Evans annually led a contingent of students to Silicon Valley as part of the Information Technology Advisory Board (ITAB) networking trips. Before each weeklong trip during spring break—warmly referred to as "Bart's Boot Camp"—Evans would prep the students by vetting questions and guiding their research on companies. Additional tips—aka "Bart's Code: Guidelines for Living in the World"—included clothing rules (dark suits only), name badge location (upper right lapel, "the optimum location when leaning forward to shake hands") and cell phone etiquette (out of sight and sound).
These pro tips not only set up students for their own personal success, they provided the backbone for the overall success of ITAB, which Evans founded in 2005 to introduce CMC students to tech career opportunities in Northern California. Before ITAB began 15 years ago, a minimal number of CMC grads ended up in Northern California. Today, more than 20 percent of new grads are working in the San Francisco Bay Area within multiple industries.
Through the years, ITAB trips have benefitted more than 250 students who spent their winter and spring breaks on whirlwind tours of Silicon Valley's leading companies, such as Google, Facebook, and Salesforce. (Due to California's shutdown orders, the 2020 trip was cancelled.)
Many of these students landed internships and eventually found their careers in tech, thanks to Evans. In recognition of his impact on CMC, before his passing in May 2014, the CMC Board of Trustees voted to rename the program the "Evans ITAB Networking Trip" in his honor.
"I think Bart's greatest, defining legacy for the College are his efforts to strategically position CMC into the tech industry," said Daniel Freeman '96, an ITAB founding member and veteran Silicon Valley executive.
"Not too long after I joined ITAB, I got a new job and I needed interns. I needed smart people, so I got the ITAB intern book and looked for ones I thought would be interesting. I hired my first intern and then increased to a second, and so on. Over the years, I've ended up hiring at least 50 CMC interns and hired 13 as full-time employees. Another part of Bart's legacy was to enable people like me to lend a hand to others and help them on their journey to become tomorrow's leaders."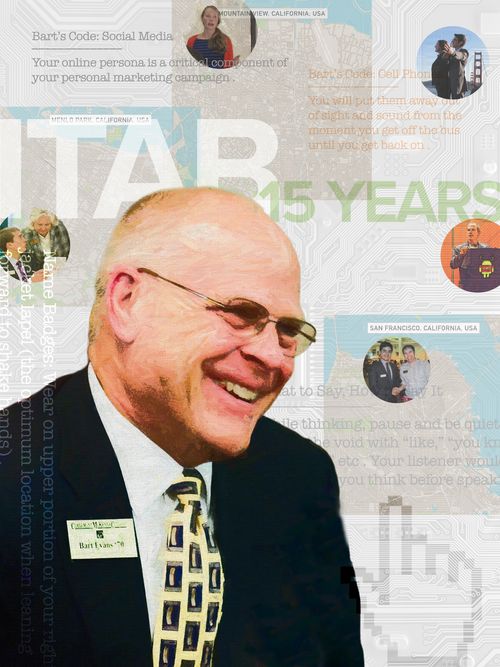 Giving back
As COO of Dionex, a Sunnyvale-based applied sciences company, Evans leveraged his own professional connections in the industry to help CMC build a presence in the Silicon Valley through ITAB, which he also chaired. ITAB and its early networking trips eventually opened CMC to the Silicon Valley semester-long program, which began in 2012.
"Bart cared about service," Freeman said. "He wanted to help people and make the world a better place. He embodied the Goethe concept: 'When we treat man as he is, we make him worse than he is. When we treat him as if he already were what he potentially could be, we make him what he should be.'
"This concept was key to Bart's view on human potential. He wanted to treat these students at age 19, as the leaders they could be at age 40."
Evans' commitment to CMC resonates throughout the College, as he and his wife, Dr. Andrea Neves, established, in 2005, the Barton Evans and H. Andrea Neves Professor of Literature—a named professorship in the College's Department of Literature currently held by renowned Robert Frost scholar and Ken Kesey biographer Robert Faggen.
In addition, Evans and Neves opened their home to CMC students and alumni on numerous occasions for receptions, dinners, and alumni events.
"Bart was influenced by the writings of the intellectual Edward Said and subscribed to a philosophy," Neves said. "He believed that in the first third of your life, you prepare—and that's where your education comes in. The second part of your life, you work—and accumulate. The third part of your life, that's when you give back."
Fred Prager P'99 P'01, founding partner and chair of investment banking firm Prager & Company, met Evans while the two served together on the College's Board of Trustees. Prager and Evans also lived in the same Hillsborough community, south of San Francisco.
"For Bart, it was always about the student, their experience," Prager said. "If you ever witnessed a conversation between Bart and a student, you'd see that his ability to listen and communicate with them was uncommon. He took these students under his wing."
A concrete code
Evans' own education was remarkable. After graduating from Phillips Exeter Academy, Evans entered the five-year management engineering program at CMC (then Claremont Men's College). Completing the requirements for a bachelor's degree in economics, he transferred to Stanford University where he graduated with bachelor's and master's degrees in engineering.
In addition, Evans served more than 30 years in the U.S. Army, retiring with the rank of colonel. Military discipline and decorum infused his approach to leading ITAB. "He was a concrete thinker," Prager said. "He tended to dissect how things worked—socially, corporately. What is appropriate or inappropriate? Basically, 'Bart's Code' is a guide on how to conduct yourself in an adult environment.
Bart's Code
Before his ITAB networking "boot camps," Bart Evans '70 would deliver a presentation with guidelines for living in the world—not only for use by students during the trip, but throughout their lives. Daniel Freeman '96 continues to use these tenets—known as "Bart's Code," for everything from clothing choices to phone use to writing thank you notes—with current CMCers. Among some of Bart's enduring principles:
Dark business suits for all (you can dress down once you are on their payroll).
Pen and paper: do not go anywhere without them, ever.
While thinking, pause and be quiet. Do not fill the void with "like," "you know," "ah," "um," etc. Your listener would prefer that you think before speaking.
Remember: the admins did all the preparatory work for the host. They are the real heroes, and often the unsung ones at that.
You will put your phones away, out of sight and sound, from the moment you get off the bus until you get back on.
Your online persona is a critical component of your personal marketing campaign.
You will write thank you notes and you will send them.
Never make a promise you can't or won't keep. You must do anything you say you will do.
Always do it quickly enough so that the recipient associates it with your promise.
"This is emblematic, in my view, of how Bart thought. He thought about one's responsibility to themselves, to CMC, and to a prospective employer. Reading 'Bart's Code' will tell you more about Bart than I could ever tell you."
Part of Evans' role with ITAB was to convince tech companies to widen the pool of student opportunities, especially to liberal arts students. Jonathan Rosenberg '83 P'14 recalled Evans phoning him to see if he would agree to host an ITAB visit. At the time, Rosenberg was head of product management at Google, "You couldn't say no to Bart. It was impossible to say no; it was much easier to yes," Rosenberg explained.
Rosenberg immediately noticed how Bart's "formal" and "drill sergeant" methods contrasted with Silicon Valley culture, where, for instance, the dress code was notably more casual.
"What's fascinating to me is that somehow Bart's old-school style worked in the 21st century," said Rosenberg, an ITAB advisory board member. "The students in suits would show up with prepared questions, and it seemed incongruous at first. But Bart would sit in the back of the room, provide feedback, and help the students be more successful."
Paige Costello '12, an ITAB alumna, is now a PM pillar lead of core product at Asana, a productivity software company headquartered in San Francisco. Costello recalled how Evans emphasized the importance of making a strong first impression during the ITAB trip. "At first, we were a little embarrassed to be wearing suits. We looked like we were going to buy the place!" she said with a laugh. "But we made an impression, and Bart made sure that we were prepared with intelligent questions that demonstrated that we had thought about the company in advance."
Evans, it turned out, also did his own detailed prep work before embarking on an ITAB trip. He would tell hosts like Rosenberg about each of the students before they arrived so they could also prepare for and personalize their time with them. Most notably, the students Evans selected for the trips were top-notch. "When he brought in a group of students, you knew they were the best—highly motivated and super well-prepared," Rosenberg said.
Full circle effect
In meeting the moment, Rosenberg noted, Evans' timing couldn't have been better. "Bart was asking managers to meet students they should be interested in hiring—during a time when the Valley was booming. And he was building a reputation effect for CMC with the companies that he was visiting. Those companies invited the next set of CMC students to come back, and then hired them as CMC graduates. Those alumni then ended up hosting CMC students at the companies where they were working. He started their careers with a network and a head start."
For Vishwanath, there is a direct line from her ITAB experience—which introduced her to Silicon Valley during her senior year—and to Google, where she worked with Rosenberg, a personal mentor. Now, she's eager to give back and to guide CMC students herself.
"So much of my life has been impacted by coming up here while at CMC," Vishwanath said. "From my marriage (to fellow CMC graduate Tejas Gala '09 M'13), to starting my own business, everything in my life has been impacted by ITAB. Bart was teaching us things that had helped him throughout his career. I hope to do the same, as well."
Costello, who has participated in many CMC alumni events—and in her roles at Asana and previously Intuit, has hosted ITAB trips—agreed that Evans' passion and enthusiasm for helping others made all the difference for eager CMC undergrads interested in technology.
"Bart was a great example of a CMC graduate. He connected with current students and supported their interests and careers," she said. "He opened doors for students and let them know about opportunities at their fingertips that they weren't even aware of. His commitment was real. Bart took it seriously and made us all take it seriously, too."
This article appears in the Fall 2020 issue of CMC Magazine.
—Anne Bergman