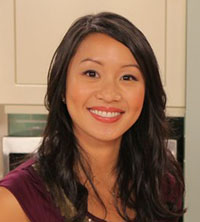 After graduating from Claremont McKenna College with a double major in Econ/Accounting and Spanish Literature, Brigitte Nguyen '03 landed a corporate accounting job with Deloitte. She was on her way to climbing the corporate ladder.
But it didn't take long for Brigitte to realize that she needed to trade in her high heels for Dansko chef clogs. Nowadays, the accountant turned celebrity chef can be found on the Cooking Channels roving reality series "From the Kitchens Of…"
Fellow Claremont McKenna College alum Sherry Wight '00 with the Examinar.com interviewed Nguyen to get the scoop on a number of topics including holiday hosting tips and tricks, fond memories of CMC (including baking at the Athenaeum), her thoughts on Paula Deen, cooking for Team USA at two Olympic Games and more.