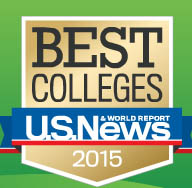 U.S. News & World Report has ranked Claremont McKenna College No. 8 among national liberal arts colleges. In its just-released 2015 rankings, Claremont McKenna is in an eighth-place tie with Carleton and Haverford colleges.
You can view a complete listing of the national liberal arts colleges rankings here.
National universities rankings can be found here, with Princeton, Harvard, and Yale in the top three spots, respectively.
Today's release of the latest U.S. News & World Report's rankings may be heartening to CMC supporters, but there are other rubrics that should be taken into consideration when evaluating institutes of higher education, President Hiram E. Chodosh writes in his new blog, from the kitchen table.
"In a phrase, metrics are in the eye of the beholder," he says in yesterday's post, "toward the forensics of value."
Beyond this observation, he writes, we can see a series of traps for leaders in higher education. We tend to champion the favorable rankings and criticize the unfavorable ones. The rankings and the metrics we consume are inherently and at times profoundly imperfect and yet they are modestly useful as proxies of value. But the championship and criticisms of rankings lean to the extreme. Rankings have become a type of sport in which we dance in the virtual end zone after the touchdown or else we complain about the refs when we are on the losing end of the results.
Read his complete blog post here.