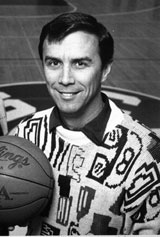 David Lloyd Wells, 50, former Athletic Director and head men's basketball coach at Claremont-Mudd-Scripps, has died following a long battle with cancer. Wells died July 2 at Mesa Lutheran Hospital in Mesa, Arizona, while in the area to attend a baseball tournament.
Wells is survived by his wife, Jodie Burton (head women's basketball coach at Claremont-Mudd-Scripps), three sons, John, Todd, and Michael; his father and step-mother, John F. and Lois Wells of Sonoma; three brothers, James, Farmington, Timothy, Burbank, and Robert, Albany; two sisters, Mary Wells Cutone, Burbank, and Jane Wells, Vancouver, Washington; and hundreds of student athletes who competed with, for, and against Wells during his 32 years with CMS athletics. David's mother, Mary Elizabeth Wells, died in 1974.
David and Jodie were the only husband-wife team to coach NCAA basketball on the same campus. Memorial arrangements are pending and will be announced by the College.
"In his 32 years as a student, athlete, coach, athletic director, and mentor, David Wells touched the lives of thousands of people in this community," said Pamela Brooks Gann, Claremont McKenna College president. "He was a splendid human being and role model, not just to student athletes and coaches, but to us all. His professional legacy is highlighted by having crafted one of the finest Division III programs in the nation, and by the scores of young athletes who are, quite simply, better human beings for having known David Wells."
A 1972 graduate of Claremont McKenna College, Wells set out to teach and was later invited by basketball coach Ted Ducey and athletic director Bill Arce to become assistant basketball coach under Ducey. When Ducey was killed in a tragic flood accident, former CMC president Jack L. Stark tapped Wells to lead the Claremont-Mudd men's basketball team - two years after his graduation from CMC.
Born November 16, 1950 in Palo Alto, California, he earned a bachelor's degree in 1972 from Claremont Men's College (later to be re-named Claremont McKenna College) and earned a master's degree from California State Polytechnic University, Pomona. Coach Bill Arce recruited Wells for the CMS baseball team from Oakland High School, Oakland, California, the same school that produced Arce decades earlier. Coach Ducey didn't expect Wells to contribute much to the basketball team. But Ducey did not know Wells.
While a student at CMC, Wells excelled on the baseball diamond, the basketball court and in the classroom. He earned a variety of awards for his athletic performances in basketball and baseball including Athlete of the Year (1972), the Bill Dickinson Award (1972), and conference honors in baseball as an All-American.
During his 25-year coaching career, Wells' record was 318-297, which included 15 winning seasons and six SCIAC titles. His integrity on the sidelines was matched by his integrity off court. Early in his coaching career, Wells encountered some of his players on a road trip breaking the rules. He shipped the upper-classmen back to campus (most of the starting squad) and played with four starters and one junior-varsity player who lived in San Diego. Two more players made it to San Diego for the second half.
In 1995, Wells succeeded John Zinda as athletic director of Claremont-Mudd-Scripps athletics.
In 1998, Wells was honored by the National Association of Basketball Coaches with its Outstanding Service Award. This award is given to coaches whose actions beyond the athletic arena have distinguished themselves as valuable members of their communities. Outside of his family and professional obligations, Wells volunteered as a board member of the Little League in Claremont and chaired fundraising campaigns for Mountain View Elementary School, as well as running local basketball clinics.
In May 1999, Wells was honored by the Claremont McKenna College Alumni Association for his service to the College and CMS sports with the Jack L. Stark Distinguished Service Award, the highest honor the Alumni Association bestows.
After more than 32 years as a student, coach, and athletic director at CMS, Wells retired in October 2000. At his retirement celebration, attended by coaches, friends, classmates, teammates, players, colleagues and family, his intense but effective coaching style was celebrated by many, who recalled the often-repeated advice of Coach David Wells: "Be quick, but don't hurry."