New grads emerge into the job market with strength
CMC's Class of 2020 has overcome two gigantic hurdles: a global pandemic and record unemployment.
Even while facing these unprecedented conditions, CMC graduates landed positions with leading firms, including Microsoft, Accenture, and Apple, which are among the top employers of CMC's newest alumni. Additionally, several Class of 2020 members were admitted to elite graduate programs, including Columbia and Stanford Universities.
Impressively, median salary numbers also increased for the graduates, who reported an earned median salary of $76,750.
The positive results were part of the latest First Destination Survey, administered by CMC Institutional Research, in partnership with the Soll Center for Student Opportunity.
Nearly 96% of responding 2020 CMC graduates reported confirmed post-graduate endeavors – including employment, graduate school, and military service. The outcomes are especially notable given that just as Claremont McKenna graduates were heading into the job market, national unemployment for May stood at 25.7% for those between 20 and 24 years old, according to the Bureau of Labor Statistics.
"Our graduates faced down formidable challenges," said CMC President Hiram Chodosh. "With their singular integration of intellectual and leadership capabilities, the generous support of our community, and the tireless dedication of our staff, the Class of 2020 both created and seized outstanding post-graduate opportunities."
As of November, 81% of the Class of 2020 graduates were employed, and 15% attending, or planning to attend, graduate or professional school. These results are broadly in line with previous First Destination Survey results from the past three years, with a slight increase this year in the number of alumni entering graduate school.
Beth Milev '05, director of the Robert Day Scholars Program & Scholar Communities at the Soll Center for Student Opportunity, said this difficult moment was no match for CMC's 2020 seniors.
"In March, the world as we knew it stopped," she said. "Our students had to return home, faculty and staff had to adjust to their new virtual work environments, and our seniors faced a very uncertain employment market. But they kept their eyes on their post-graduate plans, confident that they were prepared to meet the challenges."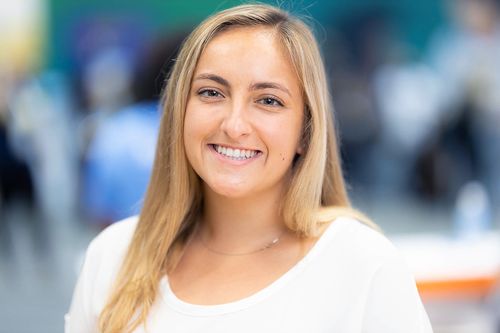 Kira Weiss '20, who joined Microsoft as a program manager last summer, credits the Soll Center for Student Opportunity with setting her up for a tech career early on.
"The Soll Center helped me out my sophomore summer by sponsoring my software internship at a cyber security company in Israel. I had an incredible experience and learned so much," Weiss said.
Further, Weiss said during her senior year, Soll Center for Student Opportunity staff secured her a spot at the Grace Hopper Conference in Florida.
"It's the largest conference for women in technology and is both a learning and recruiting event," she said. "Not only was it inspiring to attend, but I actually got my job offer from Microsoft the week after the conference. I interviewed with a number of tech companies, but eventually decided that Microsoft was the best fit for me."
In an effort to help Class of 2020 seniors achieve their post-graduate goals — and in response to a rare combination of the pandemic, massive unemployment, and the sudden closing of the campus — the College created the CMC Impact Program last May. Funded by an anonymous donor and the College, the one-year-only Impact Program provided grant awards for CMC's Class of 2020 who applied to the program by the stated deadlines. The Program offered CMC graduates the opportunity to advance their educational and professional development through internship, research, or community-based projects, while also offering skill-building seminars and one-on-one career coaching.
"The Program's very generous donor had only one request for the grant recipients, that they all do the same, in various ways throughout their lives. To be aware of the needs of others, and when they are in a position to help others, do so through their time, treasure, and talent," said Milev.
Catherine Callaci '20 said her Impact Program experience taught her to adapt to the unexpected.
"I chose to use this summer to further my academic and professional pursuits instead of mourning the loss of my neuroscience research position. The Impact Program enabled me to actually strengthen my application to graduate school through my internship project and seminar courses," said Callaci.
Callaci interned with Claremont Tutors, where she built upon her undergraduate research at CMC's Autism Center. During her internship, she designed and implemented educational programs for special needs students on the Claremont Tutors online platform. This experience helped her become a competitive candidate for PhD programs in clinical psychology.
Linnea Uyeno '20 also benefited from the internship project she received as part of the Impact Program. She found her dream job as a technical product manager on the TripIt team at SAP Concur.
"The Impact Program changed my life," said Uyeno. "My mentors through the program, and my wonderful co-workers at SAP allowed me to refine my skills. It all made me feel ready."
In addition to landing an internship at SAP through the Impact Program, Uyeno received personalized career coaching from CMC's Career Services, and took technical classes that enhanced her "product management tool kit."
Timur Adizov '20 echoed Callaci and Uyeno's gratitude for the Impact Program. "Throughout these past six months, I felt very supported," said Adizov, who came to the U.S. from Uzbekistan to attend CMC. "The program provided some certainty during such uncertain times."
When he was hired in January as a software engineer at Coinbase, Adizov said he felt a "great weight" was lifted from his shoulders. Adizov is grateful for the coaching provided by CMC alumni, who shared tips on how to reach out to employers and locate opportunities, as well as how to navigate conversations. "It really helped to have that coaching, and have someone to bounce ideas off of on the different ways to network," he said.
The Soll Center for Student Opportunity is now focused on the Class of 2021, who have had more time to prepare, but are facing similar challenges. Staff members are meeting with graduating seniors to discuss their personal goals, help them create individualized plans, and provide the resources, coaching, and connections that will help them start their career with confidence, said Milev.
The CMC Alumni Association has also collaborated with Career Services to develop a number of alumni panels to provide seniors with targeted advice about recruiting in specific industries. As of January 2021, the team has individually connected with over 80% of all soon-to-be graduating seniors.
"As we start the spring semester, we are excited to see that many of our traditional campus employers continue to recruit our students and the amount of job postings available to our students remain strong in our jobs database, Handshake," said Milev. "This, combined with our one-on-one approach to supporting the Class of 2021, makes me excited to see strong outcomes yet again for our CMC students."
—Gilien Silsby and Anne Bergman