CMC honors dedicated faculty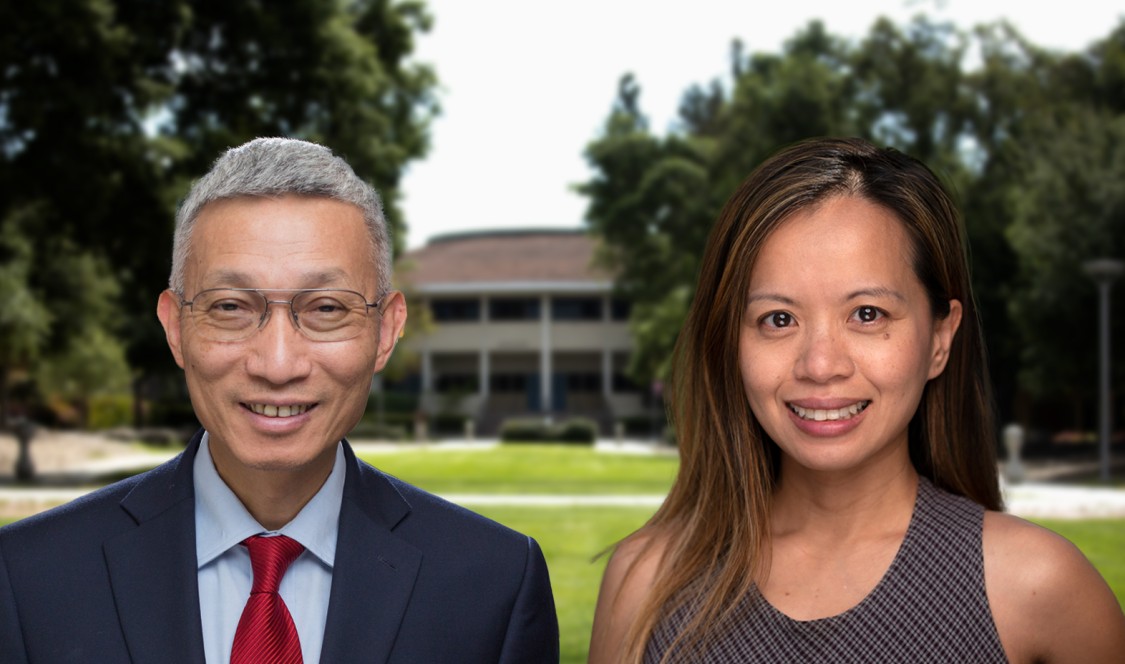 To recognize the dedicated members of Claremont McKenna faculty and celebrate significant milestones this year, CMC recently hosted the inaugural Faculty Awards Celebration.
Heather Antecol, Vice President for Academic Affairs and Dean of the Faculty and Boswell Professor of Economics led the ceremony, with a keynote address delivered by Stacey Doan, Associate Professor of Psychology, Director of the Berger Institute, and winner of the 2021 Faculty Scholarship Award.
"I feel like we're all winners because we're all in this intellectual community together. And we all came together in such challenging times," Antecol said. "Thank you…for your tremendous contributions to the CMC community."
President Hiram E. Chodosh, who presented both the 2020 and 2021 Presidential Awards for Merit at the ceremony, said, "I want to echo the celebration of so many outstanding faculty accomplishments today. It is such an outstanding group. And there are so many other deserving faculty right behind today's award winners."
"As we've all witnessed, through the work that we do together, our expectations of ourselves are high. So many of you not only meet them, but surpass them in the search for truth and in striving for excellence," he continued. "We are in so many ways, not just the product of our environment. But the product of the expectations we set for ourselves."
Chodosh announced Minxin Pei, the Tom and Margot Pritzker '72 Professor of Government and George R. Roberts Fellow, as the winner of the 2020 Presidential Award for Merit, while Stacey Doan won the 2021 Presidential Award for Merit.
"Leadership is when you place yourself at the bottom of a steep mountain. In their own way, our two recipients today have done just that—they put themselves right at that point, that challenge where only they can make this particular, singular contribution to the improvement of our human condition," Chodosh said.
Chodosh praised Pei, a leading China scholar, for his "vast expertise" internal to China, "combined with the freedom of the outsider," that enables him to share such important insights and critical observations. With such courage in the search for truth, against the face of powerful, repressive forces, Minxin inspires us all."
Chodosh described Doan as having so many objective accomplishments, including her outstanding productivity, for us to celebrate." "Beyond these demonstrable achievements," Chodosh said, "Stacey's superpower—her transcendent capability—is resilience. It's the resilience that's the focus of her research. The resilience that is a reflexive value in how she approaches the world."

The 2022 faculty awards honored seven CMC professors recognizing their impactful scholarship, inspiring dedication to service, and remarkable teaching.

Dan Livesay, Associate Professor of History and chair of the History Department: Roy P. Crocker Award for Service
Livesay served this year as the chair of the Faculty Steering Committee for the Presidential Initiative on Anti-Racism and the Black Experience in America. One nominator praised his work on Inside-Out courses taught in prison by faculty from the Claremont Colleges:

"Both before and since earning tenure at CMC, Dan has consistently been part of the Inside-Out Program working to bring our students a broader experience and a world class education to people who are currently incarcerated. He did this difficult work even during the pandemic, when it was even more challenging to make the logistics work."

Amy Kind, Russell K. Pitzer Professor of Philosophy and Director of the Gould Center for Humanistic Studies: Faculty Scholarship Award
In addition to her 2021 co-edited book, Kind published her textbook, "Philosophy of Mind: The Basics" in 2020, and has two forthcoming monographs with Cambridge University Press and Routledge. "She is recognized in philosophy as the leading person in the current Philosophy of Imagination community and has done more than anyone to move the study of imagination to a central place in philosophy of mind and other parts of philosophy," a nominator said.

Murat Binay, Visiting Assistant Professor of Economics and Finance: Glen R. Huntoon Award for Superior Teaching
Since 2007, Binay has taught corporate finance, corporate governance and ethics, and mergers and acquisitions. He builds community in his classroom by encouraging students to experiment with ideas and be comfortable with making mistakes. One student nominator shared that Binay "is extremely dedicated … and devotes an unreal amount of energy and care to his students. He teaches me to be successful beyond his class."

Anna Wenzel, Professor of Chemistry: G. David Huntoon Senior Teaching Award
She introduced several innovations during the pandemic including bite-of-science presentations where students present a recent scientific discovery in the last five minutes of class. She also expanded diversity, equity, and inclusion efforts by discussing the innovations of individuals from underrepresented groups and topics such as the socio-economic effects of ZIP codes on lifespans. "Professor Wenzel makes a huge effort to connect with her students and help them succeed. She is great at reminding students that we are more than our grades and will always advocate for her students," a student nominator said.

Jenny Taw, Associate Professor of Government and International Relations: Dean's Distinguished Service Award
This semester marks the end of Taw's term on the Administration Committee. She also served on the Diversity Committee after chairing it for three years through academic year 2021, and serving as the faculty manager for the CMC Model UN Club and the International Relations Society. One student noted, "Professor Taw has an uncanny ability to simultaneously guide and challenge her students. She places an enormous amount of trust in us while being constantly available for support and advice."

Stacey Doan, Associate Professor of Psychology and the Director of the Berger Institute for Individual and Social Development, delivered the keynote address having received the 2021 Faculty Scholarship Award. Among her many research accomplishments, she earned two grants in the past two years from the National Science Foundation, alongside three other external grants and 17 articles. "She has had an explosive research career, but especially so in the last couple of years. She has brought in external funding during a particularly challenging time, has adapted her research to address pandemic related issues, has involved an enormous number of students in her lab and research, and collaborates across the colleges, and has of course published extensively," one nominator said.

In her keynote address, Doan shared some of her research on the role of negativity in health and understanding health disparities, with a particular interest in understanding development across time. "One of the reasons why I get so much funding is I study stress and negative emotion," she said with a laugh. "So it was just a fortunate time to be studying such a topic."
In addition, the ceremony recognized faculty for their dedicated years of service at CMC:
25 Years
Mark Blitz earned his PhD in Political Science from Harvard University and has been working at CMC since 1996. He is the Fletcher Jones Professor of Political Philosophy, former chair of the Government Department, and director of the Salvatori Center for the Study of Freedom in the Modern World from 2008 to 2018. Professor Blitz lectures on political philosophy and American politics. His recent book, "Reason and Politics: The Nature of Political Phenomenon" was published by the University of Notre Dame Press in 2021.
Lisa Cody earned her PhD in History from the University of California, Berkeley. An Associate Professor of History and former chair of the History Department, she also served as the Associate Dean of the Faculty from 2008 to 2011. She lectures on European history since the 16th century, with a particular focus on British and women's history. She recently chaired the Writing Committee and has long served as a valuable member to CMC students.
Janet Smith earned her PhD in Economics from the University of California, Los Angeles. She was the Von Tobel Professor of Economics, former chair of the Robert Day School of Economics and Finance, and the founding director of the Center for Innovation and Entrepreneurship (now RLCIE) from 2012 to 2020. She lectured on entrepreneurial finance and research methods. As director, she built up the RLCIE's finances, staffing advisory board, and student management model, and supervised many student research projects herself.
30 Years
Fred Lynch is a recognized expert on social inequality, diversity policies, political correctness, and generational politics. Profiled in Forbes Magazine, and The Chicago Tribune, Lynch is the author of three books—currently at work on his fourth—as well as numerous scholarly articles and other national publications. He brings the depth of his own research, fieldwork, and experience to the classroom as an associate professor of Government. Prof. Lynch earned his PhD in Sociology from the University of California, Riverside, and has been working at CMC since 1991. In recognition of 30 consecutive years of service, the College will place a plaque inscribed with Lynch's name on the fountain in Butler Plaza in front of Bauer Center South. Learn more about Prof. Lynch's career here.
35 Years
Jack Pitney earned his PhD in Political Science from Yale University and has worked at CMC since 1986. He is the Roy P. Crocker Professor of American Politics and lectures on American politics and the politics of journalism and interest groups. His recent co-authored book, "Divided We Stand: The 2020 Elections and American Politics" was published by Rowman and Littlefield Press in 2021. Professor Pitney has played a major role in the CMC Washington DC Program by interviewing students, assisting students with internship placement and housing, and participating in the orientation program. He is also a member of the Phi Beta Kappa chapter at CMC, Tau of California.
Contact
Office of Public Affairs and Communications
400 N. Claremont Blvd.
Claremont, CA 91711
Phone: (909) 621-8099
Email: publicaffairs@cmc.edu

Media inquiries: Gilien Silsby
Phone: (213) 500-8673
Email: gsilsby@cmc.edu