CMC mourns loss of former Trustee Larry Hammett '57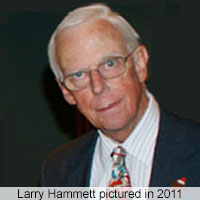 The CMC family is mourning the loss of Larry Hammett, a member of the Class of 1957 and former Trustee who passed away last Friday in Santa Barbara. He was 81.
Like Pete Welsh '50 who passed away earlier this year, Hammett was another prominent, active member from the College's early classes who gave multi-faceted leadership and support to the College during a crucial period of growth and change.
Hammett was born in Santa Barbara on June 17, 1934, to a family with deep connections to the Santa Barbara area. The Hammett family helped found several of the city's most important cultural organizations, including the Santa Barbara Museum of Art. His step-grandfather was Ernest L. Thayer, author of the famous poem celebrating America's baseball pastime, "Casey at the Bat."
After studying business administration at Claremont Men's College in the mid-1950s, Hammett established a trust career with County National Bank in Santa Barbara, followed by careers with the trust division of Wells Fargo Bank, and Title Insurance and Trust Company. He went on to start his own real estate consulting firm, Hammett and Associates.
The Hammett family not only has roots in Santa Barbara (and also in Spokane, Washington) but in Claremont as well. They are one of the Claremont Colleges' legacy families, which includes son Bob (a member of CMC Class of 1984), his niece's son Augie (a member of CMC Class of 2016), and daughter Denise (a member of Scripps Class of 1983).
Along with his service on the College's Board of Trustees from 1996 to 2009 (which included sitting on the Board's Academic Affairs and Buildings and Grounds committees), Hammett served on the board of the Family of Benjamin Z. Gould Center for Humanistic Studies until 2004. He was also actively engaged with CMC's Alumni Association in the Santa Barbara/Ventura area.
With his wife, Astrid, he provided support to many CMC students through the Hammett/Graham Scholarship and the Lawrence T. Hammett '57 P'84 Alumni Scholarship as well as assisting the College's professors in their scholarship work through the Hammett Fund for Faculty Research.
Hammett's philanthropy hasn't been limited to CMC: He and his wife have supported many worthy causes beyond the College's campus. These include the Santa Barbara Museum of Art, the Santa Barbara Historical Museum, and the Santa Barbara Museum of Natural History. In fact, Larry Hammett also served as trustee on Laguna Blanca's board, and on the boards of the Santa Barbara Museum of Art, Santa Barbara Historical Museum, Friendship Manor, University of Redlands, and Trinity Lutheran Church. He was also active in the Alhambra and Montecito Rotary Clubs.
Hammett is survived by wife Astrid, daughters Denise and Lisa, and sons Bob and Doug.
Contact
Office of Public Affairs and Communications
400 N. Claremont Blvd.
Claremont, CA 91711
Phone: (909) 621-8099
Email: publicaffairs@cmc.edu

Media inquiries: Gilien Silsby
Phone: (213) 500-8673
Email: gsilsby@cmc.edu