Robert L. Emett '50, a member of the first four-year class of 1950 and a life trustee of Claremont McKenna College, died on December 20. He was 93. 
Emett served for 25 years as chief executive officer of Los Angeles-based Emett & Chandler, one of the nation's largest insurance brokerage companies. It was worth $60 million when he sold it in 1986. Emett and his wife, sculptor Mary Anne Emett, were longtime residents of Orange County.
If you're feeling like a sloth one day and the Energizer Bunny the next, you're not alone. Laura Grisolano '86 is helping clients at her firm, Bridge Mediation & Leadership Solutions, grapple with a number of new work-from-home challenges during the COVID-19 pandemic. It's as if 2020 is "a big Monopoly board that's been knocked into the air and no one knows quite how to put the disrupted game back together," Grisolano said. Worse yet, the basic rules don't even appear to be the same.
The Claremont McKenna College Board of Trustees recently welcomed new trustee C. Steven McGann '73, the former United States Ambassador to the Republics of Fiji, Nauru, Kiribati, and the Kingdom of Tonga and Tuvalu. He also served as the Deputy Commandant of the Eisenhower School for National Security and Resource Strategy, National Defense University.
McGann, founder of The Stevenson Group, an international consulting and global security strategist firm, was elected to a three-year term at the Board's meeting on April 23. McGann previously served as an Alumnus Trustee.
John Shrewsberry '87 P'24, senior executive vice president and chief financial officer of Wells Fargo & Company, was recently named a new member of Claremont McKenna's Board of Trustees.
Shrewsberry was elected to a three-year term at the board's meeting on April 23.
"I look forward to serving on the Board of Trustees and making an impact," said Shrewsberry. "This is truly an honor."
Thomas B. Neff '76 P'21, a voracious learner and unorthodox thinker who long intended to improve the world through scientific discovery, has died.
The two most popular courses at Claremont McKenna College are, as they have been for as long as many can remember, Economics 50 and Government 20.
The third? Computer Science 5.
The rise of computer science at CMC is not a shift from the College's historic emphasis on economics and government, but a sign of the growing importance of data science and quantitative analysis in the social sciences, as well as the sciences and humanities.   
The Claremont McKenna College Board of Trustees appointed Tina Daniels '93 and Richard J. "RJ" Romero '89 to three-year terms and Perry Lerner '65 P'89 GP'19 GP'20 as a Life Trustee on October 6.
The three join three previous 2017 appointees: Trustees Susan Matteson King '85 P'18 and Bruce Soll '79 P'12 P'15 P'17 and Alumni Trustee Emily Meinhardt '10, who began their terms in July.
Harris W. Seed, longtime trustee and benefactor of Claremont McKenna College, passed away in July at the age of 89.
Seed became a Trustee of CMC in 1965. In 1977, he started the Harris and Ann Seed Honors Scholarship, an annual merit-based scholarship awarded to high-achieving students as part of the McKenna Scholars program. Additionally, he established a number of funds to benefit the College and its students during his tenure as a trustee, including a fund that was dedicated to programming at the Athenaeum.
Howard Philip Marguleas P'87, produce pioneer, philanthropist and longtime CMC Trustee, died June 1 in Rancho Mirage, Calif., following complications from cancer. He was 82.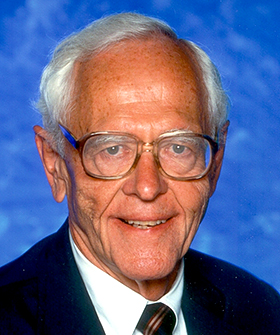 The CMC community mourns the loss of one of its Pacesetters, Richard Grantham, who passed away this month. A member of the Class of 1950 and a Life Trustee, Grantham was 88.
Known as the Pacesetters, the earliest classes of CMCers were the earliest builders of the College -- Grantham and his classmates literally cleared away the countless rocks and large stones on the young campus in a project known as "Operation Rockpile."
Pages