Succulents. Cookies. Slime?
These are just some of the items packed into "mystery boxes" and mailed to CMC students around the world as a way to create opportunities for shared experience and a feeling of close-knit community while the campus remains virtual for the spring semester.
Through a new initiative supported by the Dean of Students (DOS) office and the Soll Center for Student Opportunity, CMC is working closely with students to find ways to connect CMCers with their campus and its beloved traditions and treats, such as the Ath speaker series and late-night snacks from Collins.
Building upon the engagement activities that DOS introduced during the fall semester, Devon MacIver, Associate Dean of Students for Student Engagement and Beth Milev '05, Director, Robert Day Scholars Program & Scholar Communities at the Soll Center for Student Opportunity, are collaborating this spring on ways to reach CMC's student population.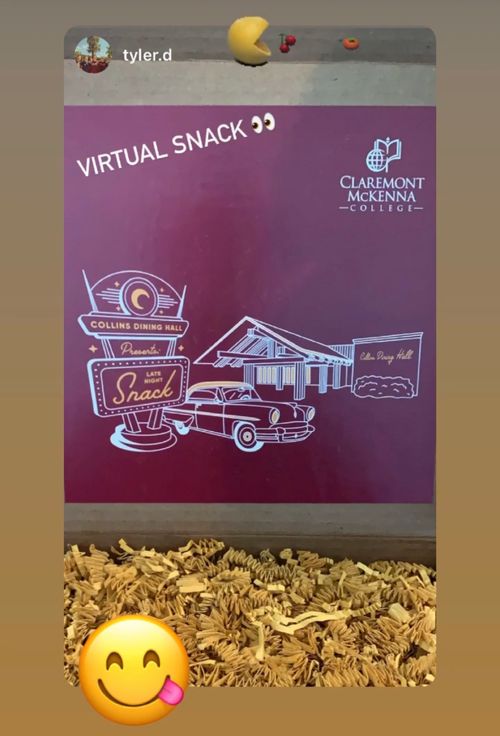 "We've approached creating these engagement opportunities through the framework of community, purpose, and play," said Milev. "To create community, we are bringing a bit of CMC to the students this spring, with virtual events such as a Colombian coffee tasting with CMC alumni. In addition, to help students make space for purposeful pursuits outside of academics, we're offering an annual subscription to MasterClass. And to encourage play, we're curating boxes to inspire creativity, as well as a birthday surprise to students whose birthdays land during the spring semester."
"We heard from students that they wanted opportunities to engage on their schedule and away from the screen," MacIver said. "This is the reason we put together the Mystery Box program—a way to get creative supplies in the hands of students to use on their own time."
Many of the ideas are generated by students themselves, hired by DOS to help create and design the boxes. "We are always thinking about integrating what students are thinking about," MacIver said. "We are always trying to listen." And the ideas are resonating, with more than 600 students signing up to receive mystery boxes this spring. Recent boxes have included:
Succulent clippings from the CMC campus, with clay pots, and paints;
Baking boxes with cookie mix and decorating supplies;
Contact lens solution, glue, baking soda, dye, glitter and— of course— googly eyes to create and decorate slime.
To keep students tapped into the CMC culture, Milev and MacIver are also curating the "Authors of the Athenaeum" series. For instance, for the Feb. 18 session with Stefanie Johnson '00, students could register to receive her book, "Inclusify: Harnessing the Power of Uniqueness and Belonging to Build Innovative Teams" to enhance her discussion.
Additional upcoming CMC tie-ins, include a Collins Late-Night Snack box featuring nachos, while seniors will receive class swag and other special items through a partnership with the Office of Annual Giving and ASCMC.
Both MacIver and Milev anticipate that their efforts to increase engagement during a virtual spring semester will create a positive collective touchpoint when students eventually return to campus.
"Hopefully by doing these crafts and events together, the students will find a connection with someone who also did the same activities," said MacIver. "It gives you something to connect about that isn't necessarily Zoom-based. Our long-term goal is to have a downstream impact. I can't wait to return to campus and to see the succulent plants in the students' dorm windows."
— Anne Bergman