CMC students reconnect, engage in first week of online classes

Mrinalini Bhushan '21 wasn't sure what to expect when her CMC classes launched online this week. After leaving hastily for home in March, and wrapping up the spring semester online, she fully anticipated to be back on campus this fall.
"It is sad not to be at CMC and I didn't know how things would work virtually this fall. But I'm pleasantly surprised—the courses are innovative and creative," said Bhushan, who is Zooming from home in India. "CMC and my professors did a great job of adapting to online. I am genuinely excited for all the learning and all the projects I will get to take on this semester."
Like Bhushan, Kira Hirsch '23 noticed big changes when it came to the structure and design of courses—fewer traditional tests, more interactions and opportunities for small group discussions with professors.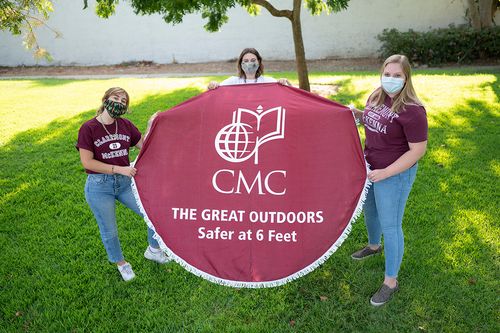 "I've been shocked by how much I can still engage in my classes despite being virtual," Hirsch said. "It's clear that professors have been working throughout the summer to adapt syllabi to a virtual setting. My CMC professors are really dedicated to recreating the learning atmosphere."
In an effort to bring a taste of CMC to students missing campus, the College sent a surprise gift to all of them this week: a 5-pound care package full of CMC goodies, including a 6-foot round blanket, blue block glasses; an academic planner, and other CMC-branded desk supplies.
The first month of classes also marked the celebration of several CMC traditions—Orientation and a formal welcome to first-years, transfers, and their families; the Club and Institute Fair; Convocation and a reimagined virtual lecture series at the Athenaeum.
The Ath featured prominent speakers and scholars, including award-winning writer David Eagleman, an acclaimed neuroscientist and author of "Incognito: The Secret Lives of the Brain" and Ibram X. Kendi, a historian and author of "How to Be an Anti-Racist," his New York Times bestselling memoir.
"The Ath is so integral to the CMC experience—not just for students, but for everyone in the community. It's part of the College's DNA," said Priya Junnar, the Ath's director. "This fall, I want to make sure that the Ath continues to be a presence in the life of the College by offering a vibrant, in-the-moment, and memorable program."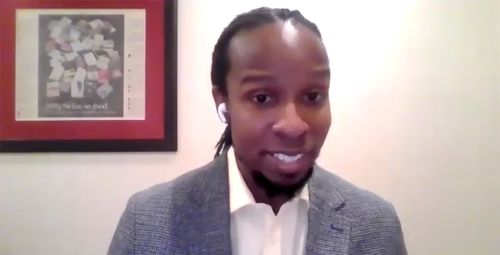 The Club and Institute Fair, which was held online, allowed students from across the world to log on and find their passion at CMC. Each organization had the chance to participate and provide a meeting booth link via Hopin.
"Students were able to bounce around to different virtual booths and talk to club leaders to learn more about their events, membership opportunities, and other ways to get connected to the CMC community," said MaryKate Jacobs, assistant director of student activities. "Whether it was live trivia in the CMS Recreation Booth, or a discussion in the Cooking Club Booth about different types of dumplings, each group found creative ways to engage attendees throughout the fair."
This year's virtual Convocation also welcomed CMC students, alumni, families, and community members to the academic year, while recognizing service milestones from faculty and staff. George Thomas, the Burnet C. Wohlford Professor of American Political Institutions, offered the keynote address: "The Uncertainty of Living History."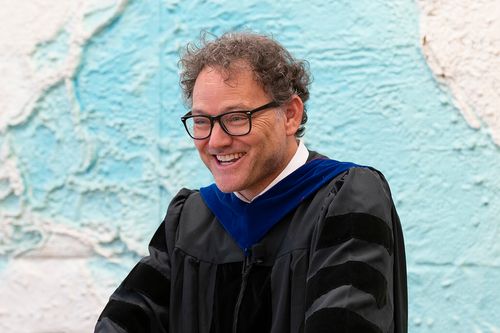 "You've heard, I'm sure, that you're living in an historical moment," Thomas said. "When you're living through history, you don't know how it turns out. And you don't know, in part, because it depends on the sort of things you do at that moment."
President Hiram Chodosh challenged students to think imaginatively this year. He also applauded the "remarkable response of our student body" who chose to learn and have fun on a new field of play this virtual semester. "Think of all the stories we will write together this year, stories that will give purpose to our learning together. Stories that will make a difference in our own lives and those of others."
Josh Meadows '21 is taking those words to heart. "The first week of classes has been great. With CMC being such a tight-knit community, anytime that we step away from one another, it feels like a piece of me is missing. Even without the in-person experience, it now feels as though we're reconvening and getting back to normal. While my schedule is already packed from classes and extracurriculars, I'm glad the fall semester is now in full swing."
-Gilien Silsby
Contact
Office of Public Affairs and Communications
400 N. Claremont Blvd.
Claremont, CA 91711
Phone: (909) 621-8099
Email: publicaffairs@cmc.edu

Media inquiries: Gilien Silsby
Phone: (213) 500-8673
Email: gsilsby@cmc.edu