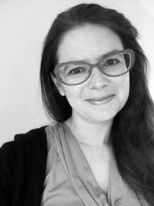 Philosopher Adrienne Martin joins CMC this fall
Assistant professor of history Lily Geismer has received an Arnold L. and Lois S. Graves Award in the Humanities.
The biannual award, administered by Pomona College under the auspices of the American Council of Learned Societies, encourages and rewards outstanding accomplishment in teaching in the humanities by younger faculty members.
Poet August Kleinzahler is profiled in the latest issue (November-December 2013) of Poets & Writers, a leading literary publication for working writers devoted to perfecting their craft.
The word "intensive" has taken on new meaning for a group of highly motivated CMC students who were enrolled this month in FIN 300: Seminar in Applied Finance, a course in the Masters Program in Finance at CMC.
The three-week course (which ended August 30) offered through CMC's Robert Day School of Economics and Finance, differs from other classes in that it includes a team-building retreat in Big Bear and a networking trip to the Bay area.
Poetry, for August Kleinzahler, belongs to "the realm of fire," and this fall the critically-acclaimed poet and essayist brings his elemental vision of modern poetics to Claremont McKenna College with two courses on the cultural and historical forces that have shaped the arts, poetry and prose in particular, over the last 150 years. The courses are open to all students of The Claremont Colleges.