Jil Stark '58 GP'11 honored with bronze sculpture outside Athenaeum
As he spoke before the unveiling of a new campus sculpture of his wife, Jil '58 GP'11, Jack Stark '57 GP'11 recalled a conversation he had with Donald McKenna in 1970.
Jack had just been named president of CMC when the founding trustee pulled him aside at a dinner. "He said, 'You know, I voted for you for president. I thought you'd be OK. But I thought Jil would be an absolutely first-class college president's wife.' Very perceptive guy, that Donald McKenna."
Jil, already a beloved, permanent fixture in the hearts and minds of CMCers across all generations, is now part of the physical campus forever. The 30" bronze sculpture of her head (with a scarf flowing downward) was installed in the north courtyard of the Marian Miner Cook Athenaeum during a Saturday ceremony honoring Jil's legacy as "CMC's first lady." About 100 family, friends, and members of the College community gathered to celebrate the special gift from the Class of 1957 and other supporters.
Saturday's event marked the culmination of more than two years of planning and fundraising by Class of '57 members John Devereux, Rusty Grosse, and Peter Keady P'86 GP'21. The trio implemented the "secret" project—and were amazed they kept it from the Starks, Devereux said—by working with John Faranda '79, CMC ambassador-at-large, and Kimberly Petropoulos, director of board relations. 
"Jil has touched so many of our lives. She's done more than we know to help Claremont McKenna College become such a remarkable place," Devereux said.
At Keady's suggestion, the College commissioned Bruce Wolfe—a renowned artist and sculptor who has created pieces honoring Margaret Thatcher, Frederick Douglass, and Tony Bennett—for the bronze artwork outside the Ath. Jil joked that spending so much time being stared at by Wolfe for the measurements and clay shaping in his Piedmont studio left her with no choice but to "fall in love" with him.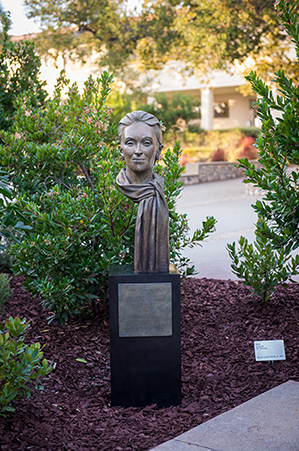 "If any of you have been married, have your husbands stared at you for 35 hours? That doesn't happen very often," Jil said with a chuckle. She quickly added that Jack was reading a book next to her the entire time.
Jil carried that same spirit of humor and humility throughout her remarks, saying she was "honored beyond belief" by the sculpture but didn't feel the attention was warranted. "Because I just had fun," she said. "Jack had a lot of work to do. But I had a really, really good time."
In his remarks, Jack recounted their courtship (Jil was one year behind him at Scripps College), the early years of their marriage, and their love for CMC through multiple roles leading to 29 years (1970-1999) as a presidential couple. While the College became their "fifth child—and the child that got all the attention," he lauded Jil for her campus outreach and fierce protectiveness, especially with students, before adding a glimpse of where her feisty side sometimes got the better of her. "Jil is the only person who I know of, as a spectator and president's wife, who got a yellow card at a soccer game! She saw that an opposing player had spit on one of the CMC players. So, she jumped out of the stands, ran out to the middle of the field, and grabbed the person to give a lecture about civility."
Jack's enthusiasm for the nascent Athenaeum program as a connecting tool for students and faculty was given life by Jil's leadership. He knew it would work, right down to the evolution of those famous Rice Krispie treats, because of Jil serving as its first director. Current Athenaeum director Priya Junnar noted the importance of "this very special moment, in this magical corner of this thriving campus, flanked by the jewel and the crown—Jil's house, the Athenaeum."
In a heartfelt closing, Jil called for her four children—Janet, Jeffrey, Jennifer, and Jonathan—and her grandchildren to stand with her alongside the soon-to-be unveiled sculpture. She explained how it was sometimes difficult to strike a balance with her family and CMC responsibilities, adding that cherished family babysitters were also in attendance. It all worked out because of support from each other, she said.
"What I wanted more than anything in my life was to have the kind of family I have now," Jil said. "I wanted it so much. But I still wanted to do lots of other things, too."
Calling Jil "an exemplar to all women leaders on this campus," President Hiram E. Chodosh pointed to the Starks' loving, familial bond as setting the tone for CMC's communal expression of social warmth that continues to this day.
"That's their legacy to the College," Chodosh said. "Jil, your impact on us is monumental. And to honor that monumental impact, the Class of '57 and the College have created this monument to you."
Bruce Wolfe passed away December 27, 2022.
—Thomas Rozwadowski
Contact
Office of Strategic Communications & Marketing
400 N. Claremont Blvd.
Claremont, CA 91711
Phone: (909) 621-8099
Email: communications@cmc.edu

Media inquiries: David Eastburn
Phone (O): (909) 607-7377
Phone (C): (808) 312-8554
Email: deastburn@cmc.edu