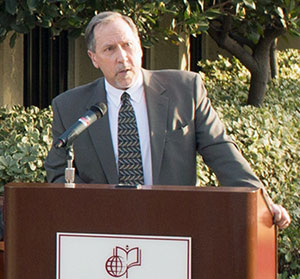 Claremont-Mudd-Scripps Director of Athletics Michael Sutton (CMC '76) is stepping down from his current position as athletic director at the completion of the 2015-16 academic year, Claremont McKenna College President Hiram E. Chodosh has announced. Sutton has accepted a new position with the College beginning on July 1, 2016.
"I am pleased to announce an important transition in the leadership of Claremont McKenna College," Chodosh said. "To aid in CMC's continued commitment to intercollegiate athletics, I have asked Mike, after the completion of the 2015-16 academic year, to assist the CMC development, public affairs, and alumni and parent relations offices with many important outreach projects for CMS Athletics."
Sutton, the William B. Arce Professor and George R. Roberts Fellow for Claremont McKenna College, is making the move after 35 years with CMS Athletics as a head coach and for the last 15 years as an administrator.
"I am very pleased about the opportunity that I am going to have to serve the College going forward," said Sutton. "In this new position I am going to have an expanded role in connecting our alumni with CMS Athletics and the College, and I am greatly looking forward to this new challenge as we continue to add value to the experiences our student-athletes and alumni have."
In his current role as athletic director, Sutton has been instrumental in leading a consistent rise of CMS Athletics on a national level. CMS has long been considered a conference and regional power based on the success of its teams on the field and its student-athletes in the classroom. Under Sutton's guidance, CMS has continued its overall success on the conference level. CMS has won 26 Southern California Intercollegiate Athletic Conference All-Sports Trophies in the last 30 years. CMS has also greatly improved the program's standing nationally within the elite group of NCAA Division III peers, as well as the academic and post-graduate success of our outstanding student-athletes.
The 2014-15 academic year concluded with CMS Athletics ranked 11th nationally out of 450 institutions – CMS' highest finish ever – in the NCAA Division III Learfield Sports Directors' Cup standings, which ranks athletic programs based on the success of its teams in NCAA postseason play. The Athenas and Stags have now finished in the top-25 nationally five consecutive times. This is the eighth-straight school year that CMS has improved on or tied its mark from the previous year during Sutton's time as A.D. CMS is now also the highest rated program in the West Region.
Sutton's vision for CMS Athletics has benefited hundreds of Athenas and Stags over the years and many other students at Claremont McKenna, Harvey Mudd, and Scripps Colleges. That vision includes a lengthy list of major contributions: the growth of women's sports at CMS; the continued improvement of CMC and CMS's athletic facilities with the construction of the Biszantz Family Tennis Center and Roberts Pavilion; and the expansion of the intramural and physical education programs available to students, faculty, and staff at the CMS colleges.
He has hired and mentored 22 head coaches over the last 15 years including seven highly successful head coaches who have coached at CMS for more than 10 years and he has also added assistant coaching positions and other important staff positions within the department.
Before his success as athletic director, Sutton, as a head coach, led the Stags to an unprecedented 33 conference championships in 21 years as head coach of the men's swim and water polo programs. He also led the Stags swim program to six national runner-up finishes and 10 top-5 finishes on the national level. Aside from his time in Claremont, Sutton served as team leader of the 1992 United States Olympic water polo team.