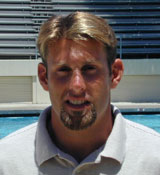 Athletic Director Michael Sutton has announced the appointment of Timothy P. Settem as head coach for men's and women's water polo at CMS, the combined athletic program for Claremont McKenna, Harvey Mudd and Scripps colleges. Settem, who will also be an instructor of physical education and athletics, joins CMS August 1. Settem comes to CMS from Pepperdine University, Malibu, California, where he was assistant men's water polo coach and lifeguard captain. Prior to his work at Pepperdine, Settem was assistant men's and women's water polo and swimming coach at Ventura Community College, and the head coach and coordinator of the Ventura Gold Coast Aquatics water polo program.
Settem earned an associate's degree from Ventura Community College and a bachelor's degree in physical education from California State University Long Beach. He then graduated from Azusa Pacific University with a master's degree in education with an emphasis in physical education.
Settem has an eclectic athletic background, lettering in four sports at Buena High School in Ventura, California prior to competing on the collegiate level. Settem earned letters in swimming and water polo at Ventura Community College and in water polo at CSULB.
"I'm happy to welcome Tim Settem to the CMS physical education and athletic program," Sutton says. "He has a broad variety of experiences as an athlete and coach, and he brings the qualities and characteristics we desire to the pool deck that will help him to be successful in our program. His work ethic, preparation and personality make him a welcome addition to the department, and I'm anxious for our teams to meet him."
Settem said he looks forward to coming to Claremont and beginning work with the CMS program in his first head coach position. He praised the CMS athletic department citing the "family oriented community" and supportive atmosphere as attractive.
Settem inherits a women's team that returns almost all of the players who won the Collegiate III National Championship last May. The men's team will be focused on winning their 6th SCIAC Championship in the last 9 years.
Claremont-Mudd-Scripps teams are comprised of student athletes from Claremont McKenna, Harvey Mudd, and Scripps colleges. CMS competes in the Southern California Intercollegiate Athletic Conference (SCIAC) and fields teams in all 19 SCIAC sports. CMS is a comprehensive department meeting the needs of its students through physical education, recreation, intramural competition and club sports.