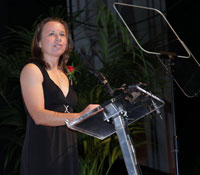 On Tuesday, November 16, 2010 Keri Sanchez, the CMS Women's Soccer Coach, was inducted into the San Jose Sports Hall of Fame. Sanchez was inducted along with Bruce Jenner, an Olympic Champion Decathlete, Arturs Irbe, a San Jose Sharks goalie, and Dave and Mark Shultz, Olympic Wrestlers. Sanchez is the first inductee from the world of soccer.
The 2010 inductees bring the total number of Hall of Fame members to 76. Each inductee received a bronze plaque placed permanently at the HP Pavilion. The reception on Tuesday involved a formal dinner and induction reception, where each honoree was presented and given the opportunity to say a few words at the event. A short video slideshow was also prepared for each inductee.
The San Jose Sports Hall of Fame committee wrote that Sanchez was "one of the true pioneers during the rise in prominence and recognition of women's amateur and professional soccer."
As stated in her induction video, "few women have excelled in such an all around fashion" as Sanchez.
Sanchez moved to the San Jose area when she was a young girl, and she grew up in an athletic family. At Santa Teresa High School, she made an impression, not only on the soccer field, but on the track as well. On the soccer field, she had a presence noticeable through all four years of high school. As a senior she scored 27 goals in 20 matches to help her team win the league championship. In track, she dominated in sprints, hurdles and the long and triple jumps. At the 1990 CCS Track and Field meet she scored 40 points of Santa Teresa High's 41 to lead them to the title. Sanchez was voted High School Athlete of the Decade (1980s) for the Mercury News.
After high school Sanchez went on to compete as a Tar Heel at the University of North Carolina. She played with Tisha Venturini, Mia Hamm and Kristine Lilly on some of the greatest teams in UNC history. In her first three seasons the Tar Hells were undefeated and untied. During Sanchez's career at UNC the team won 97 of their 99 games and won four NCAA Championships, in two of which Sanchez scored the game winning goal.
Her coach at UNC, Anson Dorrance, said that Sanchez was "a young lady with a sense of adventure." She wasn't afraid to move to North Carolina and make "devastating runs up and down the flanks" during games. During her senior year she was voted captain by her teammates and, as Dorrance states, is "one of the few players in our history that was a unanimous selection on every single ballot."
Sanchez was a member of the US National Team Pool and after graduating went on to play for the Boston Breakers and San Jose CyberRays. She transitioned to coaching, starting as an assistant at Oregon and in 2004 becoming head coach at CMS. During her seven seasons at CMS, she has coached her team to 79 victories. Additionally, while coaching at CMS, Sanchez joined the Los Angeles Sol of the Women's Professional Soccer (WPS) league in 2009. (Read more here.) Former UNC teammate, Tisha Venturini, says that Sanchez "is admired by a lot of people for her will to keep fighting and keep strong. She is a really good role model to everybody." Steve Sellers, Sanchez's soccer coach at Santa Teresa High, says that Sanchez is "by far the hardest working player I've ever coached."
For more information, and to watch a video of the event, visit the San Jose Sports Authority website, or read more on the CMS Athletics website.