Cohen Art on Display at CMC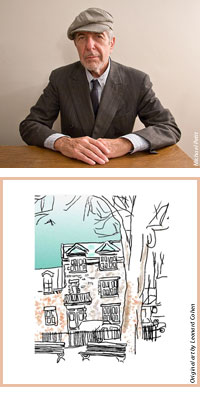 "Drawn from the Heart," an exhibition of artwork from world-renowned artist, poet, and songwriter Leonard Cohen's private collection, is currently on display at the Marian Miner Cook Athenaeum at Claremont McKenna College.
Cohen is widely regarded as one of the most influential artists of our time. In addition to his internationally recognized music and poetry, his artwork is takes center stage through the production of Book of Longing, a concert work by world-renowned Philip Glass based on the poetry and artwork of Cohen's recently published book of the same name. Many of the poems and drawings in Book of Longing were created while Cohen was in residence as a monk at the Zen monastery on Mt. Baldy.
Spanning over 40 years, the exhibit highlights selected art from the drawings and journals of Cohen and reflects his life-long love of drawing. All images are produced with permanent pigmented ink on 300 lb. Arches watercolor paper, finished with a hand-deckled edge. For each print, Cohen has signed, titled, numbered and dated, and embossed and stamped with his official seal. More than 50 pieces of artwork will be featured.
Cohen is a Canadian born poet, novelist, and song-writer. In addition to his music, Cohen's collections of poetry, including Let Us Compare Mythologies (1956), and Flowers for Hitler (1964), and his novels, including Beautiful Losers (1966), have brought him international recognition. His dual interests in music and literature have produced notable works, including the albums Various Positions (1984), I'm Your Man (1988), The Future (1992), Dear Heather (2004), and Blue Alert (2006). His songs, including "Suzanne," Hallelujah," and "Bird on a Wire," have been covered by hundreds of artists including Bob Dylan, Willie Nelson, and k.d. lang.
In recognition of his remarkable work, Cohen was inducted into both the Canadian Music Hall of Fame and the Canadian Songwriters Hall of Fame. He also is a Companion of the Order of Canada, that nation's highest civilian honor. In March 2008, Cohen was inducted into the American Rock and Roll Hall of Fame.
The exhibition is open to the public and can be viewed from 9 a.m. to 3 p.m., Monday-Friday at the Marian Miner Cook Athenaeum, 385 E. Eighth Street, Claremont, Calif. The Athenaeum may be closed to the public on holidays and for scheduled events. For more information about viewing times, call 909-621-8244.
The exhibition is sponsored by The Family of Benjamin Z. Gould Center for Humanistic Studies and the Marian Miner Cook Athenaeum at Claremont McKenna College.
Contact
Office of Strategic Communications & Marketing
400 N. Claremont Blvd.
Claremont, CA 91711
Phone: (909) 621-8099
Email: communications@cmc.edu

Media inquiries: David Eastburn
Phone (O): (909) 607-7377
Phone (C): (808) 312-8554
Email: deastburn@cmc.edu