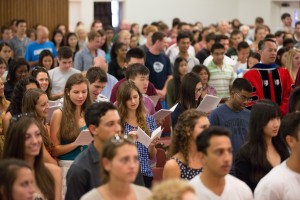 Students in audience at Convocation
SEE VIDEO OF CONVOCATION
SEE FULL TEXT OF REMARKS
The word convocation stems from the Latin "coming together." And that is just what hundreds of students and faculty did Tuesday in McKenna Auditorium in an event to welcome students, kick-off the school year and honor faculty and staff for years of service and achievement at CMC.
"We've assembled at the beginning of a journey that we will take together during the academic year and I'd like to think of this event as something that brings us together," said Nicholas Warner, Professor of Literature and Interim Vice President for Academic Affairs and Dean of the Faculty. "I'd like you to think of it as more than just coming together for this hour but the calling together of all of us to pool together our individual resources and talents throughout the academic year."
The Convocation's Keynote Address – "Beyond Happiness" – was delivered by CMC Professor of Philosophy Amy Kind.
Prof. Kind cited Princeton Review college rankings that have determined CMC to be second in the category of happiest students (Vanderbilt was first in their ranking).
"Who wouldn't want to come to a school where the students are among the happiest around," she asked. "Didn't we learn from Pharrell Williams that 'happiness is the truth?'"
But Prof. Kind admitted that she wasn't a fan of the rankings because she wasn't convinced that they are indeed measuring what they say they're measuring.
"I'm all for happiness but I worry that an undue focus on happiness makes us lose sight of other values that are equally if not more important," she said. "The take-away message is that as important as happiness is, you shouldn't forget to try to look beyond happiness as you try to get the most out of your four years at CMC and your life as a whole."
According to Prof. Kind, not everything that makes us happy (which can be a fleeting feeling) gives us a sense of deep fulfillment. "I hope at CMC you will find genuine fulfillment rising out of engagement with your classes, teachers and fellow students," she said.
She exhorted students to find their passion and fulfill it.
"Take risks, push yourself, try new things which will require looking beyond happiness," she said. "When you push yourself, you contribute to your overall happiness. And remember, there is a value in being uncomfortable. Your professors will ask you often to step outside your comfort zone to confront difficult and disquieting issues. Oblige them!"
In her invocation remarks at the beginning of the Convocation, Rabbi Daveen Litwin, the Claremont Colleges chaplain quoted the great English playwright George Bernard Shaw that life isn't about finding yourself, it is about creating yourself."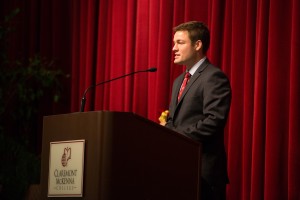 ASCMC president Benjamin Tillotson '15
Associated Students of CMC president Benjamin Tillotson '15 offered "Final Reflections," telling students that this could be the last time the focus was on them as individuals because after graduation they would be giving of themselves to an organization.
In recognizing faculty and staff, CMC President Hiram E. Chodosh readily acknowledged that the quantification of time is an inadequate measure of the extraordinary value contributed by individual honorees.
"When we mark recognition of exceptional service, we honor the commitments of everyone here at CMC," he said. "Twenty-five to 40 years represents a very long time-span against the life of this very young college. And this year's recipients represent a very broad range of our CMC community.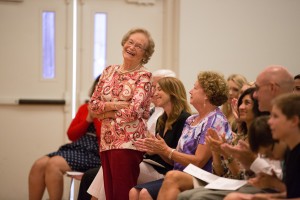 Cheva Garcia is honored for 63 years of service.
Chodosh singled out one person who especially epitomized continuity and commitment at CMC.
"I can't let this moment pass without recognizing our beloved Cheva Garcia," he said, referring to the long-time server at Collins Dining Hall. "She has fed us and served us for 63 years."
Other faculty and staff recognition included:
25 Years of Service
• Mitch Brown began as an audio-visual manager working with five student assistants, and soon was promoted to the position of assistant director of media technology services.
• Prof. Mark Costanzo is a professor of psychology. His areas of expertise include social psychology, forensic psychology, nonverbal communication, expert testimony, jury decision-making, and the death penalty.
• Prof. Richard Burdekin is the Jonathan B. Lovelace Professor of Economics at CMC. He came to the College as a visiting assistant professor. He has held the Jonathan B. Lovelace chair since 2003 and was department chair from 2002-2005.
• Dorothy Smith-Davis is currently administrative assistant in the Office of Annual Giving. Since arriving at CMC, she has worked for John Faranda '79 as a development assistant and has also worked as an administrative assistant to three vice presidents for development.
30 Years of Service
• Prof. Marjorie Charlop has been teaching at CMC since 1984. At that time, she founded the Claremont Autism Center, an internationally renowned research and treatment center for children with Autism Spectrum Disorders and their families.
• Dorothy Dick is a teacher for the Children's School at CMC. She also worked as an assistant teacher for the 2-year-old and primary programs.
• Prof. John Goldhammer is the head coach for the CMS men's and women's cross country teams. Since 1983, Goldhammer has been the head track and field coach, associate athletics director, and was the meet director the 2014 NCAA Outdoor Track and Field Championships.
35 Years of Service
• Prof. Jodie Burton is the head coach for the Athenas golf team for Claremont-Mudd-Scripps Athletics. She is also associate athletics director and senior women's administrator. Since 1979, Burton has held head coaching positions for basketball, volleyball and tennis.
• Sylvia Gonzalez is a building attendant for CMC. Since 1979, she has been a lead supervisor and housekeeping supervisor.
• Prof. Michael Sutton '76 is the Claremont-Mudd-Scripps Director of Physical Education and Athletics and the William B. Arce Professor and George R. Roberts Fellow. From 1979-2000, Sutton was also the men's and women's swimming and diving coach and the men's water polo coach.
• Terri Van Eaton has worked in the Public Relations Office, the Office of the Registrar, the Dean of Students Office, Faculty Support Center-West and the Lowe Institute of Political Economy. For the last seven years, she has been the Assistant to the Directors of the Financial Economics Institute.
40 Years of Service
• Prof. Anthony Fucaloro is the George C.S. Benson Professor of Public Affairs and professor of chemistry. Since 1974, he has held positions as the associate dean of the faculty and served for nine years as CMC's Dean of the Faculty.
Faculty Recognition
• Prof. Jennifer Taw, associate professor of government, is awarded the Glenn R. Huntoon Award for Superior Teaching.
• Prof. Eric Helland, William F. Podlich Professor of Economics and George R. Roberts Fellow, is awarded the G. David Huntoon Senior Teaching Award.
• Prof. Marie-Denise Shelton, Modern Languages and Literatures, is awarded the Roy P. Crocker Award for Merit.
• Bonnie Snortum, Director of the Marian Miner Cook Athenaeum, is awarded the Presidential Award for Merit.
2014 Exceptional Service Awards
• Rosie Lupercio has worked at CMC as a building attendant in the facilities department since 2011.
• Jennifer Sandoval-Dancs is the director of admission. Since 2005, she has been assistant dean of admission, coordinator of multicultural admission, associate dean of admission and senior associate dean of admission.
-Tom Johnson