Dr. Uma Chowdhry comes to the W.M. Keck Science Department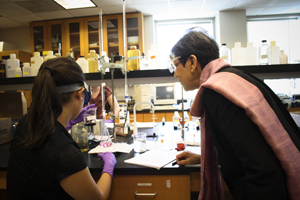 In early November, the Camille and Henry Dreyfus Foundation sponsored a program for the W.M. Keck Science Department to bring to campus a leading researcher in the chemical sciences. On Wednesday, April 18, Dr. Uma Chowdhry arrived at the W.M. KeckScience Department for a visit which included plenty of personal interaction with undergraduate students and faculty as well as an innovative discussion on Transforming American Industry at the CMC Athenaeum.
We caught up with Dr. Chowdhry, the Chief Science and Technology Officer Emeritus at DuPont, during her visit and asked her a few questions. CMC: In your opinion, what makes a good leader? Dr. Chowdhry: What makes a great leader is somebody who has a clear vision and a strategy to achieve those goals, and someone who can instill trust and empathy within the people of the group. A great leader is somebody who ensures that the voices of each one are heard and that everyone has a say in how we are going to achieve those goals. Good leaders are not necessarily born that way. They've been followers before. CMC: What is your message for the Keck Science students? Dr. Chowdhry: To be able to use the resources of different colleges and to interact so closely with faculty is incredible and very precious. We didn't have the luxury of a consortium and I wish I could be a freshman all over again. I would advise them to work towards major challenges. This is a unique place and opportunity. CMC: How did you feel when you entered a profession dominated by men? Dr. Chowdhry: I felt so insecure at first; I was extremely diffident when I got to DuPont. I wasn't thinking about management at that time and there weren't any women in the institution. MIT had taught me to work in teams, and I wasn't afraid to say what I thought, but I was afraid to go out of my comfort zone. There were different parts of the company that were intimidating, but everyone was so accommodating and encouraging. I learned to be calm and patient; you'll learn the hard way but you'll learn quickly. CMC: How would you describe your transition from India to the US? Dr. Chowdhry: It was very scary because there weren't any computers. I had no idea what was coming my way. I got onto a plane from Bombay with $8 in my pocket and landed in LA where someone held a placard with my name on it. When I got onto the freeway and drove to Caltech I was extremely frightened. I came here completely intimidated and not knowing what it took to live alone in an entirely different culture.
It is clear, following her visit, that this brave and innovative scientist has the true leadership skills that we value greatly here at CMC. Through adapting to life in the U.S., studying Materials Science and Engineering at MIT, and climbing through the ranks at DuPont, she was able to develop these skills to a level of mastery. She has been a "good fit" at DuPont and attributes much of her success and growth since joining the company as a research scientist in 1977 to just that.
The W.M. Keck Science Department is the interdisciplinary home to all biology, chemistry, and physics faculty for Claremont McKenna, Pitzer, and Scripps Colleges. The department is administered cooperatively and is housed within an 81,000-square-foot Center, located at the intersection of the three colleges. The department offers 13 discrete degree options, including dual-degree programs in partnership with schools of engineering and majors in conjunction with disciplines outside the sciences. The W.M. Keck Science Department provides comprehensive, interdisciplinary instruction in small class settings and numerous opportunities for students to conduct research. Our graduates enter a significant range of careers and enjoy acceptance into prestigious graduate research and health science programs.
Contact
Office of Public Affairs and Communications
400 N. Claremont Blvd.
Claremont, CA 91711
Phone: (909) 621-8099
Email: publicaffairs@cmc.edu

Media inquiries: Gilien Silsby
Phone: (213) 500-8673
Email: gsilsby@cmc.edu