Founding Claremont-Mudd-Scripps athletics director and Stags head baseball coach William "Bill" Arce P'80 dedicated 25 years of his career toward building the athletics department at CMS. In an event at the Marian Miner Cook Athenaeum on Tuesday, May 14, Arce was honored for his dedication to Claremont McKenna College and the CMS Community and for his efforts as a mentor, physical educator, coach, and athletics director. Also during the event, current CMS Director of Athletics Mike Sutton '76 was installed as the Inaugural William B. Arce Professor and George R. Roberts Fellow.
The evening included remarks by current CMS student-athletes Aria Krumwiede '12 M'13 and William Knowles '13 M'13, along with Claremont McKenna College's Dean of the Faculty Gregory Hess, former CMS head soccer coach Steve Davis, and Sutton. A presentation which highlighted Arce's contributions to CMS Athletics also was a part of the evening. During Arce's tenure, he molded the department into his vision, which was to provide students – both men and women – the opportunity to participate in physical education classes, intramural sports, and intercollegiate athletics. Sutton, along with the other speakers, spoke of how Arce's founding principles and vision of an athletic department are evident today and thanked him for his many contributions.
"The model that I was raised under as a student-athlete, young coach and faculty member and now promote as the department chair was developed under the leadership of Dr. Arce," Sutton said.
During his 25-year tenure at CMS, Arce started and developed the program, facilities, and staff into one of the top NCAA Division III private college programs in the country, which it remains today. For his years of dedication to baseball and to the campus community, Arce is an inductee into the Claremont-Mudd-Scripps, National Association of Intercollegiate Athletics, and American Baseball Coaches Association Halls of Fame. Internationally recognized for his contributions to baseball, Arce also is an inductee into the Dutch and Italian Baseball Halls of Fame.
As athletic director from 1958-1983, Arce's leadership of the department grew the program from nine men's sports in 1958 to 19 by the time he retired in 1983, which included the addition of several women's sports in what became Claremont-Mudd-Scripps Athletics as it is today.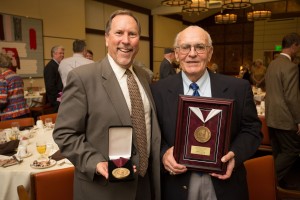 Mike Sutton and Bill Arce
On the diamond, he served as head coach from 1959-1979 and totaled 443 career wins and three Southern California Intercollegiate Athletic Conference titles. In 2001, the American Baseball Coaches Association honored Arce by selecting him as the recipient of the prestigious Lefty Gomez Award, which is presented annually to an individual who has distinguished himself amongst his peers and has contributed significantly to the game of baseball locally, nationally, and internationally. He received his undergraduate and doctorate degrees from Stanford University.
Sutton is in his 12th year as director of athletics at CMS after a 21-year coaching career in the department. During his tenure as director, Sutton has overseen a department that has grown to 21 sports—10 men's and 11 women's—at the NCAA Division III level in addition to 13 club sports and an active intramurals program. Sutton has overseen the addition of women's lacrosse and women's golf to the varsity level. He is a former chair of the NCAA Water Polo and Swimming & Diving Championships Committees and was the team leader of the 1992 United States Olympic Water Polo Team. Prior to being named as athletics director, Sutton spent 21 seasons as the Stags' swimming coach and 19 seasons as the men's water polo coach, winning a combined 33 SCIAC titles during that time. He is a 1976 graduate of Claremont McKenna College.
This professorship and 25 other newly-endowed chairs for existing and new positions have been funded by generous donors through the Roberts Faculty Challenge, a $20 million challenge commitment by CMC Alumnus and Trustee George Roberts '66 P'93.