Harvey Wichman, Professor of Psychology Emeritus, dies at 86

Harvey Wichman, Professor of Psychology from 1973 to 1997 who continued to teach at CMC through 2006, has died. An expert on the effects of stress on aviators and astronauts, Wichman was also a leader in matching liberal arts pedagogy with real-world projects, including those performed for paying clients.
In one of his courses, students were contracted by McDonnell Douglas to study the human factors that would face large teams of astronauts on longer space missions. CMC students worked on designs for spacecraft passenger compartments and how to schedule meals, work, and sleep to optimize physical and psychological health in the disoriented environment of orbit. The students also considered the dynamics of crews from different ethnicities and cultural backgrounds sharing confined space for long periods.
In a paper co-authored with the late CMC Economics Professor Ronald Teeples, Wichman asserted that work for outside clients harmonized the objectives of students and teachers and was a worthy innovation for liberal arts teaching, which traditionally had separated theory from applications. "Professors engage their undergraduate students in a manner more like graduate students and become more focused on educational outcomes than on lecture content," they wrote.
"Harv was the backbone of the Psychology Department for many years, teaching a wide variety of courses, and serving as Department Chair," said Ronald Riggio, CMC's Henry R. Kravis Professor of Leadership and Organizational Psychology. "He actively involved CMC students in his research and in his Aviation Practicum course, where students made real contributions to the U.S. space program."
William Dorsey '95 was a practicum student. "I won't forget the day that we gave our presentation to a group of aerospace executives who took our suggestions seriously due to Harv's esteemed association with the space program," he said.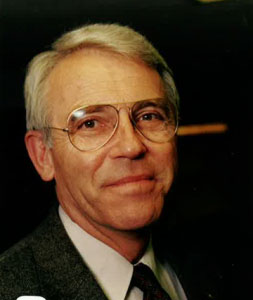 Kai McCormack '95, a Spelman College psychology professor, credited Wichman with inspiring her to become an academic psychologist. McCormack kept in touch with Wichman, who influenced her own teaching style. "He didn't lecture; I don't either," she said. "You knew Harv's class was going to be a conversation, you went there to express your ideas."
Wichman was born in Milwaukee, Wis., in 1931 and moved to Greendale, Wis., when he was 5. In high school, he and a group of friends started an Aviation Explorer club and purchased a Piper J-3 Cub single engine plane. Wichman learned to fly and continued to both fly and teach flying throughout his career. He received his bachelor's and master's degrees from California State University, Long Beach and his doctorate from Claremont Graduate University.
He is survived by his sister Rosemary Derouin (Mark), his wife Ann, his two sons Russell (Sue-Ann) and Glenn, and his four grandchildren, Caleb, Jake (and their mother Nina), Heather (Jake), and Sara-Beth.
The immediate family will hold a private memorial service. Memorial donations may be made in his name to the Braille Institute, which helped him greatly after he lost his vision in 2013. Guestbook entries may be made at O'Connor Mortuary.
Contact
Office of Public Affairs and Communications
400 N. Claremont Blvd.
Claremont, CA 91711
Phone: (909) 621-8099
Email: publicaffairs@cmc.edu

Media inquiries: Gilien Silsby
Phone: (213) 500-8673
Email: gsilsby@cmc.edu