Sven W. Arndt, a Claremont McKenna economist who spent his lengthy career guiding students and professional colleagues through the complexities of global trade and finance, has died. He was 81.
Arndt, who kept an office on campus and intended to pursue his research even after retiring last year, collapsed Tuesday and later died at Pomona Valley Hospital. The cause of his death was heart failure, his wife Linda Arndt said.
Warren B. Williamson '51, a philanthropist and longtime trustee of Claremont McKenna College as well as an owner and breeder of champion Thoroughbred horses, died March 16 as he was recovering from surgery. He was 89.
Known throughout his life by his boyhood name of "Spud," Williamson graduated in 1951 from the fledgling institution then known as Claremont Men's College. The school's first four-year class, composed largely of veterans recently returned from World War II, graduated in 1950.
Harvey Wichman, Professor of Psychology from 1973 to 1997 who continued to teach at CMC through 2006, has died. An expert on the effects of stress on aviators and astronauts, Wichman was also a leader in matching liberal arts pedagogy with real-world projects, including those performed for paying clients.
Surin Pitsuwan '72, former secretary-general of the Association of Southeast Asian Nations (ASEAN), beloved politician, and accomplished scholar, died Thursday in Bangkok. He was 68.
"CMC and the world have lost a dear friend, talented diplomat, and dedicated global leader," President Hiram Chodosh said.
James "Jim" Nauls, former Assistant Dean of Students at Claremont McKenna College, died this month at his home near Palm Springs. He was 66.
Nauls joined CMC in 1994. He first worked as Director of Student Activities in the Dean of Students Office and manager of the Student Apartments. His final role at the College was Coordinator of School Outreach Programs for the Office of Admission, from which he retired in 2015.
Harris W. Seed, longtime trustee and benefactor of Claremont McKenna College, passed away in July at the age of 89.
Seed became a Trustee of CMC in 1965. In 1977, he started the Harris and Ann Seed Honors Scholarship, an annual merit-based scholarship awarded to high-achieving students as part of the McKenna Scholars program. Additionally, he established a number of funds to benefit the College and its students during his tenure as a trustee, including a fund that was dedicated to programming at the Athenaeum.
Howard Philip Marguleas P'87, produce pioneer, philanthropist and longtime CMC Trustee, died June 1 in Rancho Mirage, Calif., following complications from cancer. He was 82.
Myra E. Moss Rolle, a Professor Emeritus of Philosophy and Government at CMC, died on July 26 in San Marino. She was 79.
Moss was a CMC professor of philosophy for 32 years, starting in 1975. She was chair of the department from 1992 to 1995.
She received her B.A. from Pomona College in 1958 and her Ph.D. in Philosophy from Johns Hopkins University in 1965. From 1958-1959, Moss was enrolled in the graduate program in Philosophy at the University of Rome.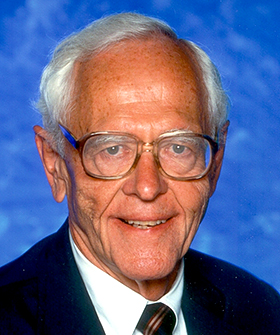 The CMC community mourns the loss of one of its Pacesetters, Richard Grantham, who passed away this month. A member of the Class of 1950 and a Life Trustee, Grantham was 88.
Known as the Pacesetters, the earliest classes of CMCers were the earliest builders of the College -- Grantham and his classmates literally cleared away the countless rocks and large stones on the young campus in a project known as "Operation Rockpile."
Thank you for the moving honor to speak today at the memorial of one of my heroes, Bill Arce. This is a sad, inspiring moment. Sad in our loss, and inspiring in the many lessons of Coach Arce's life and work.
Like many of you here today, I played many sports as a kid. Of all, baseball seared the most lasting memories and associations. We all know that Yogi Berra said that he didn't really say most of the things he said, but he did point out that baseball was 90% mental and the other half physical.
Pages