Henri Cole to be inducted into the American Academy of Arts and Letters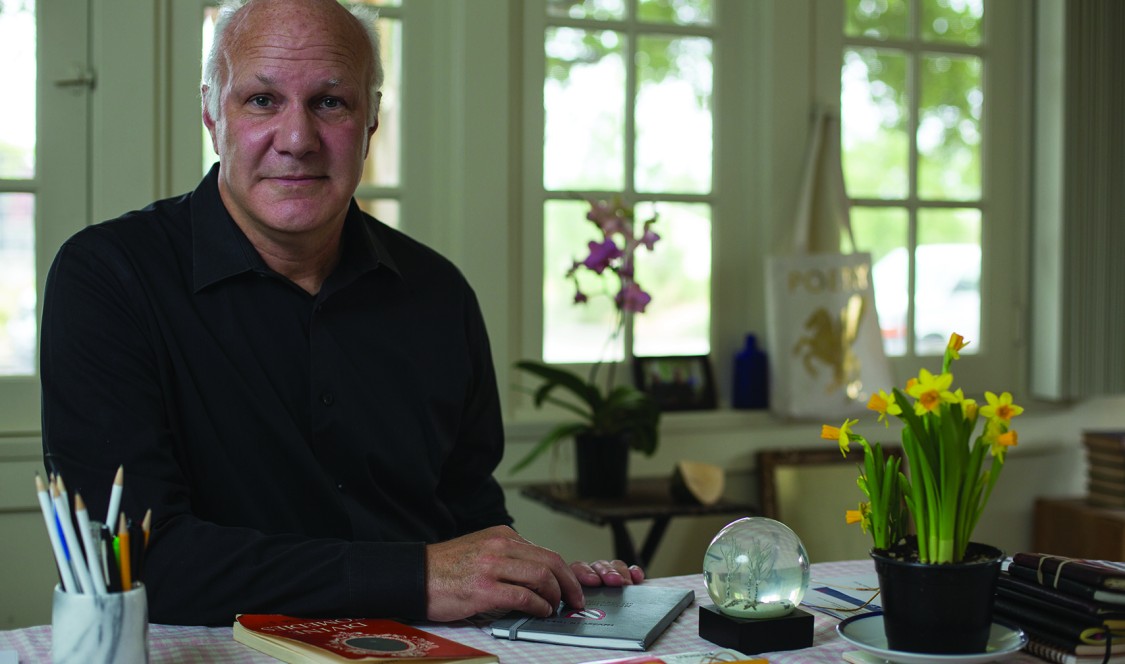 Henri Cole, Professor of Literature at CMC and author of nine collections of poetry, including Middle Earth, which was a finalist for the Pulitzer Prize, will be inducted into the American Academy of Arts and Letters during its annual ceremony in May.
Induction into the prestigious Academy is rigorously regulated and considered to be a career capstone for artists across many disciplines. Cole will join seven other inductees in the literature category, including Ann Patchett, Amy Hempl, Junot Diaz, Ursula K. Le Guin and fellow poet Kay Ryan. In all, 14 new members will be inducted into the 250-person Academy by humorist and novelist, Calvin Trillin.
Upon learning of his induction, Cole said he wished his parents were alive so that he could tell them the good news. "They were always worried I had not made a practical career choice," he says. "Why hadn't I gone to law school or joined the air force or sold real estate or something?
Cole says he's at a loss as to why the Academy chose to honor him. "Perseverance? Chance? Matrices of friendship? I hope those who admire me believe I am saying something true in an original way," he says. "Truth is the basis of all good art. Perhaps also there are those who do not like my work at all, but I hope one day I will be able to convert them."
Born in Fukuoka, Japan, in 1956, Cole has received many awards for his work, including the Jackson Prize, the Kingsley Tufts Award, the Rome Prize, the Berlin Prize, a Guggenheim Fellowship, the Lenore Marshall Award, a fellowship from the Radcliffe Institute for Advanced Study at Harvard, and the Medal in Poetry from the Academy of Arts and Letters. His ninth book, Nothing to Declare, was published in 2015 by Farrar, Straus and Giroux.
According to Cole, the estimation of others can be ratifying but the most important ratification must come from within oneself. "Still, it is nice to know that those I admire like me," he says. "Perhaps now we're like a pack of dogs running through the neighborhood creating a disturbance. Watch out! I hope our togetherness will be pleasant, since so much of the poet's life is spent in solitude."
As a member of the Academy, Cole hopes to reward younger poets by helping to distribute the many awards given by the Academy. "I myself was the lucky beneficiary of this recognition, with a Rome Prize, an Award in Literature, and a Medal in Poetry," he says. "As an Academy member, maybe I hope also for some cross-fertilization with the other members in music composition, architecture, and visual art."
Regarding his own artistic discipline – poetry – Cole does not think it has a moral function to educate, though it can. "I think poetry is more like food bringing sustenance and pleasure," he says. "Last week, I visited a medium-security men's prison in Illinois, and I was struck how hungry the prisoners were for words, sentences, and stanzas conveying primary emotion. They came to my reading from the gymnasium where they had just been lifting weights and seemed to make no distinction between their exercise and the aesthetic language of poetry for improving their health."
Cole began teaching at Claremont McKenna in 2015. Previously, he had been a visiting poet at many institutions, including Smith College, Ohio State University and Harvard University. From 1982-88 he was executive director of the Academy of American Poets and from 2010-14, he was poetry editor of The New Republic.
"Classroom time is my favorite," he says. "Sitting at the seminar table with the students, who are like tendrils poking up from the black earth. It's such a pleasure to nurture and coax them toward the sun, and help them to become themselves."
***
The American Academy of Arts and Letters was founded in 1898 as an honor society of the country's leading architects, artists, composers, and writers. Founding members include William Merritt Chase, Kenyon Cox, Daniel Chester French, Childe Hassam, Henry James, Theodore Roosevelt, Elihu Vedder, and Woodrow Wilson. In addition to electing new members as vacancies occur, the Academy seeks to "foster and sustain an interest in Literature, Music, and the Fine Arts" by administering over 70 awards and prizes, exhibiting art and manuscripts, funding performances of new works of musical theater, and purchasing artwork for donation to museums across the country.
##.
Contact
Office of Strategic Communications & Marketing
400 N. Claremont Blvd.
Claremont, CA 91711
Phone: (909) 621-8099
Email: communications@cmc.edu

Media inquiries: Gilien Silsby
Phone: (213) 500-8673
Email: gsilsby@cmc.edu