Housing prices, economic warning signals fuel discussion at Inland Empire Vision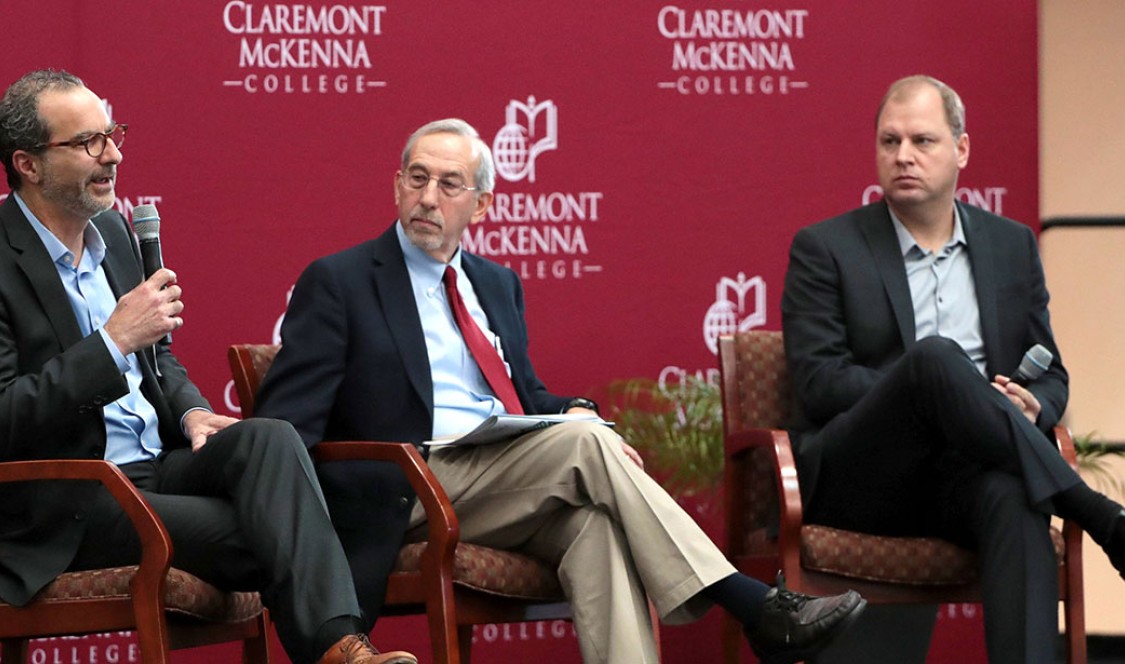 The real time feedback flashed on large screens inside Roberts Pavilion: "Housing and jobs are driving people out—to Seattle, to Denver, and around the country." "The 'American Dream' is changing, people no longer have as strong a desire for the white picket fence." "When people aren't homeowners they are less emotionally and physically invested in their communities."
With laptops in tow, CMC students summarized the bustling conversations between area business and government leaders at Inland Empire Vision 2019, the annual joint conference for the Rose Institute of State and Local Government and Lowe Institute of Political Economy. The interactive exercise capped a full morning of discussion about housing policy and the likely path of the economy.
"Getting a collective group of officials, industry leaders, and students listening to challenges allows us all to share key information and hear great feedback," said Jim Holas, vice president of forward planning at William Lyon Homes and an IEV panelist for "The Housing Challenge: Regulatory Environment and the Housing Market." "The more people that are listening, the more we can work together to provide opportunities for growth and expansion."
Earlier in the morning, Manfred Keil, CMC economics professor and associate director of the Lowe Institute, presented the Inland Empire Forecast. Keil said that the economy has moved from a green light to a yellow light where experts will have to be cautious and look for warning signals—which include employment development in the Inland Empire.
CMC has a goal of engaging the public on relevant issues with the IEV conference, now in its second year on campus, said Cameron Shelton, director of the Lowe Institute and McMahon Family Associate Professor of Political Economy. Students also showcased their research on a variety of economic and governmental topics with attendees.
"We used to just write a report with our perspective. Now, this conference adds extra flesh to what we're learning," said Ryan Chakmak '19, an economics and mathematics dual major and senior manager at the Lowe Institute. "We're pairing academic concepts with industry practice, which allows us to directly communicate what we think is important to people who are important."
The presenting sponsor for Inland Empire Vision is Cadence Capital, whose founder and chairman is Bill Rothacker '73. Gold sponsors include Citizen's Business Bank and the Oremor Auto Group, whose president is RJ Romero '89. President Hiram Chodosh provided closing remarks.
—Thomas Rozwadowski
Contact
Office of Public Affairs and Communications
400 N. Claremont Blvd.
Claremont, CA 91711
Phone: (909) 621-8099
Email: publicaffairs@cmc.edu

Media inquiries: Gilien Silsby
Phone: (213) 500-8673
Email: gsilsby@cmc.edu