Ian O'Grady '15 awarded Marshall Scholarship to study in UK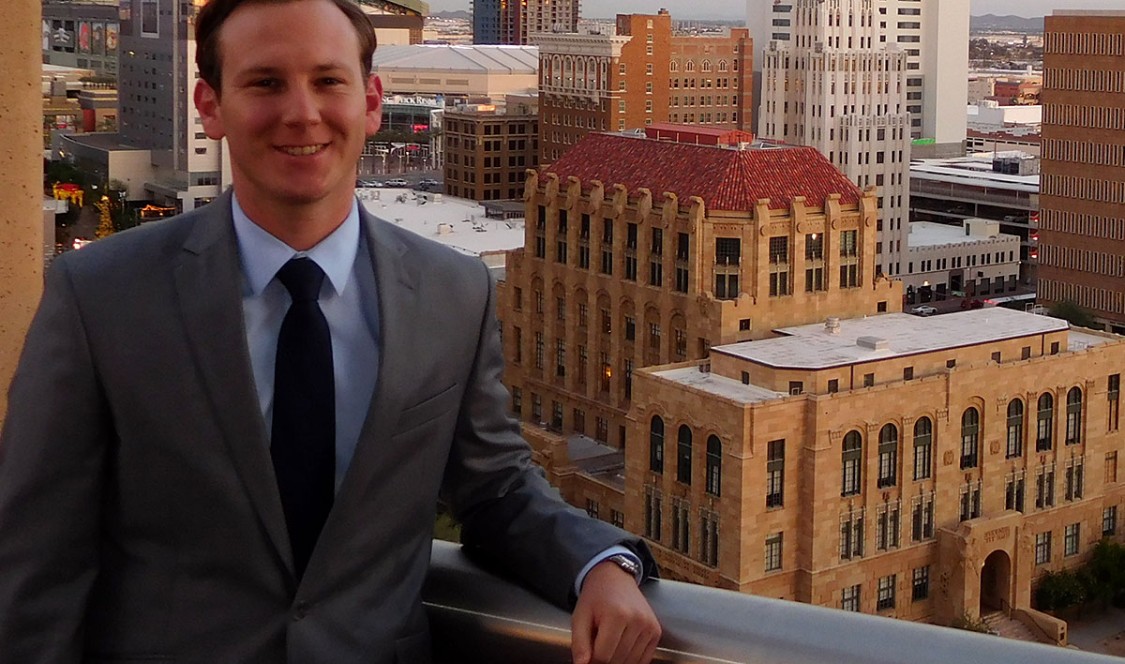 Ian O'Grady '15 has accepted a prestigious Marshall Scholarship to study in the United Kingdom. O'Grady will become CMC's sixth Marshall Scholar and first since 1994, adding to a distinguished legacy of prestigious international scholarships granted to CMCers.
O'Grady graduated Phi Beta Kappa and magna cum laude from CMC in 2015 with double majors in Government and Philosophy, Politics, and Economics (PPE). In his time at CMC, he led student operations and research as Student Manager of the Rose Institute of State and Local Government and served as an officer for CMC Model United Nations. With his Marshall Scholarship, he plans to read for an MPhil in Politics (Comparative Government) at Oxford University beginning October 2017.
Currently, O'Grady works for Phoenix Mayor Greg Stanton in his home state of Arizona where his duties include speech writing, policy briefings and formal correspondence. Outside of work, O'Grady volunteers for "Project Jigsaw," an organization that advocates for LGBT equality in Arizona's adoption process.
"I was ecstatic when I received word about the scholarship," O'Grady says. "Emotions are still setting in. This was a long process, and a lot of people supported me along the way: recommenders, mentors, friends, family,and coworkers."
"The Marshall application is one of the most extensive ones out there, requiring four separate essays, several short answer questions, and four letters of recommendation," says Brian Davidson '08, Director of Fellowships Advising at CMC. "Successful applicants must truly reflect on themselves, their accomplishments, and their intellectual passions; Ian embraced this task with a sense of careful thoughtfulness that really stood out. We also threw a series of very tough mock interviews at him, and he weathered them with aplomb. Throughout the whole process, our committee was impressed with Ian's boundless curiosity and his steadfast devotion to the public good."
The scholarships were established by an Act of the British Parliament in 1953 as a living memorial to General George C. Marshall, and in recognition of American contributions to the post-WWII recovery in Europe. The scholarship fully funds graduate study at a UK institution for young Americans of exceptional promise. Up to 40 Marshall Scholars are selected annually.
For O'Grady, the reality of winning the scholarship will be literally "life-altering" in that he will live abroad in England for two years and join the Marshall community. He says that his scholarship is also significant for him as it relates to today's changing world, especially given the specifics of his research proposal on political representation of the working class in the US and UK.
"I saw strong parallels between England and the United States with their 2016 elections: voters in both countries across the spectrum rejected their political leaders and have rattled institutions," O'Grady says.
In the 18 months since graduating from CMC, O'Grady says he has enjoyed his dual experiences, working on the front lines of politics for Mayor Stanton and then the cutting edge of political research as a research associate with the NYU Wagner School of Public Service. "Together, they've given me a unique view into politics, one I hope to continue developing both in the classrooms of Oxford and at pubs and local party meetings just outside of town," he says. "Oxford and its surroundings offer me this fascinating contrast, benefiting both my research and development as a public servant."
O'Grady says that he communicates almost daily with friends, classmates, professors, and mentors from his CMC network.
"The single most important thing CMC did for my career was funding my summer internships," he says. "As a student interested in public service, almost all summer opportunities were unpaid. Without funding from Career Services and the Rose Institute, I would not have been able to take on these internships full-time, gain the diverse set of experiences I have now, and prove myself to people who have invested in me and my career, like my current boss and Marshall recommender, Seth Scott, Mayor Stanton's Chief of Staff for Policy, who took a chance on me right out of college."
In addition, O'Grady's former classmates provide an essential support network and sounding board for ideas – a community he says he'll always go back to for honest feedback and inspiration.
According to O'Grady, another unique aspect of CMC is the relationships it encourages students to develop between their professors and alumni. He cites Profs. Paul Hurley, Kenneth Miller, and Andrew Sinclair, among others, as instrumental to his growth as an individual and student at CMC.
"Andy Sinclair has been one of my strongest advocates and mentors," O'Grady says. "I jumped on to his nonpartisan primary elections project my junior year at the Rose Institute. I had four other projects going at the time, so I originally turned it down, but it was Dr. Miller who strongly encouraged me to take it on. Since then, there's been really no looking back. We've written probably thousands of pages together on the nonpartisan primary system in California and Washington and election reform in general.
"Both Dr. Miller and Professor Hurley have been instrumental in my early career," O'Grady notes. "Both have helped me sort through big life decisions and ethical dilemmas. They have helped me pinpoint what I value and hope to achieve in my career and taught me the weight and responsibilities of being a public servant."
"California's nonpartisan system was the topic of my senior thesis," he continues, "and [Prof. Andy Sinclair and I] co-authored two articles together, among other projects and presentations. In March, we presented our research to former Governor Arnold Schwarzenegger at the USC Price School of Public Policy and submitted our last article to a top-three political science journal. I have also learned valuable lessons from our rigorous games of diplomacy and his book recommendations – on a range of topics. Our research showed me how the 2016 cycle was politically possible, and initiated my interest for studying Politics in the UK."
At Oxford, utilizing the Marshall Scholarship, O'Grady plans to look closer at the political dynamics in Britain and their parallels in the United States. "Working in Arizona, home to both large immigrant and working-class populations, I could relate to the political tensions now in England and inflamed on the 2016 presidential campaign trail," he says. "Representation of the working class is a critical question for both countries moving forward – the newest chapter in the Special Relationship."
Specifically, O'Grady says he hopes to study the relationship between inequality and political representation. Recent research by Oxford professors examines how the choices and rhetoric of political leaders can leave different socioeconomic groups underrepresented. O'Grady says, "I hope to add to this discussion by contrasting the political institutions and decisions that led to these similar populist revolts."
O'Grady notes that his investigation will require analysis of voters' political options and perception of candidates, as well as direct interviews – methods that are familiar to him from his research with Prof. Sinclair and at the Rose Institute. "I can hit the ground running, but also develop new qualitative and quantitative skills, not to mention connecting with new people from diverse backgrounds in a different corner of the world," he says.
##
See also: CMC students honored with prestigious fellowships and awards
Contact
Office of Public Affairs and Communications
400 N. Claremont Blvd.
Claremont, CA 91711
Phone: (909) 621-8099
Email: publicaffairs@cmc.edu

Media inquiries: Gilien Silsby
Phone: (213) 500-8673
Email: gsilsby@cmc.edu