Inside baseball careers at the Ath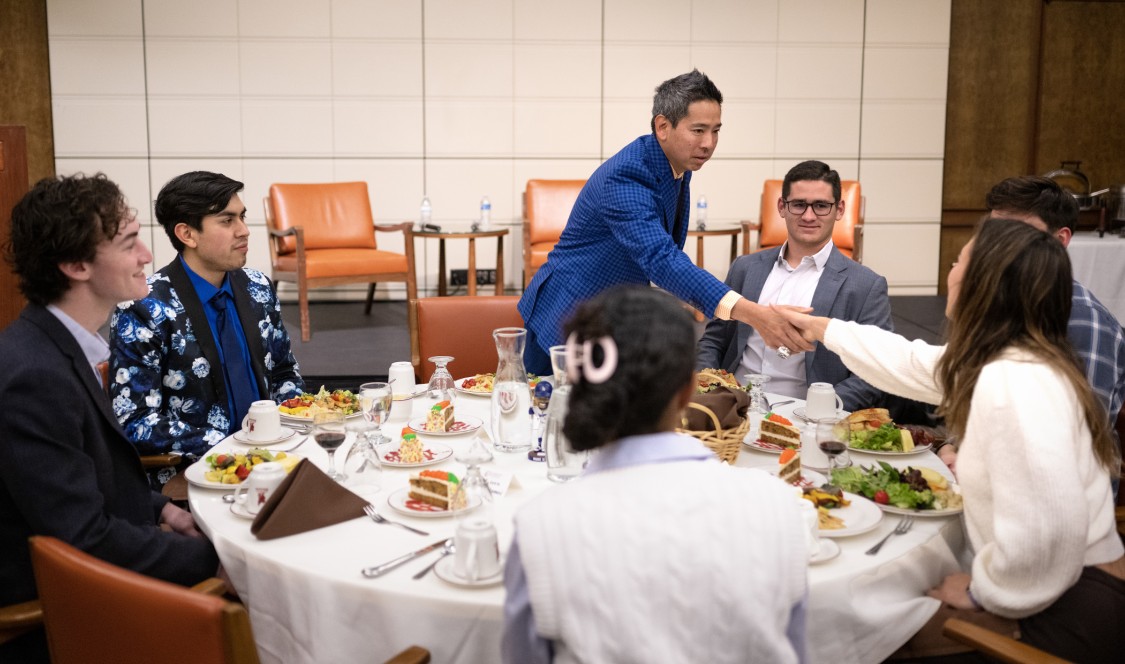 Yankees, Mariners and, yes, even Giants fans, united at the Athenaeum at Claremont McKenna for a Dodgers-themed evening to learn about forging a career in Major League Baseball.
Scott Akasaki '98, senior director of team travel for his hometown team, the Los Angeles Dodgers, sported a 2020 World Series ring, as he returned to campus, bringing along colleagues Emilee Fragapane, director of integrative baseball performance, and Michael Voltmer, director of baseball strategy and information.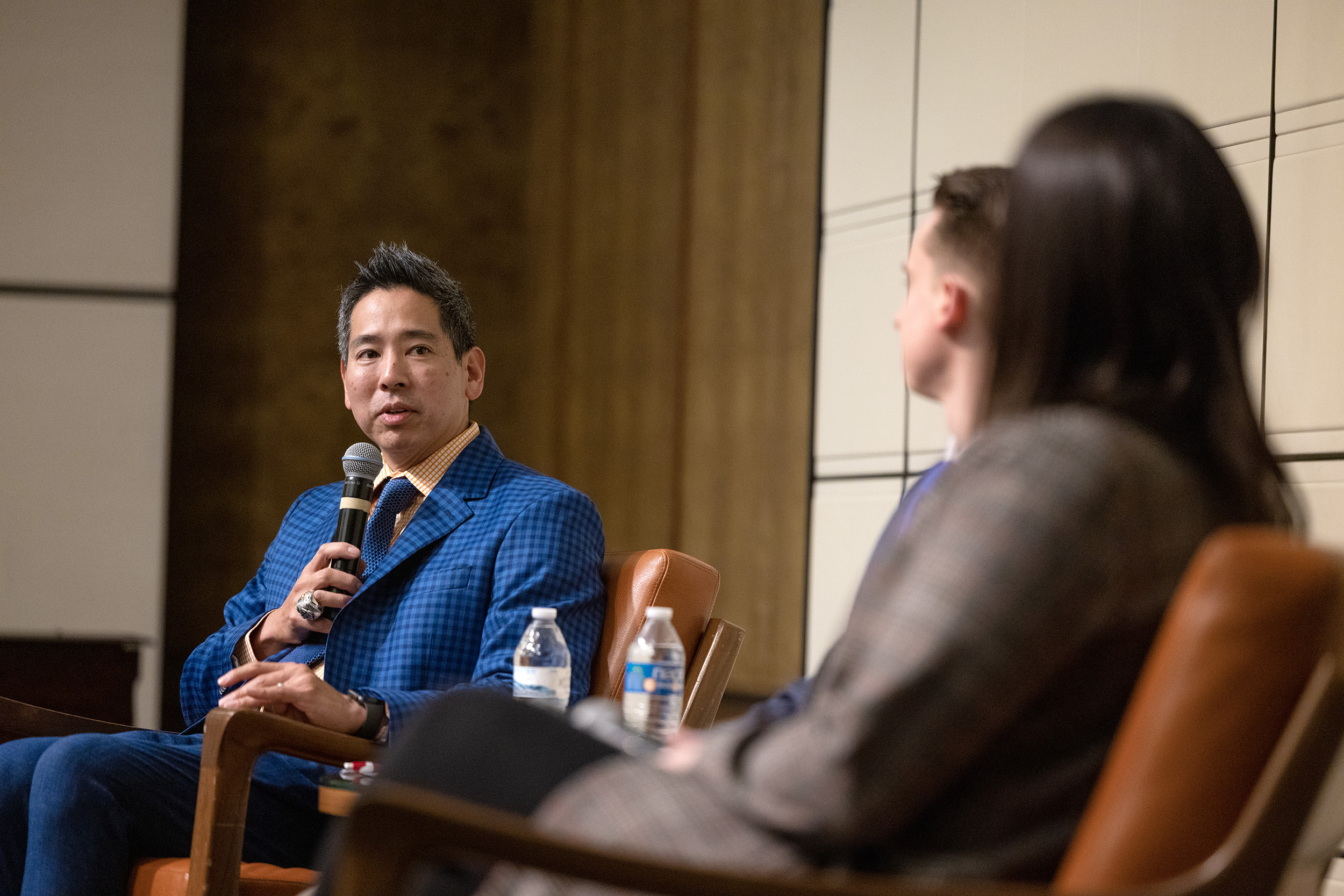 Akasaki intended the evening as an opportunity to encourage CMC students pursuing careers in professional sports, as well as to showcase the types of positions that didn't exist when he got his MLB start 23 years ago.
Fragapane began her career with the Dodgers as an intern. Calling her a "pioneer" in the Dodgers front office, Akasaki said she was the first person the team hired to handle analytics. "As you know, there aren't a lot of women in baseball or sports in general," Fragapane added. "I'm here tonight as a way to bring visibility to the idea that no matter your background, you have a place in sports."
Her job in the performance science department often takes her into the pre-game batting cage, where she shares the biomechanical data she and her team have gathered, to help players and their coaches make improvements at the plate.
Voltmer, aka "Volt," leads a six-person team of analysts devoted to game preparation and advance scouting, working alongside the Dodger coaching staff to "exploit weaknesses in our opponents and also layer in our strengths. Basically, preventing runs, to sum it up in two words," he said.
Key quote
Akasaki: "Something I wanted to impart tonight, was that to get a job in professional sports, there's no cookie cutter method. There's no recipe that you follow. You take any front office executive, they'll tell you a totally different story about how they got there. It doesn't matter what major you are. It doesn't matter what country you're from, it doesn't matter your gender. There's no time like right now in the professional sports world, in terms of accessibility, than there's ever been before."
Why I'm here
A self-described "big baseball and Dodger fan," Maren Summers '23, who plays first base for the Athenas softball team, said she was drawn to the Ath talk's data science component.
"I'm here because I want to see what data analytics looks like as a job," said Summers who is majoring in chemistry with a sequence in data science.
Afterwards, she scooped up a Mookie Betts bobblehead, courtesy of Akasaki.
Audience question and answer
With much of the discussion focused on data analytics, Aidan Booth '24, who plays for the CMS baseball team wanted to know if "there's room for people who aren't as analytical or data-driven" in the front offices of Major League Baseball.
"What I would say to you is play (baseball) for as long as you possibly can," Voltmer answered. "That is still a skill we consider when thinking about who would make a good candidate. Also, be open to different perspectives...whether it's coaching, or scouting."
Fragapane agreed. "We have an excellent group of coaches and scouts who are brilliant students of the game, whom we learn so much from, whom we heavily rely upon to be able to communicate with our players, to be able to implement their training plans, to be good evaluators, and things that we could not do. And they're not ever going to code," she said.
Akasaki shared that learning another language (Japanese) opened doors for him. "Whether it's Spanish, Japanese or Korean, those would be the main languages to learn," he advised.
Learn more about Akasaki's career journey.
Register for upcoming Athenaeum speakers.
Contact
Office of Strategic Communications & Marketing
400 N. Claremont Blvd.
Claremont, CA 91711
Phone: (909) 621-8099
Email: communications@cmc.edu

Media inquiries: Gilien Silsby
Phone: (213) 500-8673
Email: gsilsby@cmc.edu