JaDa Johnson '21 found her path to Claremont McKenna College after a chance encounter with a friendly CMCer on campus.
While still in high school, the Houston native was visiting the Claremont Colleges in 2016 at the suggestion of her college counselor. "I was doing my own tour of the 5Cs and I got a little turned around," Johnson recalled. That's when she met then-CMC student Maya Love '20.
Love – who eventually became president of the Associated Students of Claremont McKenna College – helped her find her way and the two ended up chatting. "She shared with me the opportunities she discovered here, and what she said resonated with me. I left the Claremont Colleges with a huge impression, specifically because of Maya. I went home and re-thought my application process," Johnson said.
Now a senior studying International Relations, Johnson has made the most out of her time at CMC, including two study abroad experiences.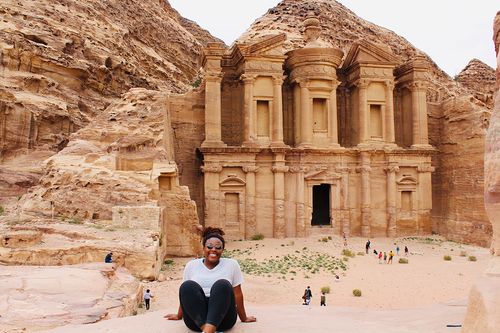 While learning Arabic at CMC, her professor suggested that Johnson apply to study in an Arabic-speaking country. She chose Jordan, and attended the School of International Training, where she explored her interest in clean water accessibility.
Issues around clean water policy and security led Johnson to Cuba next, which she describes as "an amazing experience and a cultural 180 from Jordan." She lived with two CMC students and took courses at the University of Havana. While there, Johnson, solidified her Spanish, and conducted research in water resource management.
Her semesters abroad helped Johnson cement her career aspirations of working in international development. But they also provided "growth and learning," she said. "Living outside the U.S. gave me the perspective of seeing how others view the U.S., and a chance to think about the role I play in the world and what that means."
Back on campus, Johnson took on a leadership role with the Black Student Association. "I like to think of the BSA as my family on campus."
As president of BSA, Johnson said her goal is to "help Black-identifying students enjoy their experience at CMC. Sometimes that means listening to how their classes are going, or planning a trip off-campus to go roller skating. Also, BSA serves as a group to help students deal with the climate of different communities, and find a space to talk about that; rather than having to pent it up inside."
In addition, Johnson is vice president of the International Relations Society, which she said "helps IR majors at CMC, especially first-years, find community."
According to Johnson, finding a small community within the CMC community is essential. "I think that CMC's culture is defined by each and every student," she said. "Students can have a variety of friends, and groups of interest here, and you will be able to find where you belong. Students, staff, and faculty are going to truly care about you here. They will seek you out. But you'll need to seek them out, too. And when you meet in the middle, that's where I think you'll find CMC's culture."
— Anne Bergman