Life trustee, generous benefactor
Robert L. Emett '50 remembered as a "powerful beacon" for CMC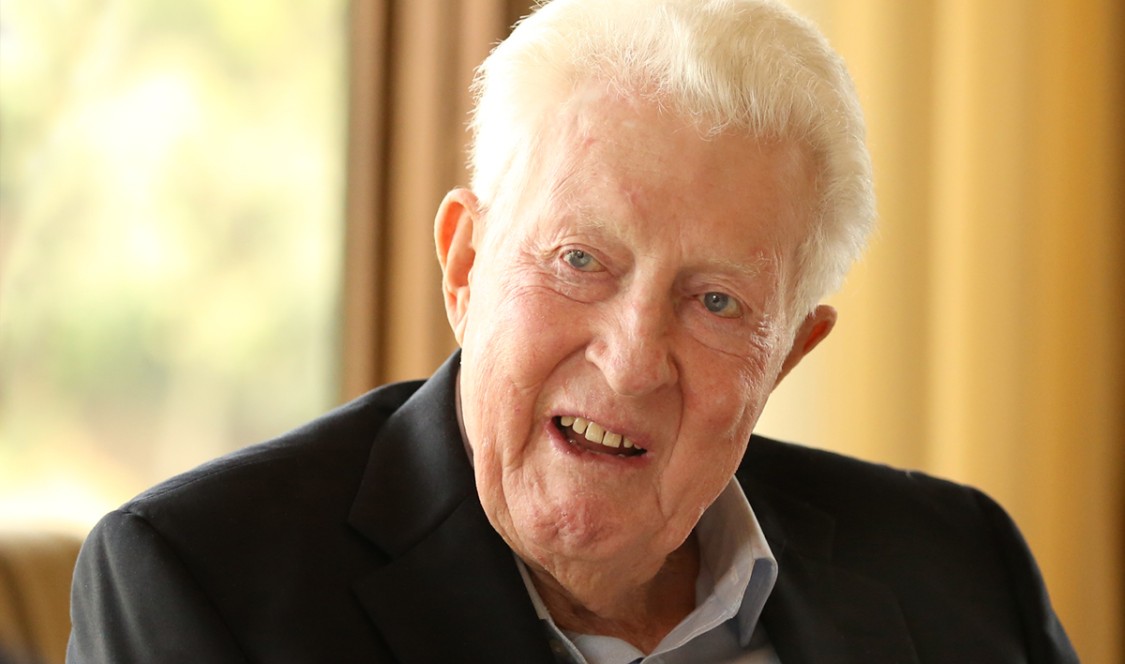 Robert L. Emett '50, a member of the first four-year class of 1950 and a life trustee of Claremont McKenna College, died on December 20. He was 93.
Emett served for 25 years as chief executive officer of Los Angeles-based Emett & Chandler, one of the nation's largest insurance brokerage companies. It was worth $60 million when he sold it in 1986. Emett and his wife, sculptor Mary Anne Emett, were longtime residents of Orange County.
Emett was one of CMC's most generous benefactors. He funded a scholarship, a loan fund, and the renovation of the student union, which subsequently was renamed the Emett Student Center. In 1994, he agreed to convert the scholarship program into a loan fund. Over the past 26 years, the program has made $1,784,655 in no-interest loans to more than 174 students. Most of the students have repaid their loans within 10 years of graduating.
"Bob Emett and his legacy will always serve as a powerful beacon for our College," said President Hiram E. Chodosh. "We will dearly miss and be forever inspired by his example: the singular combination of his business and civic leadership. His wisdom and wit. His vision and generosity. His unshakable belief and investment in the grit and determination of our students."
Emett served as a CMC Trustee for 33 years and Life Trustee since 2001. He was president of the Claremont McKenna College Alumni Association in 1963-64, and the recipient of the CMC Alumni Association's Jack L. Stark '57 GP'11 Distinguished Service Award and the Association's Eugene L. Wolver Jr. '51 Lifetime Service Award. He was honored with membership in the Claremont-Mudd-Scripps Track and Field Hall of Fame, having set conference and school records in discus and hurdles.
"Bob Emett was a trail blazer serving as the first CMC alumnus elected as a regular member of the College's Board of Trustees," said David G. Mgrublian '82 P'11 chair of CMC's Board of Trustees. "In his role as Trustee, Bob always focused on what was best for the student body. This commitment is best exemplified by his Emett Student Center, home of the ever-popular Hub and the Soll Center for Student Opportunity."
Emett was actively involved in politics and civic life. He was a delegate to three Republican national conventions and served on the boards of numerous nonprofit organizations, including the Los Angeles County Mental Health Association, the John Tracy Clinic, and the YMCA of Metropolitan Los Angeles. He was founding chairman of the San Fernando Valley chapter of the Young Presidents' Organization.
Emett's military service included duty as a Navy seaman in the South Pacific during World War II on an escort carrier, and in the Air Force during the Korean War as a first lieutenant, serving as a crash boat commander.
He often told a story of where he was when he heard that Claremont Men's College was opening 74 years ago. Emett, then a Navy seaman, was being treated for combat-related hearing problems at the Long Beach naval hospital after WWII ended. He cajoled a visiting entertainer into giving him a pass so that he could come and go as he pleased.
He was eventually caught and ordered into the brig for a few months. It was during his confinement that he received a letter from his father about Claremont Men's College, whose founders were counting on returning servicemen to help fill classes.
"I decided not to be in the brig again," Emett recalled, and sent off his application. He studied business administration and graduated with the Pacesetter Class of 1950.
Although by his own admission, Emett was only an average student, he excelled at business, and never forgot his alma mater. He gave generously, providing loans to help students whose family income dropped when parents lost or changed jobs or faced medical emergencies and other crises. For many students, the loans have provided a crucial assist when the family budget was strained by the need to pay tuition for a second or third child entering college.
"Bob was achievement-oriented and believed we should pay as much attention to the character of the student as the academic quality of the student. This is something that has become integral to CMC's mission," said Jack L. Stark '57 GP'11, who served as president of Claremont McKenna College from 1970 until 1999.
The loan program "took so much stress off me and my parents," said Corie Hack '19, a science management major from Long Island, N.Y. who now is an advisory consultant at Deloitte Touche LLP. Despite scholarships and financial aid, her father, an electrician, and her mother, who referees field hockey, struggled to cover her bills as college costs rose but their incomes didn't; their tuition burden doubled when Hack's brother entered Fordham University in New York.
"Whatever amount financial aid couldn't help me with, the Emett loan did," said Hack, who received about $8,000 a year in Emett funds.
There are no hard and fast requirements for receiving an Emett loan; however, Emett was emphatic about the kind of students who should be given priority: those with military service, and students who demonstrate a desire to improve their financial situation by holding a job on or off campus.
Grades are also an important consideration, but the preferred loan recipient is "not necessarily an A student," Emett said. Emett loans are aimed at students with B and C averages, in part because they may have fewer resources available to them compared to top students.
"People who can get things done don't always have wonderful grades. I like the ones who are aiming themselves upwards and onwards and want to accomplish something."
Further tributes to Robert L. Emett will be announced in 2021.
- Gilien Silsby
Contact
Office of Public Affairs and Communications
400 N. Claremont Blvd.
Claremont, CA 91711
Phone: (909) 621-8099
Email: publicaffairs@cmc.edu

Media inquiries: Gilien Silsby
Phone: (213) 500-8673
Email: gsilsby@cmc.edu