With the five-year campaign for Claremont McKenna ending this month, the Campaign has surpassed the $630-million mark. The Office of Development expects further gains to be realized in the Campaign's final days as the College makes a final push to end its fiscal year on a strong note.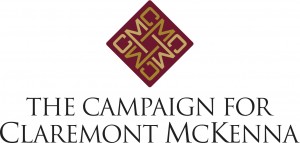 The Campaign's success, especially during the past academic year, reflects an encouraging trend in giving reported by The Chronicle of Higher Education.
In 2012, the Chronicle reports, American colleges and universities enjoyed a 2.3 percent increase in giving over the previous year—it's a small increment of growth, but to many it's also an indicator of returning economic optimism among donors to institutions of higher education.
For CMC, two factors have been crucial to energizing its base of supporters: The Res Publica Society and the Crown Challenge. During the past academic year, in fact, the Res Publica membership record was broken again as the number of RPS households increased to 1,147. This is only the second year that Society membership has exceeded 1,000 households.
Nearly one in three alumni, or more than 3,400 alumni, also have taken the Crown Challenge, established by Trustee Steve Crown '74. The challenge has proved itself as an extremely effective, revolutionizing strategy in maximizing the impact of our alumni donors by aligning their gifts with the generous matching gifts of Trustee Crown.
Another factor is the Ambassadors Program, a new program aimed at strengthening alumni ties through more personalized outreach efforts. An Ambassador Summit was held this spring, in March, and it brought together 20 Ambassadors from a variety of graduating classes, ranging from '59 to '09, to discuss new ways to foster meaningful bonds between alumni and their alma mater.
With every dollar raised, CMC continues to exceed its record Campaign goal. Those interested in contributing before the June 30 deadline should visit www.cmc.edu/giving.
Contact
Office of Public Affairs and Communications
400 N. Claremont Blvd.
Claremont, CA 91711
Phone: (909) 621-8099
Email: publicaffairs@cmc.edu

Media inquiries: Gilien Silsby
Phone: (213) 500-8673
Email: gsilsby@cmc.edu