The month of June opened with a special offering of poetry with a twist, when selected narrative and lyrical poems by CMC Professor Emeritus Ricardo Quinones were "redacted" by two actors on the stage of the Beyond Baroque Literary/Arts Center in Venice Beach.

We say with a "twist" because often poets read their own work to mixed results depending on any number of mitigating factors including the timbre of their voices.

But with professional actress Lisa Robins and CMC's own Associate Director of Leadership Giving Todd Mandel enthusiastically holding forth and in fine voice, Quinones' poesy (from his collections A Sorting of the Ways and Finishing Touches) lived up to the night's advertisement as "Poetic Drama" with a bit of whimsy ("To Pick a Penny") added for good measure.

And, as an additional inspired touch, Joshua Rosett, who is Curb Family Associate Professor of Business and Law and Roberts Fellow (and Financial Economics Institute director), performed yeoman's service with a mood-setting cello accompaniment ("Appalachian Spring," "Oh Shenandoah," "Swing Low, Sweet Chariot" and "Amazing Grace") that effectively underscored the verse being recited.

"As a poet, Ricardo's keeping alive the modernist flame that was established by William Carlos Williams and Ezra Pound; a rich vein of American poetry," said Richard Modiano, Beyond Baroque's director.

Modiano praised Quinones' poetry for its vivid energy.

"Ricardo's poetry deals with personal epiphanies and travails, the impact of public events on the consciousness of the poet," Modiano said. "It's the language of ordinary life, demotic speech. But when a poet like Ricardo tackles that demotic speech, he finds out what is alive about it and cuts away the clichés and brings it to vivid life."

Quinones himself described the reading as experience by way of experimentation.

"We experiment today with the notion that there is no longer the possibility of poetic drama; but we can find the drama in poetry and in verse and that's what we're doing today," he said. "Lisa and Todd will read the poems and we'll get out of it the experience of dramatic voices and the whole emotional dramatic experience. It improves the comprehensibility."

According to Quinones, who taught at CMC for 39 years and has been writing poems for the last 17, the ability to feature actors redacting his work is a real boon. "Many poets, no matter how good they are, are dull as hell when reading their own work," he said.

The reading included such poems as: "SoCal: A Sorting of the Ways," "The Crow," "The Power of Blackness," "Wintertime Sun," "The American Writer," "Trackings of the Mind," "A Glass of Red Wine," "She Trod with Silver Slippers" and "Broken Lilacs."

It finished with one of Quinones' most evocative poems –"Shanksville" – which entwines the events of 9/11 with such seemingly improbable placeholders as the poet Robert Frost and the Wright Brothers. (Frost wrote a poem called "Kitty Hawk.")

"I consider Robert Frost to be the poetic father of us all," Quinones said.

"People say why do poets publish books of 90 pages when novels are 200 pages?" said Modiano. "The reason for that – and it couldn't be embodied better than in Ricardo's work – is because each poem is as dense as a chapter of a novel. A poet is forced to pack as much meaning as he can in a limited number of words. Reading poetry is like reading supercharged text."

In addition to the two poetry collections used in the readings, Quinones is the author of such prize-winning volumes as The Changes of Cain: Violence and the Lost Brother in Cain-Abel Literature (1991), Dualisms: The Agons of the Modern World (2007), and Erasmus and Voltaire: Why They Still Matter (2010).

As far as the state of modern poetry goes, Quinones had an economical answer: "It's plentiful."
He admitted that his answer was a bit politic, but that it represents what he thinks of the whole gamut of contemporary poetry.

"As usual, there are cliques and cabals and areas of association that foster their own," he said, "but then we have a writer like Billy Collins, a marvelous poet – pure wit. And that, to me, is what seems to be absent in much of modern poetry – wit."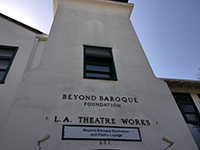 Founded in 1968, Beyond Baroque is a public space dedicated to expanding the public's knowledge of poetry, literature and art through cultural events and community interaction.

Through the years, the Center has played muse to the Venice Beats, the burgeoning Punk movement and visiting scholars. Many of the city's leading literary talents, including Dennis Cooper, Wanda Coleman, Tom Waits, Exene Cervenkova, and Amy Gerstler, are alumni of the Center's Wednesday night poetry workshop.