Paintings by Renowned ArtistMilford Zornes on Display at Athenaeum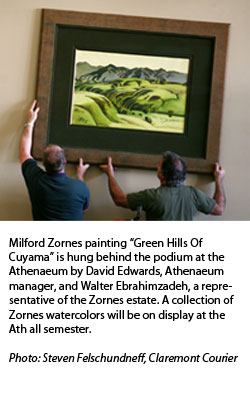 This semester, visitors to the Marian Miner Cook Athenaeum will have new art to explore, as the Athenaeum showcases paintings by renowned artist Milford Zornes (1908-2008). Over 30 of Zornes paintings, spanning from 1944-2008, will cover the walls of the Security Pacific Room at the Ath for the spring semester.
Following up on last semester's exhibit by Claremont artist James Fuller, Bonnie Snortum, director of the Athenaeum, wanted to showcase another local artist. "Claremont is so rich with local talent, and CMC has wonderful gallery space," Snortum stated.
"Any liberal arts college needs a broad range of not just ideas, but expressions of art. The Athenaeum has a number of significant works of art in its permanent collection and through these exhibits, we hope to make art more accessible to the community," Snortum added.
The Zornes exhibit developed through an arrangement with Walter Ebrahimzadeh, owner of Square i Gallery in Claremont and a representative of the Zornes estate. Ebrahimzadeh helped Snortum and Edwards install the Fuller exhibit in September. While contemplating what exhibit might follow Fuller's, Snortum inquired about the Zornes work at Ebrahimzadeh's galleries. The collaboration is a good fit, plus it offers an opportunity to honor the artist around his birthday, January 25th.
Zornes began his career as a journalist, working as a freelance writer and photographer. Along the way, he discovered an aptitude for and love of watercolor painting. The artist studied at the Otis Art Institute and with artist Millard Sheets at Scripps College before graduating from Pomona College in 1934.
During World War II, Zornes was drafted into the US Army and served as an official war artist in India, Burma, and China. Much of his WWII art is hung at the Pentagon, though a few pieces are in the Athenaeum exhibit.
His reputation as a talented artist grew quickly, and his art was selected to hang in the White House during Franklin D. Roosevelt's presidency. Through his career, Zornes was a member in the American Watercolor Society and the California Scene Painters, and served as president of the California Water Color Society. In addition to his work as an artist, Zornes taught at Pomona College and Otis Art Institute, and conducted watercolor workshops nationally.
According to Ebrahimzadeh, Zornes' style of broad-brush painting was unique among other watercolor artists of his time. "He did not dabble," says Ebrahimzadeh. "Zornes was so sure of his strokes, that he used a broad brush with lots of ink. It takes a lot of confidence to do that."
Ebrahimzadeh also speaks about Zornes' generosity and humility. "Milford was a great man, a true artist," he says. According to Ebrahimzadeh, Zornes began the art auction fundraiser for the Inland Empire chapter of Recording for the Blind and Dyslexic, and one of his paintings is donated each year to the auction.
The Zornes exhibit will be on display throughout the spring semester at the Athenaeum. Most of the works are also available for purchase. For more information about the Athenaeum, visit their website. For information about the Milford Zornes collection, or to inquire about purchasing his paintings, contact Walter Ebrahimzadeh at (909) 625-2533.
Contact
Office of Strategic Communications & Marketing
400 N. Claremont Blvd.
Claremont, CA 91711
Phone: (909) 621-8099
Email: communications@cmc.edu

Media inquiries: David Eastburn
Phone (O): (909) 607-7377
Phone (C): (808) 312-8554
Email: deastburn@cmc.edu