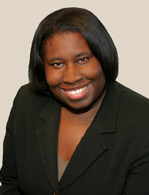 Title IX Coordinator and Chief Civil Rights Officer Nyree Gray
Dear Members of the CMC Campus Community:
As I noted in my September 2 update to the Personal and Social Responsibility Initiative, this past summer we authorized two new positions to strengthen the fulfillment of our Title IX and civil rights commitments. The first is a full-time Title IX Coordinator who will also be responsible for all of our federal civil rights obligations to prevent discrimination and harassment including but not limited to gender-based conduct. The second is dedicated to investigation of sexual misconduct, civil rights complaints, and other important matters within the College. The creation of both positions will further strengthen our independent capacity for both the impartial and effective handling of active matters and the implementation of the College's new Discrimination, Harassment, and Sexual Misconduct Policy and Civil Rights Grievance Procedures.
Today, I am pleased to report that we have successfully recruited Nyree Gray to fill the first of these two important positions. (We hope to announce the recruitment of a full-time investigator in the near future.)
Nyree Gray joins us as the new Title IX Coordinator and Chief Civil Rights Officer from Southwestern Law School, where she served as the Dean of Students and Diversity Affairs and Associate Professor of Law. Dean and Professor Gray is a nationally recognized leader in the field and brings a wealth of experience and knowledge to this new role. Prior to joining the School, she practiced labor and employment law in Los Angeles and is the recipient of several awards and honors including the 2013 Higher Education Excellence in Diversity Award. We are excited to have her join the College, and please join me in welcoming her to our community.
Very best,
Hiram