Princeton Review ranks CMC Career Services Center in top 10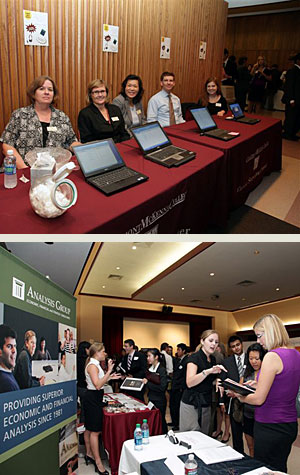 The Princeton Review recently assigned CMC's Career Services Center a #6 placement in their ranking of Schools with Best Career Services. In past years CMC has achieved a ranking of #2 and #7 in the Review.
The top five ranked schools include the University of Florida, Northeastern University, Pennsylvania State University-University Park, The University of Texas at Austin and Barnard College.
CMC's Career Services Center offers a variety of services to help students plan for life after college, including career planning services, recruiting events, networking trips, alumni contacts and internship programs.
Diana Seder, Associate Dean and Director of CMC's Career Services Center, said she is pleased with Princeton Review's ranking. Seder credits the school's emphasis on working with individual students to determine their interests and strengths and the emphasis placed on practical work experiencenamely, internships.
"We have a personal touch. We work one-on-one with students to help them figure out what they want to do after CMC and assist as they craft their own path," Seder said. "We also focus on helping students gain real world experience through internships," she continued, "which helps them determine what they wantand don't wantto do." According to Seder, between 75 85 percent of CMC students participate in internships each summer, with the school funding approximately 20 percent through the school's well known Sponsored Internship Program.
In CMC's class of 2011, 59 percent joined the workforce; 17 percent pursued other plans such as internships, volunteering, applying to graduate school; 12 percent attended graduate school; 4 percent pursued post-graduate fellowships or scholarships; 3 percent traveled and 5 percent were undecided or had no plans.
Contact
Office of Strategic Communications & Marketing
400 N. Claremont Blvd.
Claremont, CA 91711
Phone: (909) 621-8099
Email: publicaffairs@cmc.edu

Media inquiries: David Eastburn
Phone (O): (909) 607-7377
Phone (C): (808) 312-8554
Email: deastburn@cmc.edu