Two members of the CMC community joined the company of Dwight D. Eisenhower, Queen Elizabeth II, Cesar Chavez, Nelson Mandela, and Walt Disney by accepting Mexico's highest honor granted to foreigners.
Government Professor Roderic A. Camp and former U.S. Congressman David Dreier '75 were presented the Order of the Aztec Eagle by Mexico's ambassador to the United States, Carlos Sada, in a ceremony at the Mexican Consulate in Los Angeles last month.
"For two people from the same institution to receive the Order of the Aztec Eagle is unprecedented," said Dreier, who is also a member of the CMC Board of Trustees. "It is a testament to the important role that Claremont McKenna College is playing on the global stage."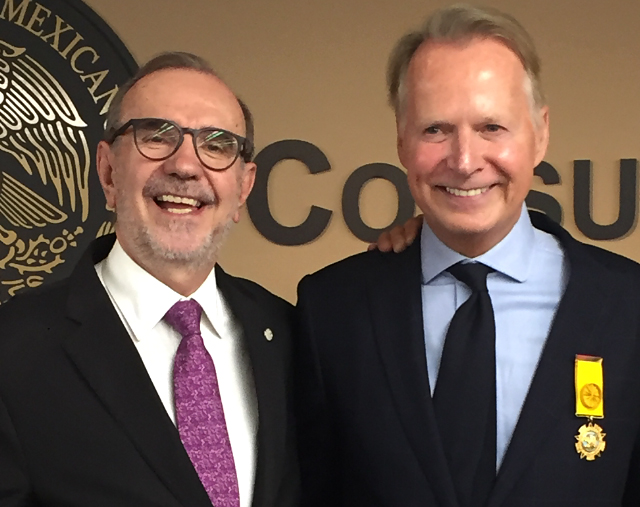 ​
Ambassador Sada and David Dreier '75
Dreier, who represented his San Gabriel Valley district in the House for more than 30 years, is a strong advocate for U.S.-Mexican economic ties. An early supporter of the North American Free Trade Agreement, known as NAFTA, Dreier was also a member of the U.S.-Mexico Binational Commission, the Mexico-U.S. Interparliamentary Group, and co-chair of the U.S.-Mexico Congressional Caucus.
Dreier, host of the Dreier Roundtable policy program at CMC, said he was honored to accept the award on behalf of Americans who recognize the value of positive U.S.-Mexico relations.
Camp, the CMC Philip M. McKenna Professor of the Pacific Rim since 1998, has devoted his career to improving the understanding of Mexican politics. He views the award as a tribute to 50 years of scholarly work he's done on Mexico.
Before coming to CMC, he was director of the Tinker Mexican Policy Studies Program at Tulane University and director of Latin American Studies at Central University of Iowa. He has received numerous fellowships and grants from organizations including the National Endowment for the Humanities, the Fulbright-Hays program, the Hewlett Foundation, and the Smithsonian Institution.
Camp's book Mexican Political Biographies, an encyclopedia of contemporary political figures in the country, served as a prototype for the Mexican government's official directory for the Mexican Supreme Court. According to the Diario Oficial de la Federación, a daily publication of the Mexican government, Camp's books – he has written more than 30 about Mexican policy and political history – are used as a starting point for academics and students studying the country.
Winning the award "enhances the value of my research," Camp said, and the research of those studying Mexico at CMC.