Professor Emeritus John Roth Honored with Distinguished Achievement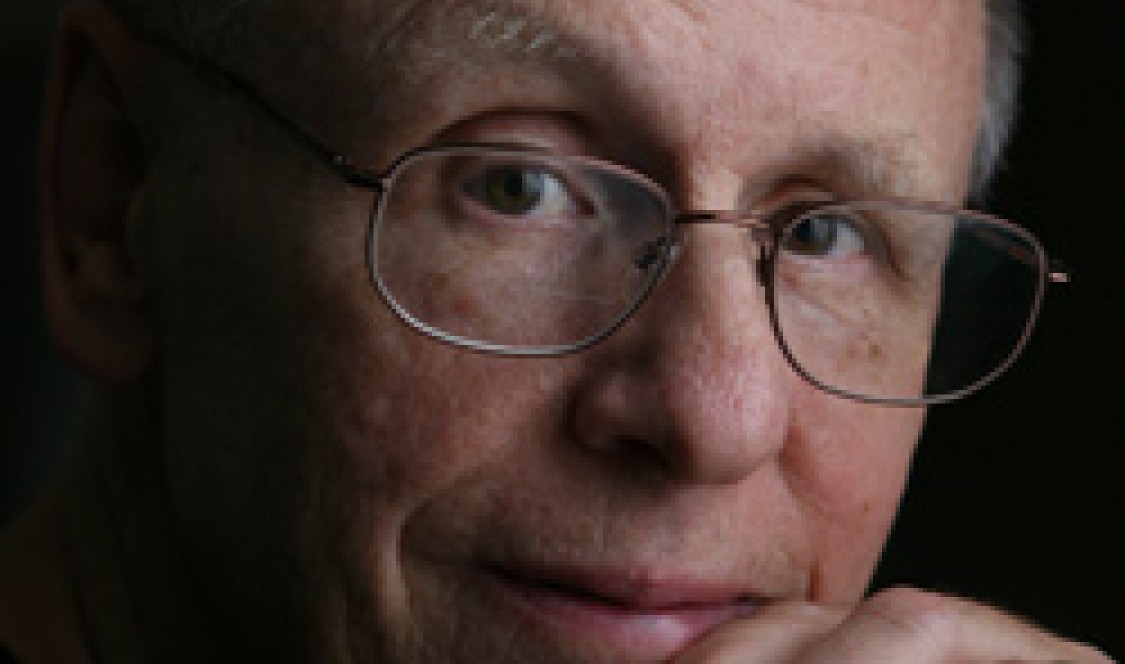 On Nov. 2, John K. Roth, the Edward J. Sexton Professor Emeritus of Philosophy at CMC, received the Holocaust Educational Foundation's Distinguished Achievement Award for Holocaust Studies and Research.
Making the presentation at the Foundation's 2012 Lessons and Legacies Conference at Northwestern University was CMC professor (and Roth's longtime colleague) Jonathan Petropoulos, the John V. Croul Professor of European History at CMC.
In his introductory remarks, Petropoulos said that long ago he decided that Roth was "the prophet of my religion-in-progress."
"In working with John at Claremont McKenna College for some 10 years," Petropoulos continued, "I learned so much from him—frankly more from him than anyone I know. Indeed, one of my mottos is WWJKRD (What would John K. Roth Do)?"
According to Roth, for two decades, the activities sponsored by the Holocaust Educational Foundation have engaged the best scholars in the field of Holocaust and genocide studies and to receive the Foundation's Distinguished Achievement Award for Holocaust Studies and Research is a singular honor and responsibility.
"Eminent scholars such as Christopher Browning, Jan Gross, Michael Marrus and Nechama Tec have received this recognition from the Foundation, and it is awesome to be in their stellar company," Roth said. "With the honor comes the responsibility to keep doing my best to advance study of the Holocaust and to resist the ongoing scourge of genocide and crimes against humanity, something I try to do, at this stage of my life, by encouraging the work of younger scholars and teachers."
Roth said education about the Holocaust and other genocides is far more widespread than it was when he began to work in this area more than 40 years ago. "Early on, and perhaps even now, we may have been too optimistic about what such research and education could do to curb mass atrocities," he said. "Nevertheless, no substitutes exist for those educational efforts."
As part of the ongoing effort, CMC endowed a chair in Holocaust Studies named in Roth's honor (the John K. Roth Professor of History) now held by professor Wendy Lower. Lower, also a George R. Roberts Fellow, joined CMC's faculty earlier this fall.
Although she also happened to co-chair the Lessons and Legacies Conference, she didn't know at the time that Roth would be honored with the award. He was selected by his peers, the academic advisory board of the Holocaust Educational Foundation, and the founder and main sponsor of the conference.
Lower said she is deeply honored to be the John K. Roth Professor of History and vividly remembers her first encounter with Roth more than 10 years ago, when she heard him speak at the U.S. Holocaust Memorial Museum.
"I had just received my doctorate and had written a dissertation on the Holocaust, and my research had left me with more questions than answers," she said. "In my studies I had not encountered a scholar of the Holocaust who approached the subject philosophically. Roth inspired me to step back from my empirical data and to reflect on the most fundamental issues embedded in this tragic history, to question notions of humanity, of suffering and how we try to find meaning in its senselessness, or how we impose our own moral framework on the past. I immediately became a John Roth fan."
According to Lower, mentors are rare, and Roth is just that: an amalgam of inspiration, wisdom, guidance and support.
"Imagine if you landed your dream job at such a fine institution as CMC, and your namesake was also a mentor and an individual who is truly the mensch we all aspire to be,"
she said.
Roth said that awards nothwithstanding, Holocaust studies, understandably, exact a bit of a mental toll.
"Wrestling with these dark aspects of history unavoidably produces melancholy and discouragement, " he said, "but I take heart from the philosopher Albert Camus's emphasis on resistance, from the Holocaust survivor Elie Wiesel's protests against indifference, and from the support and encouragement I have received from hundreds of CMC students who took the time to study these disasters with me and to let that challenging experience help to make them the fine women and men they have become."
Petropoulos is fond of one of Roth's favorite sayings: Appreciate what is good in life.
"John knew he was fortunate to have found important work—a topic with deep philosophical and theological resonances—and great students whom he could help shape," Petropoulos said. "Despite the darkness of the topic that unites us, we are all incredibly fortunate to do what we do. John made me conscious of this, and it is a principle I use to make sense of my work and life."
Contact
Office of Public Affairs and Communications
400 N. Claremont Blvd.
Claremont, CA 91711
Phone: (909) 621-8099
Email: publicaffairs@cmc.edu

Media inquiries: Gilien Silsby
Phone: (213) 500-8673
Email: gsilsby@cmc.edu