Professor Wei-Chin Hwang
Earns Multiple Awards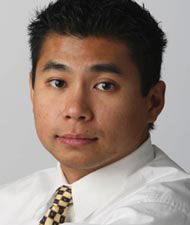 It was a busy year of "heavy lifting" for Wei-Chin Hwang, associate professor of psychology. Last August, Hwang was the recipient of two awards, one from the American Psychological Association (APA) Minority Fellowship Program and the other from the Asian American Psychological Association. This January, he also received two awards, this time from the Western Psychological Association. These awards recognize excellence in his fieldnamely contributions in research, teaching, leadership, and service.
The multiple honors include:
MFP Early Career Award The American Psychological Association Minority Fellowship Program Early Career Award in research for distinguished contributions to the field of racial and ethnic minority psychology; for outstanding scientific contributions and the application of this knowledge toward the improved mental and physical well-being of people of color.
AAPA Early Career Award for Distinguished Contributions This award from the Asian American Psychological Association recognizes distinguished contributions to the field of Asian American Psychology from a psychologist early in his or her career. Areas of contributions for this award encompass scholarship, practice, and leadership.
WPA Enrico E. Jones Award in Clinical Psychology Research This award from the Western Psychological Association honors the late Professor Enrico E. Jones of the University of California at Berkeley and recognizes the scholarship of an early career psychotherapy researcher for work in clinical psychology that has applications to psychotherapy.
WPA Fellows Program The Western Psychological Association Fellows Program honors members who have made outstanding and sustained contributions to psychology through research, teaching, or service to the profession. Candidates are considered after 10 years of post-doctoral contributions.
In 2007, Hwang was named a program leader for a project funded by a five-year National Institute of Mental Health (NIMH) grant, establishing a new Asian American Center on Disparities Research at the University of California, Davis. The award to UC Davis totaled $3.9 million, including a subcontract with Claremont McKenna College. The Center conducts and facilitates research specific to Asian American populations and their mental health treatment, including medication and psychotherapy evaluations.
As a program leader in one of the Center's three projects, Hwang oversees a large project to determine whether therapist cultural competency is related to mental health treatment outcomes for ethnic minority clients.
In 2007, Hwang also received a three-year $500,670 NIMH grant to culturally adapt cognitive-behavioral therapy (CBT) for depressed Chinese Americans. He is currently running a clinical trial testing the effectiveness of the culturally adapted CBT manual that he authored versus non-culturally modified CBT. This is the first treatment outcome study to test whether evidence-based practices will work with an Asian American group. Hwang supervises the project in community mental health clinics in Los Angeles and San Francisco.
Contact
Office of Strategic Communications & Marketing
400 N. Claremont Blvd.
Claremont, CA 91711
Phone: (909) 621-8099
Email: communications@cmc.edu

Media inquiries: Gilien Silsby
Phone: (213) 500-8673
Email: gsilsby@cmc.edu