The 2019-20 faculty awards honored five CMC professors, recognizing their impactful scholarship, inspiring dedication to service, and remarkable teaching.
"These members of our faculty embody the ideals of a CMC professor," said Peter Uvin, vice president for academic affairs and dean of the faculty. "Each one balances a commitment to teaching with their own research and with working together to make CMC a better place."
Daniel Krauss, professor of psychology, was selected for The Roy P. Crocker Award for Merit for outstanding service to the College. Krauss was lauded by faculty colleagues for his dedication to the well-being of CMC. In addition, Uvin described Krauss as consistently "well-prepared, principled, and kind."
Sam Nelson, professor of mathematics and chair of the mathematical sciences department, received the Faculty Scholarship Award. Colleagues said Nelson is a top-notch researcher, widely admired for his creativity and expertise, and for placing equal emphasis on teaching and training undergraduates to collaborate in his research.
Josh Rosett, Curb Family Associate Professor of Business and Law and George R. Roberts Fellow, received the Dean's Distinguished Service Award. "In my five years here, I have come to admire Prof. Rosett because of his integrity, his commitment to CMC, his commitment to students, his kindness, and his reliability," Uvin said.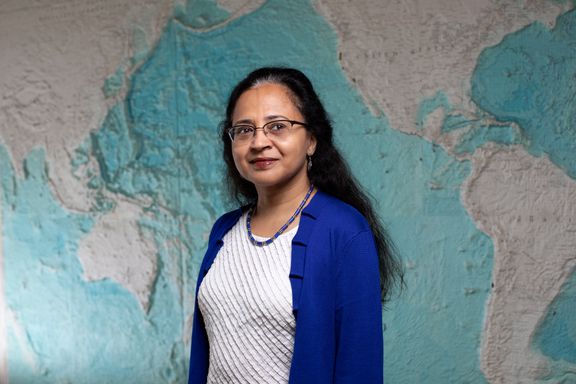 Aseema Sinha, Wagener Family Professor of Comparative Politics and George R. Roberts Fellow, received the annual G. David Huntoon Senior Teaching Award. It is given to a full professor, as selected by the Huntoon Senior Committee. In nominating Sinha for the award, CMC students described her as "a phenomenal educator who strongly cares about her students and wants to see them learn, grow, and succeed."
Derik Smith, associate professor of literature, was voted by the student body to receive the Glenn R. Huntoon Award for Superior Teaching. Smith is also the recipient of the Claremont Colleges Diversity Teaching Award this year. According to Uvin, in his two years at CMC, Smith has had a sizeable impact on students. "He has also become someone who connects us to many great consortial programs, including the Inside/Out Prison Exchange program and the African Studies intercollegiate major, thus opening many more venues for our students to learn," Uvin said.
—Anne Bergman