"Real practice with real money" and big impact

CMC's Student Investment Fund provides triple the returns. Members learn how to manage money and build a career in finance. They also make investments that fund scholarships directly benefiting their fellow CMCers.
"This year we've given nearly $120,000 to the Financial Aid Office," said Annie Raines '22, CEO of the Fund. "All of our money is made by students for students. We're getting real practice with real money, and that money is going somewhere for the better."
A CMC alumnus launched the Fund in 1974 with a $500 securities investment, intending to simultaneously create value for the College's endowment, while providing students with an opportunity to invest in the market and become more acquainted with portfolio management. In 2015, CMC Trustee George R. Roberts '66 P'93 made a leadership gift to amplify the impact of the fund. Six years later, the Fund is now worth approximately $3 million, operated by a student team of portfolio managers and analysts.
With the aim to expand SIF, by recruiting more student investors from a broad range of backgrounds and experiences, last year the Fund hired an incoming analyst class that was equally comprised of women and men. Raines achieved gender parity again this year, and hopes to encourage gender parity "for years to come."
"I want to have a presence that represents the whole student body, because I believe that people from all backgrounds can become investors," said Raines, who is now in her fourth year with the Fund. "Diversity of thought is so important to investing."
An Economics and History major, she remembers that as a first-year student with an interest in investing, she was nevertheless drawn to the Student Investment Fund table at the Club-Institute fair because it was managed by a female student, Roma Forest '19, who was the Fund's CEO at the time.
"I introduced myself. And as soon as I met her, I knew that one day I wanted to be just like her," Raines recalled, noting that since 1974, only four women have served as CEO. "I'm trying to change that," she continued.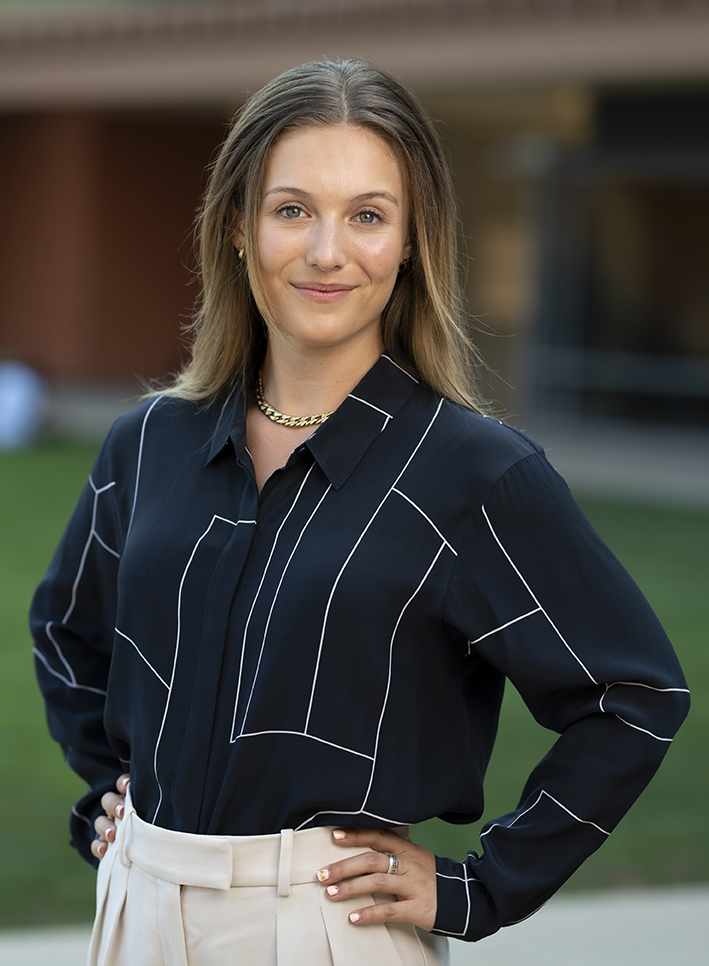 She sees it as her way of giving back to the College." I'm so thankful for people like Roma who really took time to invest in me, and really invest in the success of younger women at CMC. In addition, we have a wonderful alumni network of people who are working in the industry who have also helped me."
The Fund numbers approximately 50 student members a year, while Economics and Finance Professor Eric Hughson serves as their faculty advisor. The Claremont Investment Management Company executes SIF trades and takes on an oversight role—ultimately the $3 million portfolio is managed by students.
SIF members meet weekly, with members pitching stocks and voting upon where the Fund will invest.
With stock pitching an essential component to being a member of SIF, the Fund actively recruits students "who are very passionate, creative, and not afraid to defend their idea when somebody challenges them on it," Raines said. "We're hoping to build a community of confident public speakers who are thoughtful in their analysis, and have integrity in their work, as everything that they say has to be backed up by facts and numbers."
Raines is also planning to recruit prestigious speakers to inspire the team. Last year, SIF cold- emailed Howard Marks, the co-founder of Oaktree Capital Management, who agreed to share his time and insights with the group. "He spoke at our club meeting and we were star-struck. He taught us about downside protection, contrarianism, and defensive investing," Raines said.
Sometimes speakers end up mentoring members of SIF, according to Raines. "Some of the guest speakers who come and talk about their experiences often give internships to some of our students who were proactive and utilized the opportunity," she said.
Raines, who spent her summer interning for Citigroup as an investment banking analyst, ultimately hopes to work in asset management, with an eye on changing the world.
"I believe that people cannot truly make a difference unless they have a seat at the table managing the world's invested capital," she explained. "And by managing the world's invested capital, you are better able to allocate it to places that can truly create change in the world, and make the most impact."
Contact
Office of Public Affairs and Communications
400 N. Claremont Blvd.
Claremont, CA 91711
Phone: (909) 621-8099
Email: publicaffairs@cmc.edu

Media inquiries: Gilien Silsby
Phone: (213) 500-8673
Email: gsilsby@cmc.edu