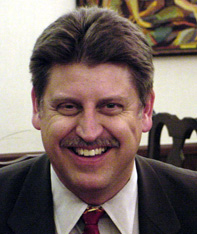 Robert Marbut, a former White House Fellow and former chief of staff for San Antonio Mayor Henry Cisneros, has been honored by the CMC Psychology department with its Distinguished Alumnus Award.
Marbut, who triple-majored in psychology, economics, and government, and built an impressive resume in athletics as a member of varsity teams for swimming, track, and water polo, was nominated by psychology professor Harvey Wichman. Marbut also was an Olympic contender in the pentathlon (riding, running, swimming, shooting, and fencing), and on a personal level overcame the obstacle of dyslexia--a discovery made by CMC literature professor Langdon Elsbree.
Marbut's senior thesis with Wichman, who oversees the CMC Aerospace Psychology Laboratory, yielded a significant discovery. Says Wichman, "It was one of the most important joint student/professor research projects I have ever conducted, and gave rise to our invention of the Headlight Halo, to increase motorcycle conspicuity."
Marbut graduated from Claremont McKenna College in 1982 and earned a master's degree in criminal justice from the Claremont Graduate University. In 1980 he became a White House Fellow in the administration of President George H.W. Bush, and later served as chief of staff to San Antonio Mayor Henry Cisneros, before running for--and winning--back-to-back seats on the San Antonio City Council.
Following his term, Marbut enrolled at the University of Texas, where he is pursuing a doctorate in government, and is completing qualifying exams to hold a tenure track position at a local community college. He also is a member of the U.S. Olympic Committee.